Sometime finding love is a family affair. Joyce and Travis met in 2007, with the help of Travis' sister who decided to take her brother's love life into her own hands. One evening back in September of 2007, Travis' sister called her co-worker Joyce and asked her if she was dating anyone. Joyce said no and the matchmaking began! Travis' sister passed along Joyce's contact information to her brother Travis and he contacted her immediately. The two communicated via email for several weeks before they finally had an opportunity to meet each other. Joyce says that their first weekend together was absolutely wonderful! Almost four years later, with the help of some sisterly matchmaking, Joyce and Travis tied the knot in style at the Biltmore Ballrooms in Atlanta, Georgia. Check out this beautiful wedding captured by super talented wedding photographer Sophia Barrett Studios.
Bride: Joyce Pulliam Cubit, 31, first grade teacher
Groom: Travis LaValle Cubit, 40, engineer
Place of residence: Loganville, GA
Wedding date: 3/24/13
Honeymoon Destination: Ocho Rios, Jamaica
From the Bride:
My wedding day was perfect! The moment I had waited on my entire life had finally come. I felt so incredibly blessed to be marrying the man I fell in love with nearly 4 years ago. Even with a little rain, I could feel God's love shining down on us! It doesn't get any better than that!
From the Groom:
My wedding day was like a dream that finally came true. With family and friends there to help celebrate the most important day of my life (and my wife's), that's one moment I wish I could repeat over as part of my daily routine.
Engagement story ( From the Bride) :
"Travis and I were in a long distance relationship for a little over three years, beginning in 2007. Since we lived six hours apart, Birmingham, AL, was oftentimes our meeting point so we wouldn't have to travel so far over one weekend. Well, we met in Birmingham March 17th, 2012, and it seemed like a normal weekend. The thought crossed my mind that he might propose, but I didn't dwell on that idea too much. The day of the proposal, I asked Travis if we could look for more rings. He had taken me ring shopping several months back and had been sending me pictures of various rings; however, I wanted to make sure he was "on the right track." He agreed to go look at a few more rings. Well, we spent two hours looking at rings. I knew after those two hours of intense ring shopping, the proposal was not going to happen anytime soon. Travis said he just didn't see anything he liked. Little did I know, he had the ring in his pocket while we were shopping! After we left the jewelry store, Travis suggested we find a park. We drove to the Birmingham Botanical Gardens and began walking around. Once we got on the trail we stopped to sit on a bench. Travis began telling me that he asked my dad about us getting married. I immediately began to cry. Even in that moment, I didn't know he was going to ask for my hand in marriage. I was simply overjoyed he finally had "the talk" with my dad. A few moments later, Travis revealed a beautiful ring in his hand and asked me to marry him. After saying "Oh my gosh!" for a million times and crying uncontrollably, I SAID YES!"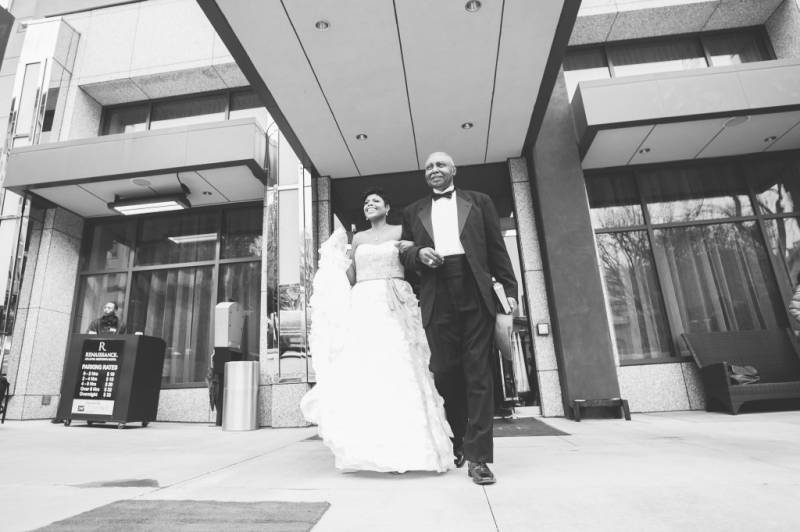 Favorite wedding detail :
"My dad walked me down the aisle and then officiated the ceremony. It was a great moment when he told Travis he could do the one thing he's never given another man permission to do, kiss me!"
Your best/most memorable moment:
Groom: My most memorable moment was seeing the most beautiful bride a man could ask for coming down the aisle.
Your best/most memorable moment:
Bride: "My best moment was Travis taking my garter off. Travis can be a bit shy; therefore, watching his approach to the garter removal was so surprising to me. I loved every minute of it! "
See more pics in the gallery below!