Ronna and Ilyas met in 2007, while they were both welcoming in the New Year with mutual friends. However, they were both there with other people. Ever since that night, they would see each other at events and say, "Hi," but didn't really talk. It wasn't until a kid's birthday party in Oct. 2013, where they finally spoke. The two became Facebook friends and then started playing the online game Words with Friends. Their first date was actually the result of a bet on who would win the game. Ilyas won the game and the girl! Check out their intimate bohemian themed nuptials at the Coze Atlanta – loft space, captured by Kima Sheppard Golden of The Sweetest Things Photography!
Bride: Ronna Charles Nu'Man
Groom: Ilyas Micah Nu'Man
Place of residence: Atlanta, GA
Wedding date: 9/1/13
Honeymoon Destination: Asheville, NC
Engagement story:
I asked her to meet me at home for lunch. When she walked in I was dressed in a shirt and tie, not my normal daytime gear, and I was playing All I Do Is Think of You by Troop, a song we both loved back in the day.I grabbed her hand and ask her if she would walk beside me. She said, yes. And, then I asked if she would walk behind me sometimes. She said, I'll try. Then I got on my knee and ask her to spend her life with me. She said, yes.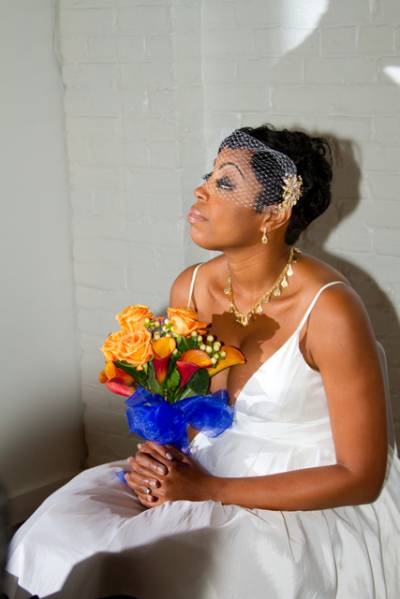 Your best/most memorable moment:
My father was ill and couldn't give me away, so my 7 year old son Spencer stood in and did a great job.
From the Bride:
We put things together for the wedding pretty quickly, but I don't really remember being super nervous. I knew it was right. I really just wanted everyone to have a nice time.
From the Groom:
I was Super nervous! We really wanted to make everything special. I was Sweating bullets!
What makes your love special?
We are committed to remaining best friends. And, we make our friendship a priority.
Favorite wedding detail:
The Cake! Layered keylime cheesecake and orange flavored yellow cake.
What are you most looking forward to as a married couple?
Continuing to learn and grow together. We enjoy cooking, traveling and hanging out with friends.
Advice for a Bride/Groom on their wedding day:
Relax and remember what's important. This day is just the beginning of a wonderful life together. Enjoy it!
Congrats to newlyweds Ronna and Ilyas! We wish you many more years of wedded bliss!
Vendors:
Photographer: Kima Sheppard Golden
Ceremony and reception location: Coze Atlanta
Bridal gown:
https://www.etsy.com/shop/PureMagnoliaCouture?ref=l2-shopheader-name
Cake: Catered Cakes
Caterer: Hanunah Saboor
Favors: Cookie bar – three cookies
Music: DJjamieinatlanta.com
Hair and makeup: Rodah Maxwell and MAC Dillard's counter
Flowers: East Atlanta Florist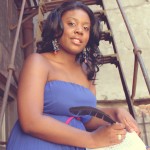 Curated by our Wedding Features Editor, C.K. Alexander. C.K. is the owner and founder of Love Ink and Brownstone Bridal. Keep up with C.K. on Twitter here: @Love_Ink