Jasmin and Gerard met at Gerard's office, a local cable TV station, in May 2012. Even though the two had been acquainted with each other, it wasn't until September of that year that the two actually noticed each other romantically. Gerard decided to take matters into his own hands and asked Jasmin out on a date. That first date would lead to many more dates, as they have been together ever since. Jasmin and Gerard celebrated their union with an elegant wedding in the Bahamas where they both live. Check out their special day captured by Barry Williams Photography!
Bride: Jasmin Nicole Brown, 30, Television Journalist
Groom: Gerard Ernest Victor Brown, 25, Production & Marketing Associate
Place of residence: Nassau, Bahamas
Wedding date: 5/24/14
Wedding location: St. Josephs Catholic Parish (ceremony) and Sandals Royal Bahamian Resort (reception)
Wedding theme: Modern, Elegant, Simple
Honeymoon Destination: Las Vegas, Nevada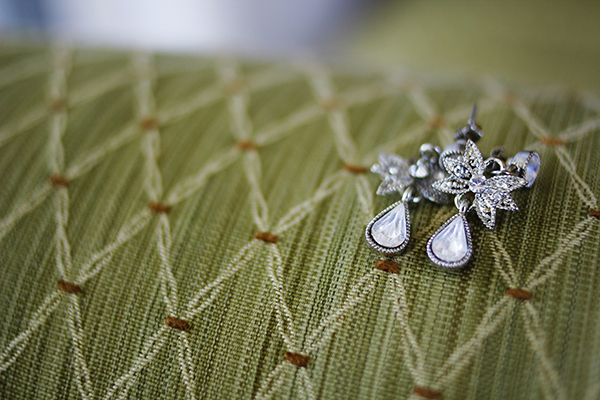 Engagement story from the bride:
The week leading up to the proposal he gave clues and hints of what that special night was to be about. For five days my husband dropped off gifts to my desk with hints about how we would celebrate our 1-year anniversary. Each clue was a poem that told me the colors of the event, the time of the event, the venue and he even bought me a dress for the event. Little did I know, my husband planned this elaborate function where he invited all of our family, friends and co-workers. The day of the event came and I was instructed to be ready by 7, as a car would pick me up from my home. In the car was my husband, dressed to impress and in his hands was a blindfold. Even up to that moment I still didn't know where he was taking me. He told the driver (his brother) to take the longest route possible, to throw me off. Finally, we reached our destination; still blindfolded he walked me into a quiet room and removed the blindfold. In front of me were all familiar faces, flashing cameras and a beautifully decorated room. What followed would change the rest of my life. My husband had a video prepared. In it he took me down memory lane with photos and videos of our year together. He included interviews from family members who spoke about how special I was to him. After the video my husband had a microphone in his hand as he stated that he wanted me to be more than his best friend, girlfriend, or partner. He then got on his knee and asked me to be his wife. I burst into tears and hugged him unable to speak and everyone applauded.
From the Bride:

My wedding experience was overall amazing. I'm a natural planner and organizer so I planned everything to the very last detail. While there were some hiccups along the way that resulted in lack of sleep and even bridezilla moments, I wouldn't change it for anything as it all added to the overall best day of my life. On my wedding day I was unusually calm as everything just seemed to fall into place. As I was getting ready and watching my girls get ready I felt at peace… no wedding day jitters or nerves. It was serene, which is weird as I am usually a worry-wort. I'm a stickler for time and I knew I would be on time. In fact I arrived to church 10 minutes early. At that point I was anxious to get inside and become Mrs. Brown. From the moment I stepped inside the church I was excited, happy, and appreciative and those feelings lasted until the reception ended.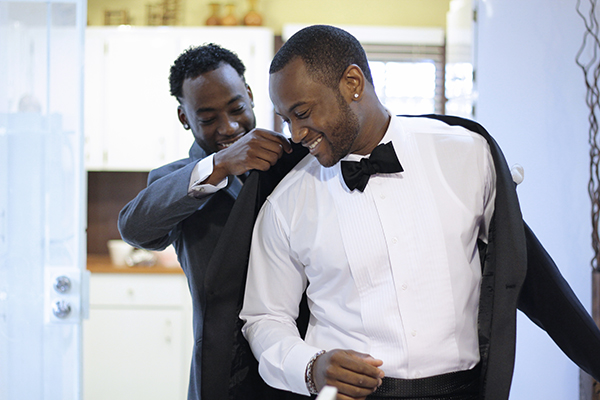 From the Groom:
What began as nerves throughout the morning turned into bliss when my wife walked into the church. I was also anxious to say those final words "I do". Seeing the décor that our family company adorned the church with left me in awe and pleasantly surprised as it was all I ever wanted for my wedding. Going into the reception my groomsmen and I were a tad nervous as we had a dance and singing performance for the bride and we wanted it to be perfect. The whole day was beautiful and I wouldn't change a thing.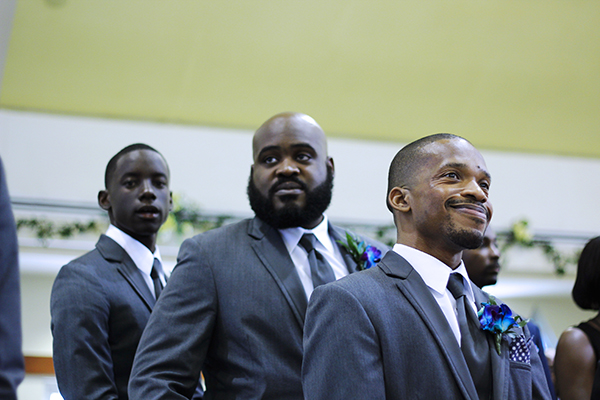 Your best/most memorable moment:
There are two moments that tie for most memorable moment. The first was during the ceremony as my dad was leading me up the aisle. As I looked up I saw Gerard wiping away tears. That was a complete shock as everyone expected me to be the one shedding tears. Secondly, During the reception Gerard and his groomsmen performed this amazing dance and song routine that everyone is still talking about to this day.
What makes your love special?
Firstly it was unexpected as we had known and ignored each other for months as we saw each other in passing every few weeks. Until one day it clicked and it was like seeing each other for the first time. It's also unwavering as we have consistently stood by each other through thick and thin. It's also different and unique because what we feel for each other we've never felt for anyone else. And finally it's right… that one is unexplainable it's just when you know you know.
Favorite wedding detail:
Our favorite details were definitely the decorations. His family owns a decorating company that we both assist with but for the reception his mother decided to make it a surprise and what an awesome surprise it was. Based on our color scheme and inspiration pictures she made our dream reception come true.
Wedding songs:
After much intense debate we chose 2 songs for the ceremony. The first, of which our bridal party walked to, was "If Your Not the One" by Daniel Beddingfield. It's an old song that I loved when I was in high school. When I played it for him and we listened to the words it we realized that it related to Gerard's transformation to becoming my husband. The song I walked down the aisle to was Ellie Goulding's "How Long Will I Love You." This song spoke to loving someone no matter what and beyond forever, that's the kind of love we share. Our first dance was to K. Michelle's "VSOP" and while most first dances are slow and romantic we felt this song represented the young, fun and devoted couple we are.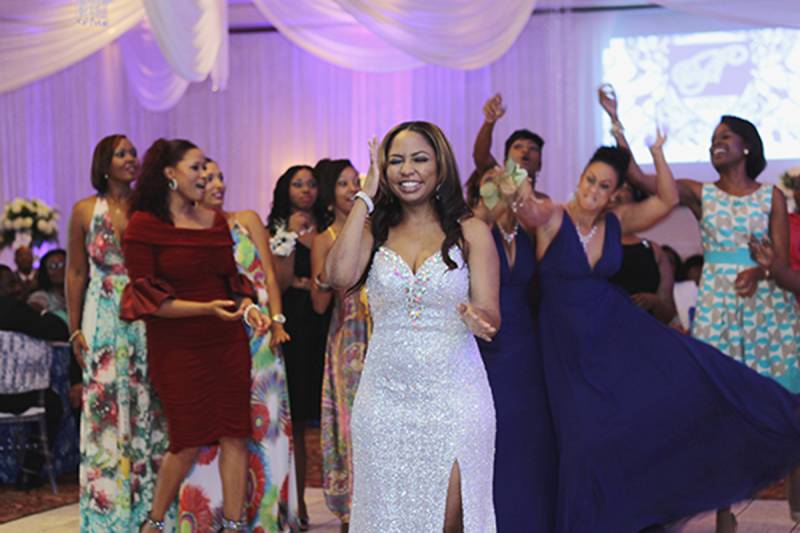 What are you most looking forward to as a married couple?
Growing as a couple, spending the rest of our lives with our best friends and loves of our lives, kids and learning each other.
Advice for a Bride/Groom on their wedding day:
While it's great to plan know that everything will not go perfectly. Don't let the hiccups ruin your day. Relinquish your cell phone to someone from the moment you wake up on your wedding day. And make sure you surround yourself with the right people who will assist, not hinder and put you first because it's your big day. Be prepared to spend a lot of time with your guests as everyone wants to talk and especially take cell phone pictures with the bride and groom.
Congrats to newlyweds Jasmin and Gerard! We wish you many more years of wedded bliss!
Vendors:
Photographer: Barry Williams Photography
Ceremony location: St. Joseph's Catholic Parish
Reception location Sandals Royal Bahamian
Bridal gown: Sottero & Midgely
Boutique: Five Seasons Bridal
Bridal party attire: Lazaro
Groom's tux: G. Alexander
Boutique: Buttons Formal Wear
Cake: Mmm'azing Bakes
Favors:
Music: Oral Hudson
Hair: Kayla Farquharson at Rave Salon
Make-Up: Torkel Dawkins at T's Artistry
Flowers & Decor: Brownstone Event and Rental Gallery
Stationery: Invitations by Dawn
Curated by our Wedding Features Editor, C.K. Alexander. C.K. is the owner and founder of Love Ink and Brownstone Bridal. Keep up with C.K. on Twitter here: @Love_Ink