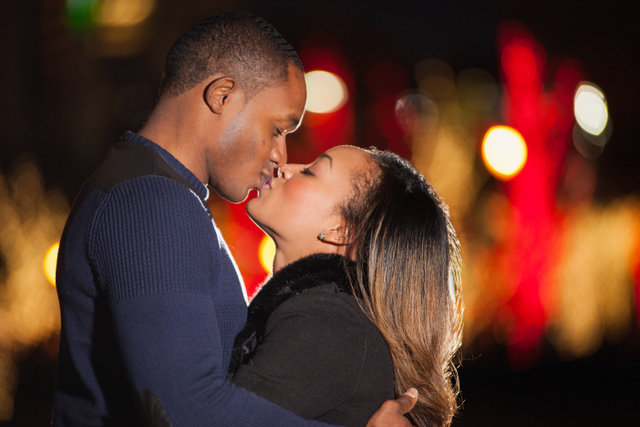 Jenna and Derrick have the classic college love story. They met in August 2007. Derrick was a football captain for Morehouse College and Jenna, who had recently transferred to Spelman College, was a Morehouse cheerleader. "We were both attending our separate sports camps and I had a huge ice pack up to my eye from a stunt we had been practicing that had a little accident and while on a short water break he called me over to him and made small talk about my eye and eventually asked me for my number before the conversation ended," said Jenna. And like they say in the movies, the rest is history. Jenna and Derrick are planning a "Southern Chic" themed wedding in Atlanta this Spring. Check out their fun outdoor engagement session captured by Viviana Chavez of Vivify Photography.
Bride: Jenna Days, Government Implementation Coordinator for Wells Fargo Treasury Services
Groom: Derrick Scott- Business Sales Associate for Verizon Wireless Corporate
Place of residence: Georgia
Engagement Shoot Location: Centennial Olympic Park (Atlanta, GA) & Big Creek Park (Roswell, GA)
Wedding date: 5/9/15
Wedding location: Atlanta, GA
Engagement story from the bride-to-be:
Christmas Eve 2013 Derrick stayed in Atlanta to celebrate (no biggie because he stayed most of the time) and we were at my mothers house with my family. I expected to spend the night because I have always spent Christmas Eve & Morning with my family and that was very important to me. For some odd reason Derrick said he'd rather go home that night and my Mother said I should wake up and spend Christmas morning with Derrick since he would be alone and I was so frazzled and sad because that's not what I wanted to do. He should do it my way. I wanted to do Christmas Eve the way I had been doing it for the past 27 years. Nonetheless, we go home to our apartment and the next morning we wake up and Derrick says "why don't you take a shower 1st"… (I had bed hair and pajamas on, but I was ready to open gifts. Lol) So I said, "fine if that's what you prefer." When we finally finish getting dressed our dog, Romeo, is laying on the ottoman waiting for his gifts so we open his 1st then we get to me. There were 4 gifts for me from Derrick and I had been waiting so long to open this one particular gift because I keep shaking it and I couldn't figure out what it could be. Another I knew was slippers because I'm a shopper and I know how boxes feel. So Derrick wanted me to open the slipper box first and I did. They were leopard print and I loved them so I went to take the stuffing out of the right shoe and it was a ring box. Derrick buys me jewelry all the time so I thought it could have been more earrings. But it was the most beautiful diamond ring! I screamed out of joy and he got down on one knee and popped the question. I said "Of course!"…. And he filmed the whole thing secretly. He was so nervous. And I loved every minute of it. FYI: All the other gifts for me were wrapped cardboard. Even the one I had been trying to figure out for 2 weeks. Lol.
From the Groom: Walk us through the behind the scenes of creating this special day:
It was early Christmas morning when I had been up all night contemplating on how I'm going to place the camera to record everything and how I could get her near the tree so everything could be in the screen. I woke up before her and decided to set everything up before she came out. Of course she was in her night clothes so I had to throw hints that she should change and unwrap her hair. As usual she took her precious time and even got in the shower, though that allowed me to get more test shots with the recorder. She finally came out and we started to open the gifts. We had planned on opening one and doing the rest later at her mother's house. She picks the one without the ring so I told her to open another, she wasn't about to ruin the moment. I hid the ring in some shoes that I bought her so when she went to try it on she would feel the ring box. Once she realized it I dropped to one knee and asked her, "will you marry me?!"
What makes your love special?
Our love is special because, like I mentioned before, we have an everyday kind of love and I call it that because we love each other so simply yet it's so deep we can't explain it. We have very opposite personalities that work so well with each other. I'm very talkative and detailed and I like to be the center of attention, where Derrick is more reserved and laid back. I'm white wine, he's red wine. I'm cupcakes and ice cream he's salads and zero calorie snacks. The best thing about it all is that we have been together for 7 years and we still enjoy being around each other all the time. And the perfect night for us is laying on the couch watching our favorite shows with our dogs. We don't need much, our love is simple. We're the perfect balance in our eyes.
What are you most looking forward to about your wedding?
Mostly looking forward to seeing each other for the 1st time when we look down the aisle because we know that will be the 1st day of the rest of our lives and we're excited for the journey to begin.
Have you started planning your wedding?
Our theme is Southern Chic Fabulous and yes, we have Jillian Smith from OneTouch Events planning our wedding and it's a LOT of work. I wouldn't have been able to do all the work without Jillian guiding me. She's very knowledgeable and simply wonderful to work with.
Congrats to Jenna and Derrick! We wish you a wonderful wedding and marriage.
Vendors:
Photographer: Viviana Chavez, Vivify Photography
Wedding Planner: Jillian Smith, OneTouch Events LLC
Curated by our Wedding Features Editor, C.K. Alexander. C.K. is the owner and founder of Love Ink and Brownstone Bridal. Keep up with C.K. on Twitter here: @Love_Ink