Kylie and Kerel met at work in 2012 while waiting to take the shuttle to the train. "I kept my sunglasses on but noticed Kerel talking to a colleague. She introduced us and we began chatting on the train. He was charming and had a great smile. Our conversation was cut short when we arrived at my stop and I got off and headed to the train," recalled Kylie. "The next day he Instant Messaged me at work and we became good friends." Two months after meeting, their friendship grew and while they were out at a restaurant Kerel told Kylie that he knew since they met that she would be his wife. He then told her "just don't marry anyone you decide to date, I would like to have the opportunity." Kerel's words became a reality as they celebrated their union with a Parisian themed wedding at The Westlake Village Inn. Check out their special day captured by Sun & Sparrow Photography.
Bride: Kylie Renee Mason, 31, Financial Services
Groom: Kerel Michel Sharfner, 33 years, Commercial Brokerage
Place of residence: Sherman Oaks, CA
Wedding date: 7/12/15
Honeymoon Destination: Saint Martin, Saint Maarten, and Anguilla
Engagement story:
He took me back to where it all started. San Francisco, Ca. Our first actual encounter was on the steps outside the lobby of our previous employer. The same place were I watched him from underneath my RayBans and he smiled at me while waiting for the shuttle. We planned to spend Thanksgiving at a family friend's house that year. Before we would go, he told me that he had a surprise for me – one of my friends that I hadn't seen in forever. Needless to say, she wasn't there! He got on one knee near the very same stairs that we met and it was all a blur from there! I couldn't help not crying, it was an amazing day! We didn't realize that we weren't the only ones witnessing this life changing event. After I said yes to our engagement, the security staff and a few people on the street came out clapping in excitement. It was a day I'll always remember.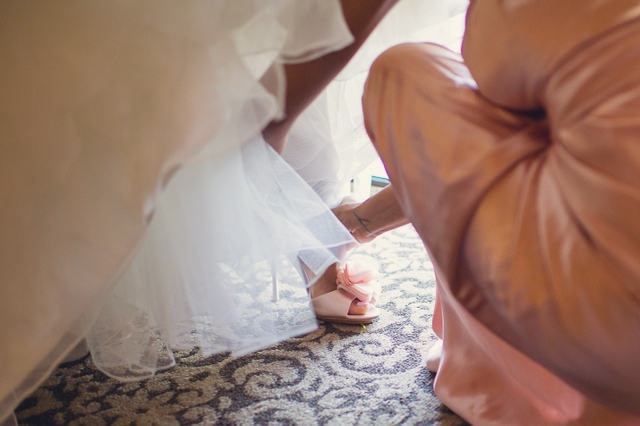 From the Bride:
I had a beautiful wedding day. It was so surreal. I did my best to take it all in. All I could think about was seeing Kerel. When I finally saw him at the ceremony (we decided not to do first look photos) I thought he was so FINE! I was so giddy like a school girl and Kerel was such a gentleman. I felt like Cinderella and he was my Prince Charming.
From the Groom:
The best day of my life! My bride looked stunning – straight out of a magazine. She was like a princess in a movie. I felt like Hakeem in Coming to America. Incredible to enjoy the company of our family and friends.
Your best/most memorable moment:
I have two: The first would be actually walking down the aisle with my Dad and seeing Kerel at the end of the aisle looking like a million bucks. I was so happy to finally see him as until this point we hadn't seen each other since the rehearsal party. My mind was racing and I was so focused on him thinking, this is it! It's finally here!! Kerel surprised me with some sexy moves that involved my toes- I'll leave it for the video, but it was exciting to say the least. He is pretty easy going so I was surprised when he had his cousin cover his mom's eyes. I thought, "uh oh.. what is he going to do?" It was one of the best parts of the night for sure. I had such a huge crush on him.
What makes your love special?
What makes our love special is that it was completely by God's design. We weren't expecting to meet and fall in love. When it's real it's easy. It falls into place. Everything happens exactly the way it is supposed to happen and that has been evident from the beginning. Our families blended right in as if we had been together for years. We knew that God's intention for us is to be partners, When we first met we had the feeling that we met each other before.
What are you most looking forward to as a married couple?
Kerel and I have been friends and partners since day one. Now that the ceremony is over, the real work begins. We have become even closer since the engagement and even more since the wedding. We both have demanding careers so it is so nice to have a partner to battle through life with. I know that he has my back and I have his. That makes this marriage easy. I am blessed I have married my best friend. Working to get better individually and as a couple. Our goals are to grow our spirituality, mental and physical health, our education, and, of course, grow our assets. We also want our own family and pray that God blesses us with healthy children. We are both family oriented and are looking forward to spending time with our families.
Favorite wedding detail:
The DJ was awesome, the food was delicious, and the dancing was epic! The drapery was beautiful and was a perfect compliment to the large chandeliers hanging from the ceiling.
Advice for a Bride/Groom on their wedding day
Enjoy the moment and work together. Anyone who has been married before understands that the planning and coordinating can be mentally (and physically) draining. Our mindset was to make sure we enjoy ourselves and our family and friends. Have fun! It's only one day so you cant sweat the small stuff. I forgot my headpiece and my lipstick color and was bummed at first, then I said to myself "brush it off girl, your marrying an amazing man that God designed especially for you." I could care less about that headpiece our day was amazing and so much fun!
Congrats to the newlyweds Kylie and Kerel! We wish you many more years of wedded bliss.
Vendors:
Photographer: Sun & Sparrow Photography
Ceremony and reception location: Westlake Village Inn
Bridal gown: Lili Bridal Tarzana
Bridal party attire: Rashantee Lee
Groom's tux: Tiglio
Cake: Lauren Sarpy
Wedding planner: Deena Sweeney
Music: DJ Ace
Hair: Darico Jackson
Makeup: Melissa Hibbert- The Glam Agency
Flowers: International Flowers
Stationery: Minted.com