Michelle and Brandon met each other during their senior year of High School in 2011. Michelle would notice Brandon around school because of his sense of style. All the while, Brandon was interested in her as well and was speaking to a few of her friends to get the inside scoop about her. "We had a friend that tried to put us together but it wasn't until I stepped out of my comfort zone and approached him to give him a compliment that we began to speak to each other," said Michelle. "We exchanged phone numbers and five years later we've been inseparable." Check out their classic glam, Orlando wedding, captured by Ashley Canay Photography and Videography.
Bride: Michelle Almonor Benjamin, 23, CEO of OURS by Blackjoy
Groom: Brandon Benjamin, 23, Founder of Blackjoy
Wedding location: Crystal Ballroom at Metro West in Orlando, Florida
Place of residence: Tampa, Florida
Wedding date: 12.11.2016
Wedding theme: Classic Glam
Honeymoon: Barbados
It was Christmas Eve and we visiting family in Miami, Florida. Brandon gave me a call and told me that he wanted to meet up and talk about something important. I can definitely admit that I was nervous and didn't know what to expect. After meeting up near the bay, he led me to believe that he had to move back home (we were away at college at the time) and I was devastated! Although it was a hard pill to swallow, I told him that I completely understood and that we would make it work. To my surprise, he began to pull the ring out of his pocket and got down on one knee to propose! In actuality he had no plans of moving back home and that moment solidified my commitment to him. Needless to say, it was the best Christmas ever!
Engagement story:
My initial thoughts were "The day is finally here!" However, I was not mentally prepared for the sheer emotions that the moment created. When my wife walked down the aisle, I was overwhelmed! Of course I felt this way because I was so grateful to finally be married to her, but the majority of the feeling came from my appreciation of how beautiful Michelle looked as a Bride. She looked amazing! Here walking down the aisle was a moment I'll never forget.
From the Groom:
From the Bride:
I wasn't nervous about marrying Brandon at all! I can honestly say that I was anxious about everything going smoothly. Of course there was no reason to be worried because the wedding was perfect. Everyone truly had a blast. Towards the end of our reception our guests even cheered for one last song. I wouldn't have married my soul mate any other way.
We definitely understand each other. We take out the time to know each other's needs, likes/dislikes, and aspirations. We work together very well and always knew from the beginning that we had a future together.
What makes your love special?
Most memorable moment: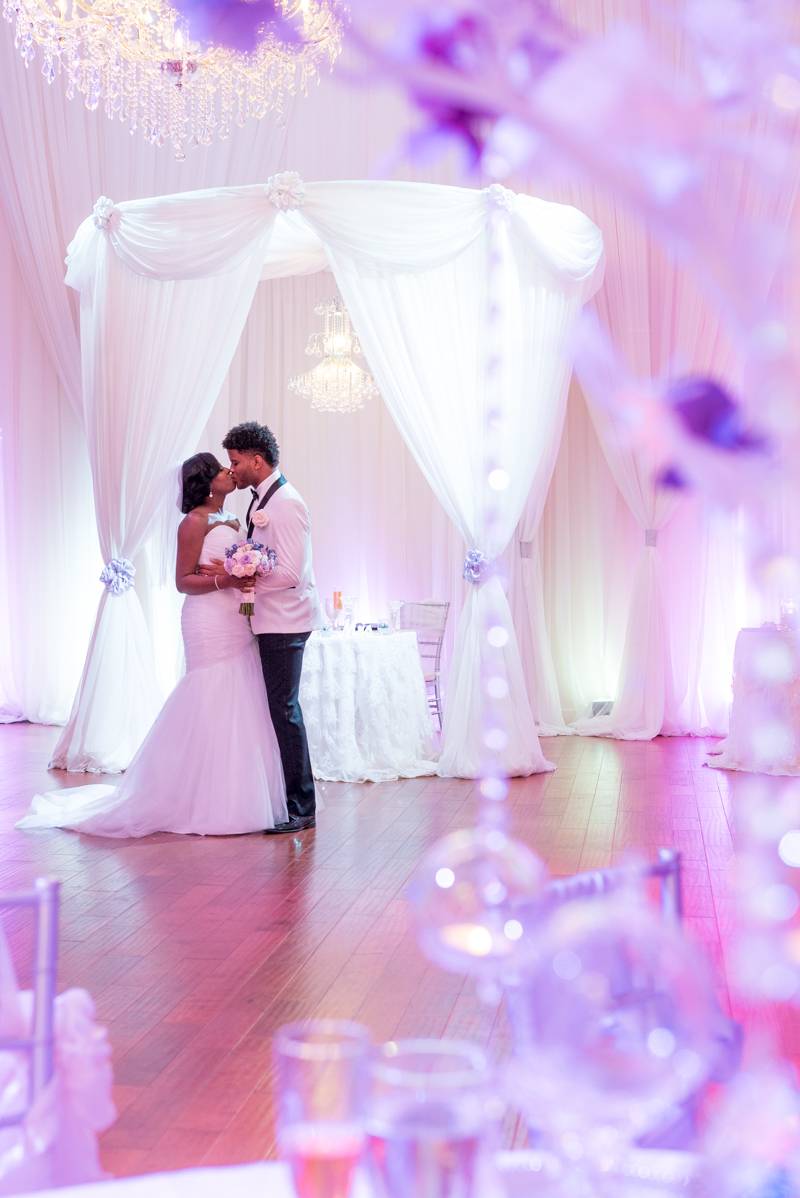 Entering in our reception officially as husband and wife was definitely a memorable moment for us. Our bridal party was super hype and we couldn't wait to get on the dance floor during our entrance.
Favorite wedding detail:
We're definitely looking forward to growing together. There are so many things we want to accomplish as a unit and we can't wait to see what is in store for our future.
What are you most looking forward to as a married couple?
Instead of focusing on what can go wrong, make a conscious effort to be positive. Your wedding day will be over before you know it so be sure to enjoy every moment!
Vendors:
Photographer: Ashley Canay Photography and Videography
Bridal gown: Athena's Bridal, Dress designer – Mori Lee
Ceremony and reception location: Crystal Ballroom at Metro West
Bridal party attire: Davids Bridal
While all of our details were fabulous, I must say that the ceremony décor and set up blew us away. We had no doubt that it was going to be beautiful but it was simply magical!
Groom's tux: Mens Warehouse -Tux Jacket: Asos
Cake: Party Flavors Custom Cakes
Advi
ce for a Bride/Groom on their wedding day:
Wedding planners: With Love, Event Services
Congrats to the happy couple! We wish you many more years of wedded bliss!
Music: Classic Events Entertainment
Favors: Candy Bar
Make up: Anne-Sophie Petit-Frere
Hair: Marie Fortune
Caterer: Affordable Sweets
Flowers: In Bloom Florist
Stationery: Swell & Grand
Videography: Gerry Laurore
Sources