Starlette and Calvin met in 1998 during their freshman year of high school. The two celebrated their union with an intimate wedding at the Columbus Hospice, in Columbus GA, where they could be close to Starlette's father who was diagnosed with Cancer. Starlette and Calvin had been planning a 2015 wedding before they got the news that Starlette's father didn't have much longer to live. Starlette new that she wanted her father to be a part of one of the most important days of her life and Calvin agreed that having their wedding wherever her father was, would be the perfect place. Take a look at their beautiful ceremony captured by Kima Golden of The Sweetest Things Photography by Kima.
Bride: Starlette Desiree Irvin, 32, Legal Research
Groom: Calvin Cardell Pugh, 32, Correctional Officer
Place of residence: Columbus, GA
Wedding date: 12/27/14
Wedding location: Columbus Hospice, Columbus GA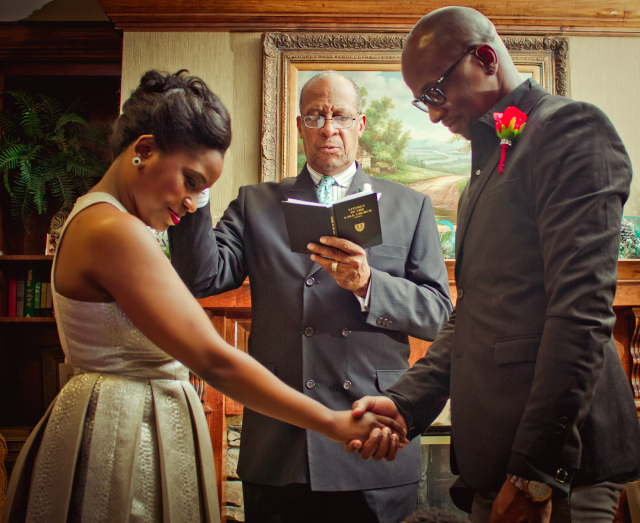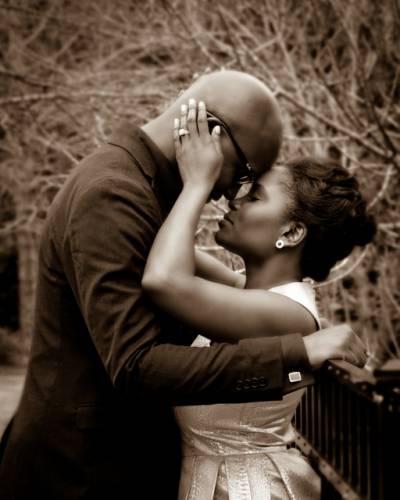 Engagement story:
Calvin proposed to me in September 2010 at my house blessing event. It was a huge surprise; most of the guests knew that he was going to propose that day. Both of our families as well as our pastor were present.
From the Bride:
We didn't have the typical wedding. Calvin and I got engaged in September 2010. We didn't have a date set at that time and a couple of life events got in the way. We had a child born prematurely in 2011. In August 2014 we began planning for a wedding in 2015. On November 29, 2014 my dad began experiencing some stomach pains and was taken to St. Francis Hospital. They saw that he had a blockage that needed to be removed. His surgery was scheduled for December 3rd. During the surgery, they discovered that he had cancer and would be with us for about 2 -3 months. I've always envisioned that my dad would be a part of my special day. My fiancée and I discussed getting married as soon as possible. We settled on a date, December 27th. On December 7th we went to the hospital to visit with my dad and tell him about our plans. He asked where it would be and I told him that we'd come to him. Wherever he was, is where we'd get married. So at that time we were planning to get married in the chapel of St. Francis Hospital. However, on December 18th, my dad was moved to the Columbus Hospice House. His cancer was progressing at a much faster rate than expected. At that time, the doctors gave him about 3 – 4 weeks. We kept everything small for the wedding, immediate family only. The one thing I really wanted was nice pictures. My thought was that may be the last time all the family can get pictures together. We got married on Saturday, December 27th. Columbus Hospice House was amazing, they allowed use of their facility for the ceremony and reception. We were able to take pictures throughout the property. It was a beautiful day, the weather was wonderful. We were surrounded by the people that loved us the most. It would also be the last day that I would spend with my dad. He passed the next day, December 28th.
The couples most memorable moment:
I don't know if there was a most favorite moment for us. The entire day was memorable. Because the amount of time that we've been together, both of our families are very close. So it was an emotional time for everyone. A beautiful time, yet bittersweet.
What makes your love special?
We met very young, so of course we've had our ups and downs. But regardless, we always seemed to find our way back to each other. It seemed as if we were destined, we have literally grown up together.
What are you most looking forward to as a married couple?
We are going to continue to grow together, raise our son together, and love each other. Just officially being husband and wife.
Advice for a Bride/Groom on their wedding day:
Don't get caught up in all the hype for your wedding day and get stressed out. At the end of the day, all you need is love!
Congratulations to newlyweds Starlette and Calvin! We wish you many more years of wedded bliss.
Vendors:
Photographer: Kima Golden of The Sweetest Things Photography by Kima
Ceremony and reception location: Columbus Hospice
Bridal gown: Gianni Bini
Cake: Columbus Corner Bakery
Hair: Charmaine Gant with Unlimited Cuts and Styles
Makeup: Alicia Cooper of aliciasartistry.com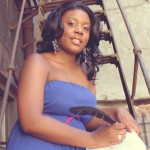 Curated by our Wedding Features Editor, C.K. Alexander. C.K. is the owner and founder of Love Ink and Brownstone Bridal. Keep up with C.K. on Twitter here: @Love_Ink