Amanda and Rob officially met May in 2010 at a house party, they had been introduced to each other the year before but this time was different. "We had champagne and danced the night away at a party where no one else was dancing. Our first date was the next day and we have been dating ever since," said the happy couple. The two celebrated their union with a tropical destination wedding on the beautiful island of Jamaica. Check out their beach themed wedding captured by Tomayia Colvin Photography.
Bride: Amanda Newsome, 32, Senior Human Resources Generalist
Groom Robert (Rob) Cambrice Jr., 33, Entrepreneur
Place of residence: Houston, TX
Wedding date: 6/14/2014
Wedding location: Montego Bay, Jamaica
Honeymoon Destination: Ochos Rios, Jamaica
Engagement story:
We invited guests to watch the Louisiana State University Tigers and Texas A&M Aggies play football in their first game since TAMU joined the SEC. During halftime, Amanda planned to congratulate Rob and his business partner on successes with an Edible Fruit Arrangement that all could share (Rob is a vegetarian). Her congratulations plan went as scheduled. And this is when the video and surprise began…Rob asked everyone to fill their glasses so he could make a toast to his new venture successes. Amanda said "That's a great idea!" with no idea of what was to happen next. Rob toasted to the successes and he then stated he wanted to toast to Amanda – thanking her for her support – she still had no idea! He told everyone how much he loved her and with good friends around, Rob got down on one knee and proposed! Amanda looked so confused and was shaking. SHE SAID YES!!!
From the Groom:

The joining of two kindred spirits is always an epic event. We all live for those moments that take our breath away and June 14, 2014 is one of those memorable days I'll never forget. Creating an everlasting union with the love of my life will be hard to top in the coming years. Our wedding day was such an exceptional event it's hard to believe my wife and I were the center of attention. The white sandy beaches of Jamaica blended with the crystal clear waters filled the atmosphere with love. Words can't explain the excitement I felt having my closest family and friends join us for this event. The excitement I had during the day was magnified when I finally locked eyes with my wife to be! Seeing her exude pure beauty as she walked down the aisle brought tears to my eyes. At that exact moment, I knew we made the best decision to spend the rest of our lives together. Visions of a beautiful bride and a first-class ceremony will forever live in my mind while continuously capturing my heart. Amanda L Cambrice is the best thing that has ever happened to me!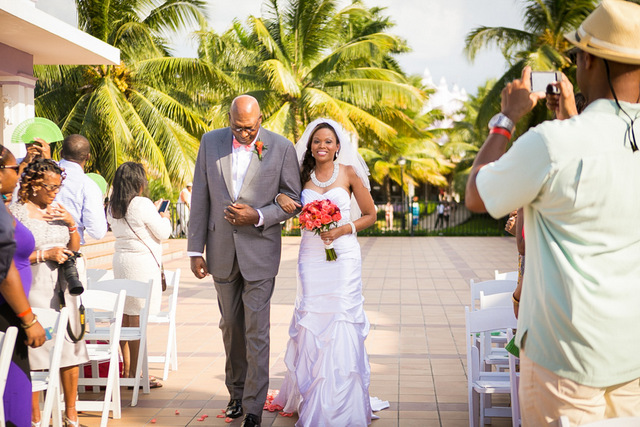 The couple's most memorable moment:
The entire wedding ceremony especially when we were introduced and we gave the wedding party high fives. The happiness that day was fabulous!
From the Bride:
I felt excited by the thought of officially starting our journey together! While this was a destination wedding, we had 75 family and friends attend (so it was a big destination wedding) and most had arrived early to have fun in the sun before our nuptials! I felt extremely warm, loved and blessed by the fact that my family and friends could make it and have fun, too! When we arrived to the resort, some were even in the pool and they were so happy for the festivities. I was very busy the morning of the wedding, but I spent my first couple of hours meditating and praying which took me to moments of thankfulness to my friends and family who'd supported me up to that moment. I cried tears of joy and thankfulness; I also made time to call some of them. At the ceremony, as soon as I heard John Legend, my face crumbled as I turned the corner on my Daddy's arm. I overheard a guest say "hold it together" and for some reason I sort of did, but I cried as soon as I saw my future hubby.
What makes your love special?
We are both very different and respect those differences! We connect because of our want to be the best for each other and because of our value system.
Favorite wedding detail:
Ceremony location, weather, and atmosphere.
What are you most looking forward to as a married couple?
Loving and being the best for each other.
Wedding songs:
Before I Let Go , Frankie Beverly Maze – this is the first song we danced to when we danced at the house party. We both love Frankie Beverly Maze, too.
(Ceremony aisle song) John Legend, All of Me. Amanda knew this was the song for her to walk down the aisle because she knew that Rob loved all of her in spite of her faults. Amanda would cry at the thought of the song because she knew Rob loved her this way and she loved him the same.
Advice for a Bride/Groom on their wedding day:
Weddings and the surrounding events can be super detailed with lots of questions for the bride/groom, but on the wedding day, all that matters is that the bride and groom are there! There were small issues on the day (bride's slip was missing) of our wedding that we decided before we even arrived that wouldn't matter. For a destination wedding, re-direct those questions to someone not in the wedding party! Aunt Sara was the person for the ladies and my friend Jason was that person for the guys! It kept peace and the joy in the entire day!
Congrats to newlyweds Amanda and Robert! We wish you many more years of wedded bliss!
Vendors:
Photographer: Tomayia Colvin Photography
Ceremony & Reception location:
The Riu Montego Bay, Montego Bay, Jamaica
Bridal gown: David's Bridal
Bridal party attire: David's Bridal
Groom's tux: Men's Wearhouse
Favors: Beau Coup
Save-the-Dates: Magnet Street
Invitations & Programs: David's Bridal
Curated by our Wedding Features Editor, C.K. Alexander. C.K. is the owner and founder of Love Ink and Brownstone Bridal. Keep up with C.K. on Twitter here: @Love_Ink