Brittney and Thomas met in 2006 at Thomas' home. "His cousin and I have been good friends since we were 14 years old but became distant during our years in college. During the summer of 2006, we both experienced life altering trauma that led us to reconnect and spend a lot of time together: My father was killed 2 weeks before school started. His cousin became my support system. At some point in the beginning of the semester, my friend decided to move in with Thomas. On the way to his house, in conversation, she describes his personality and style and I remember thinking to myself, 'He sounds like the perfect man for me'," recalls Brittney. Brittney didn't waste any time letting Thomas know about her feelings for him. However, Thomas was not interested in starting a relationship at the time because of her age. "I was at his house every weekend to hang out with my friend and profess my intentions to him. At some point, Thomas made the statement that I was too young (20) but as soon as I turned 21, we could possibly move forward. After several months, I turned 21 and the rest is history," said Britteny. Check out Thomas and Brittney's "DC Party/ Go- Go Scene" themed wedding, captured by Natarsha Wright Photography!
Bride: Brittney Y. Robinson- Jones, 29, Secondary Educator
Groom: Thomas B. Jones, 42, Mail Carrier for the USPS
Place of residence: Washington, DC
Wedding date: 6/28/14
Wedding location: The Newton White Mansion, Mitchellville, MD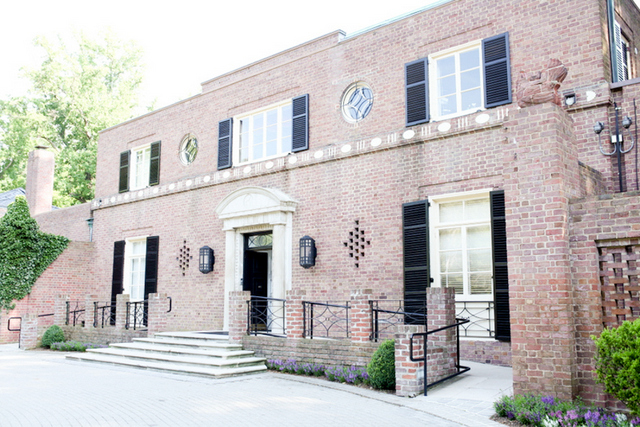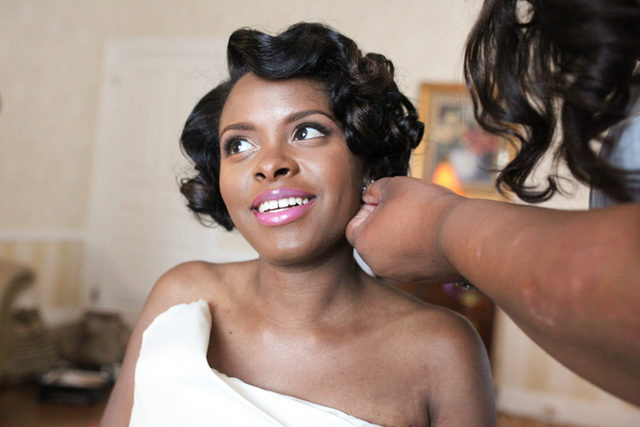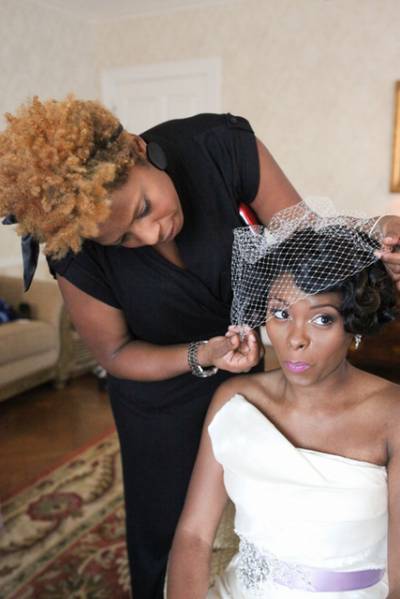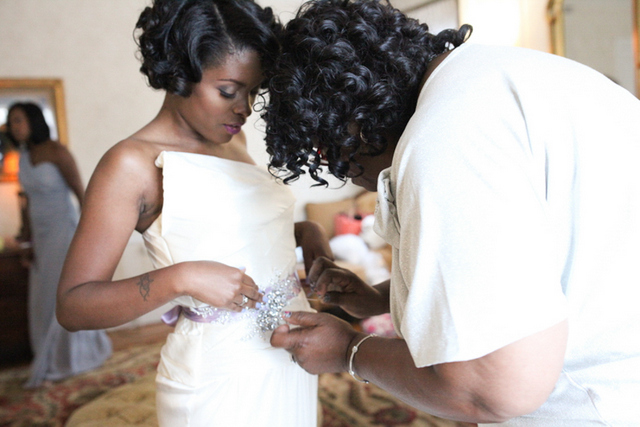 Engagement story:
Thomas proposed on Columbus Day in 2011, after 5 years of dating.That day, he was supposed to accompany me and several of my students to my favorite play, Fela! At the last minute, we gave his ticket to a student who wanted to join his classmates. After the play, I saw my students off and joined my line sisters at a local club. Once home, Thomas, in his playful way, began professing his love for me. It was 3 am and I was in no mood to hear him out so I responded, "Whatever, you don't love me." At that point, Thomas reached in the top drawer of his dresser and pulled out a little wooden box. He takes out the ring, places it on my finger and begins to explain the quality of the diamonds! He then reaches back into the drawer and pulls out the paperwork to prove the quality and cut. I was stunned! I ran out of the bedroom, screaming and staring at the ring! Once I calmed down, and said, "You didn't actually propose." Thomas got down on one knee and asked me to be his wife. Of course, I said "yes". A few days after the proposal, Thomas shared that his original plan was to propose in front of my students during the intermission of Fela!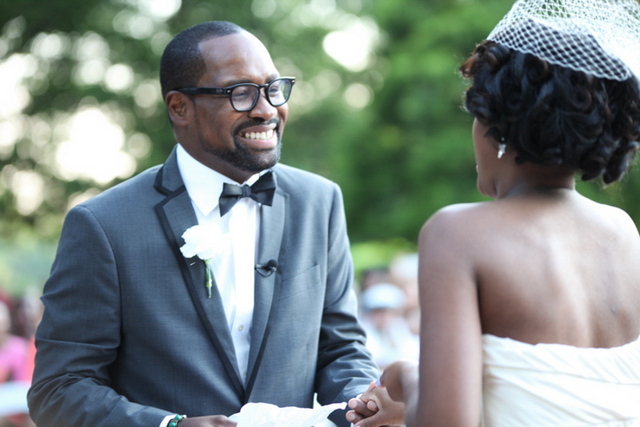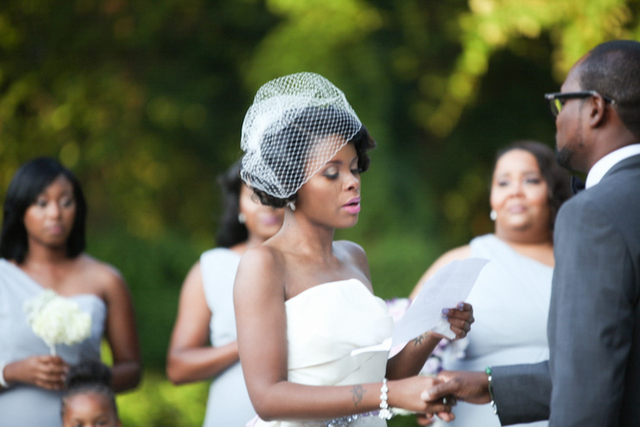 From the Bride:
I enjoyed the wedding planning process and the actual day was everything I wanted and more! I started planning the wedding in 2013 with 2 goals: stay within the budget and plan a party. I achieved both goals! I bought my dress on sample sale and connected with great vendors, all minority owned businesses. To set the tone for the party, our "save- the –dates" and invitations mimicked the DC Go- Go posters from the 80s and 90s. We swapped the traditional banquet furniture for lounge couches and bar stools, and our menu consisted of DC "carry- out" favorites like chicken with mumbo sauce. The wedding day was relaxing. My wedding coordinator, Tiffany of Simply Breathe Events, handled the day of business, so everything ran smoothly. I spent most of the day relaxing and joking with my 7 bridesmaids in our hotel room. The laid back atmosphere of the day helped confirm the feeling that marrying Thomas was one of the best decisions of my life. Did I mention I was 4 months pregnant? Stressing over little details was not an option.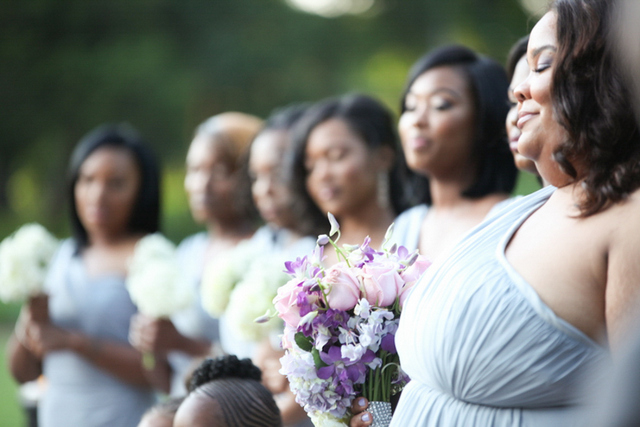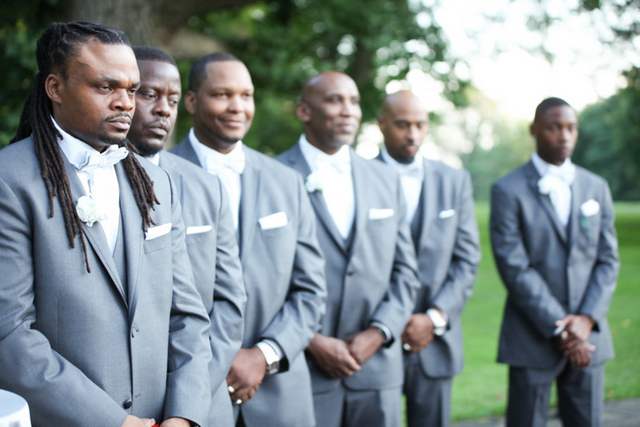 From the Groom:
Thomas's biggest contribution to the wedding planning process, outside of the providing his hard earned coins, was coming up with the party theme. We both are DC natives so it was important to keep the music and food authentic. Thomas expressed being nervous but relieved on our wedding day. A usually laid back man, the nerves appeared right before the ceremony started. However, the nerves subsided by the time of the reception—with the help of a few shots of tequila.
Your best/most memorable moment:
We really enjoyed sharing our wedding vows. We chose to write our vows… the day of the event. Our vows were heart felt and included a little humor. Thomas vowed to never treat me "like Kirk treated Rasheeda on 'Love and Hip- Hop'."
Favorite wedding detail:
Our favorite details were the party starters: food, music, and alcohol. Our guests raved about the native DC flavors presented during the cocktail hour and reception. Our bar tenders kept the drinks flowing for our guests. Adding to the atmosphere, DJ Heat provided a perfect mix of modern hip- hop, go- go and classic line dancing music. It really felt like a club!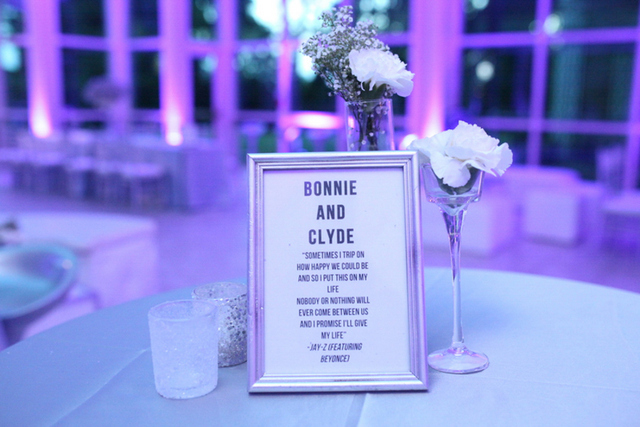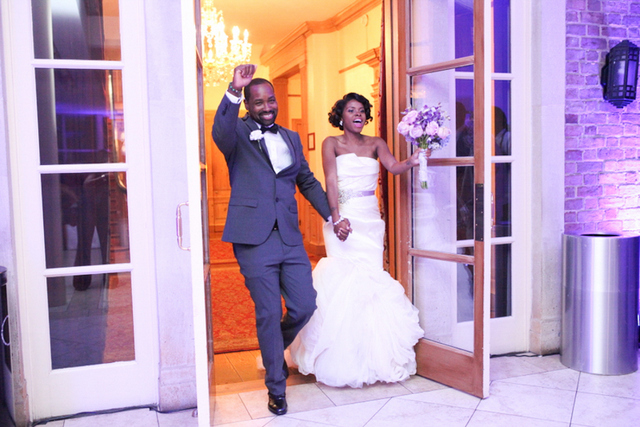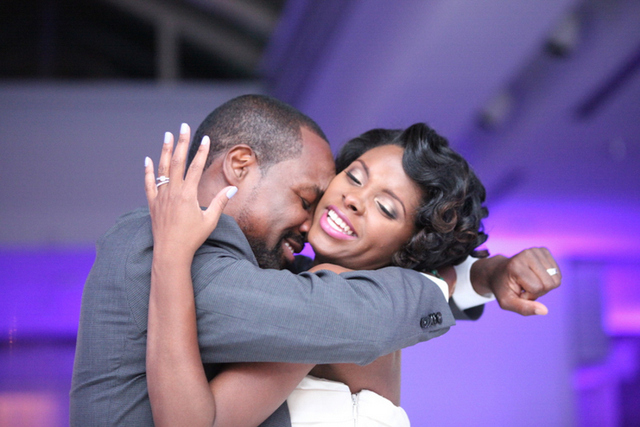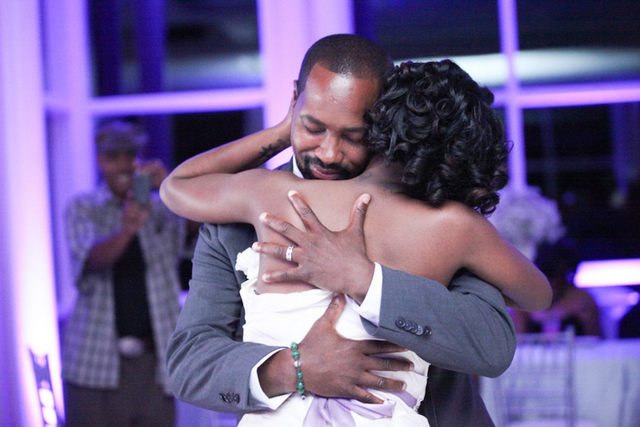 Wedding song:
Our first dance was set to "In Love with You" by Erykah Badu featuring Stephen Marley. We chose the song because of the message of establishing a friendship before falling in love. That was probably the only slow song played during the reception.
What makes your love special?
Because of the traumatic event, I was emotional and trying to grieve while finishing my senior year at Coppin State University was overwhelming. Thomas' home was my safe space. From the beginning, he encouraged me to establish and experience a life without limits outside of our relationship. We believe that being in a relationship should not strip the people in the relationship of their individuality. We accept each other.
What are you most looking forward to as a married couple?
We plan on continuing our journey of love as we enter into "parenthood". On November 16, 2014, I gave birth to our little girl, Nile J. Jones. We are excited to raise her in a loving environment.
Advice for a Bride/Groom on their wedding day:
The best advice I can give to a couple on their wedding day is to make sure your wedding is a representation of you and your partner. Many people advised me to tone down the music and bar selection. I didn't and everyone enjoyed themselves.
Congrats to the newlyweds Brittney and Thomas! We wish you many more years of wedded bliss!
Vendors:
Photographer: Natarsha Wright Photography
Ceremony/ Reception location: The Newton White Mansion
www.pgelegantsettings.com
Bridal gown: Vera Wang Fiona Dress
Bridal party attire: Dessy Bridal Collection
Groom's tux: Massimo Rebecchi
www.yoox.com
Cake: Couture Cakes by Sabrina
www.cakesbysabrina.com
Caterer: C and C Catering in Upper Marlboro, MD
www.c-ccatering.com
Favors: DMV Photo Booth Rentals
www.dmv-photoboothrentals.com
Wedding planners: Tiffany Rivera of Simply Breathe Events
www.simplybreatheevents.com
Music: DJ Heat; www.djheatdc.com
Hair: Sharmeka Drayton
www.schedulicity.com/beautimarc
Make Up: Arica Peni
www.alreadyperfectartistry.com
Flowers: Allyson Morehead of Sweet Potato Paper
Save the Dates: Designed by Lavan
Printed at the Howard University Print Shop
www.howarduniversity.edu/campusconnection
Invitations: Sweet Potato Paper
www.sweetpotatopaper.com
Furniture Rental and lighting: Da Vinci's Florist
Shoes: Brian Atwood
Curated by our Wedding Features Editor, C.K. Alexander. C.K. is the owner and founder of Love Ink and Brownstone Bridal. Keep up with C.K. on Twitter here: @Love_Ink