Taurus and Dunni met in May 2010. He had just crossed Omega Psi Phi Fraternity Inc. at Miles College and she had just crossed Sigma Gamma Rho Sorority, Inc. at the University of Alabama, Birmingham. They met each at a chapter anniversary function in 5-points Birmingham, AL and caught each others' eye. They have been together for 4 years now and are planning a winter wedding in Alabama later this year. Check out their "sweet love" themed engagement session, captured by The Price Approach.
Bride: Oladunni Oluwoye, 27 years old, Doctoral Student at the University of Cincinnati
Groom: Taurus Richardson, 27 years old, Rehabilitation Counselor
Place of residence: Alabama/Ohio
Engagement Shoot Location: Birmingham, Alabama
Wedding date: 12/12/15
Wedding location: Huntsville, Alabama
Engagement story from the bride-to-be :
Taurus' story will probably be different which would be expected, but we had planned a trip to Orlando for our anniversary. We had been in Orlando for about 4 days, on our last day we had been out all day and I was tired. However, Taurus said we had dinner plans with his line brother and girlfriend at a restaurant in Disney World. Fast forward he ending up talking me into wearing a nice dress instead of the jeans I initially wanted to wear and we arrived at the restaurant. As we were getting out of the car, Taurus locked the keys in the trunk and because the car was a rental car It took us a while to figure out how to get it open because there was no button on the keys or inside the car to open the trunk. Long story short I had to crawl into the trunk from the backseat to find the keys. Taurus was highly upset (he later told me my engagement ring was back there). Dinner was lovely we were right by the fireplace it was just a really nice atmosphere. After dinner we had walked outside and I was shocked because there was a horse and carriage, which he had set up for us to get on. The carriage stopped at a fountain that was lit up in such a way that you were in awe. As we walked over to the fountain Taurus gave me a box I replied "what is this for?" he said "open it" and the ring box were inside. I was filled with nerves and excitement and I opened the box and it was empty… I said "really?" By the time I looked up he was on his knee and pulled the ring from his pocket and asked me to marry him. All I kept saying was "are you serious? Are you serious?" He said "yes, will you marry me"… I said "of course."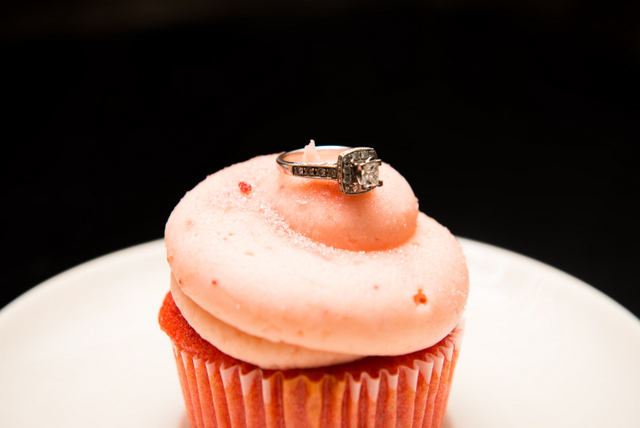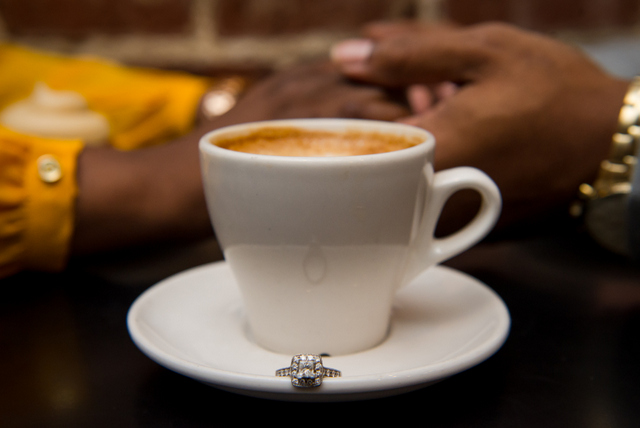 From the Groom: Walk us through the behind the scenes of creating this special day:
We had planned a trip to Orlando, Florida for our anniversary. It was our first time there. I had to coordinate with my line brother since he was more familiar with the area, so he suggested making reservations for dinner at the Boatwright Dining Hall, at Disney World. So I had to hide the engagement ring somewhere that she would not notice it because Dunni has a way of figuring out and ruining my surprises. My line brother and his girlfriend accompanied Dunni and I to dinner on our last night. I wanted every moment to count from the drink selection to the consideration of dessert. Looking over at Dunni I leaned over and gave her a kiss and said "I love you girl" as I leaned back in my seat. After laughing and making jokes about everything possible, we began to eat our entrée. Before we left our table my line brother and I walked outside so we could set up the carriage ride. As we were walking, hand in hand, I pulled her toward the exit door. Dunni was like "what's out there?" I smiled and replied "another surprise". We took more pictures as we walked toward the horse carriage. Now, Dunni was like you probably reserved us a carriage ride. I said "I did,"her whole face lit up from ear to ear. The carriage ride took us along a well-lit path and as we looked over to the left and there was a wishing well. I had asked the carrier to stop so we could take pictures in front of the wishing well. The wishing well had decorative lights all around and it made the perfect backdrop for the big proposal, it made it magical. We both threw our coins in the well after we made our wish. I was so nervous and I saw Nick take out his phone. It was go time! I looked at Dunni, uttered to her a few words. Told her that I had something to tell her. She replied "what is it handsome?". I preceded to go in my pocket. Before I kneeled down I asked her to marry me. "You serious, are you serious Taurus?". I knelt down and placed the Eiffel Tower on her. This is how we got engaged.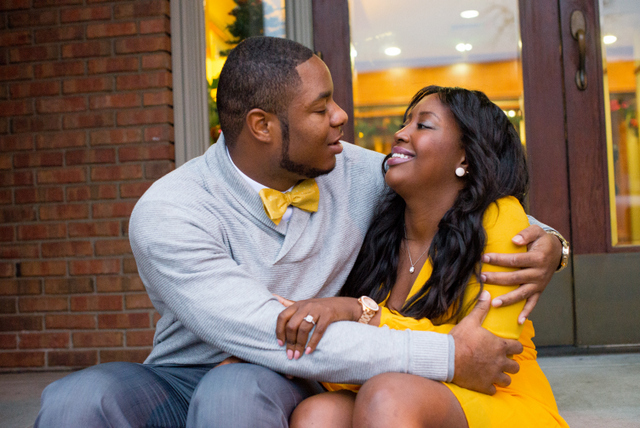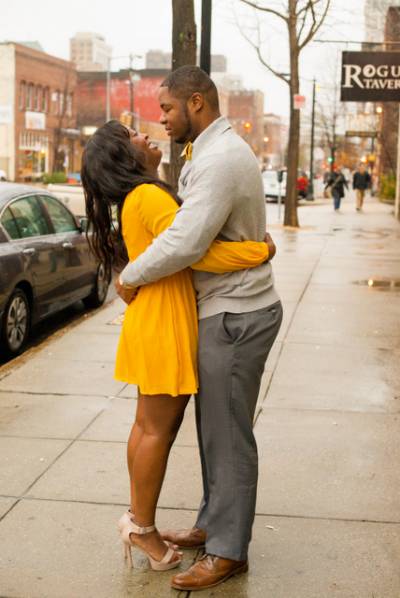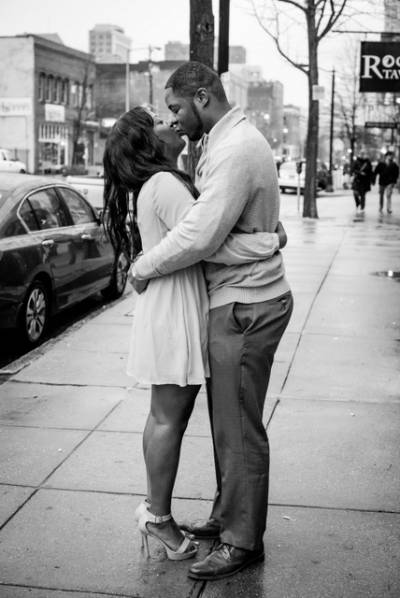 What makes your love special?
What makes our love special is that, it is our love and there is no love like ours. It is not determined or influenced by others, what we have is unique to us and it continues to grow.
What are you most looking forward to about your wedding?
I think we are both really looking forward to finally making a covenant with each other and with God. Sealing the deal!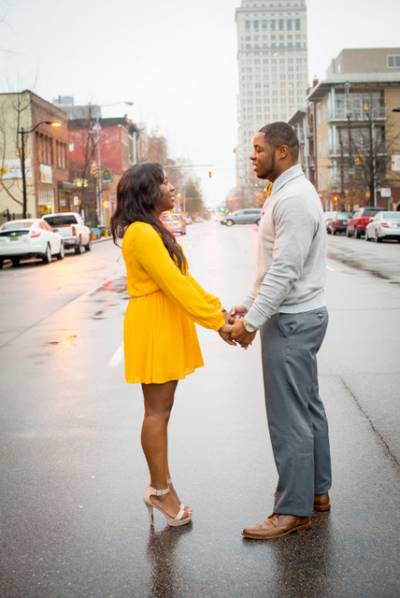 Have you started planning your wedding?

The wedding planning has definitely started which is always exciting. After all of our indecisiveness we have finally settled on the colors for our wedding: blush, grey, and yellow. The bridesmaids will be wearing a long chiffon blush dress and the groomsmen will be wearing grey suits with their bow ties and pocket squares to match the color scheme. The wedding will take place at the brides parents Baptist church in Huntsville, AL and the reception will take place at the Westin on Bridge Street in Huntsville, Alabama.
Congrats to the happy couple Taurus and Dunni! We wish you a wonderful wedding and marriage.

Photography by BB Bridal Suite Members The Price Approach. See more of their work HERE.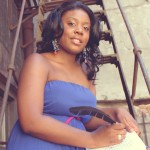 Curated by our Wedding Features Editor, C.K. Alexander. C.K. is the owner and founder of Love Ink and Brownstone Bridal. Keep up with C.K. on Twitter here: @Love_Ink