Nigel and Verline met each other on the warm summer night of July 3, 2008 at the Jin Asian Caribbean Soul Lounge in Washington, D.C. Verline was celebrating a friend's birthday. Nigel was also there with a group of friends at the popular U Street lounge. Nigel eventually caught a glimpse of Verline on the other side of the room, and was instantly enthralled, and found the courage to stop and engage her in conversation. The two of them discovered they had an unusual amount in common. Their meeting immediately began to feel more like fate and predestined rather than chance. They eventually continued the momentum and have been inseparable ever since. Check out their Autumn themed wedding, captured by Henry Spencer of Memories of Bliss Photography!
Bride: Verline R. Jackson, 36, Professional School Counselor
Groom: Nigel D. Jackson, 36, Mental Health Specialist
Place of residence: Bowie, MD
Wedding date: 10/19/13
Honeymoon Destination: Jamaica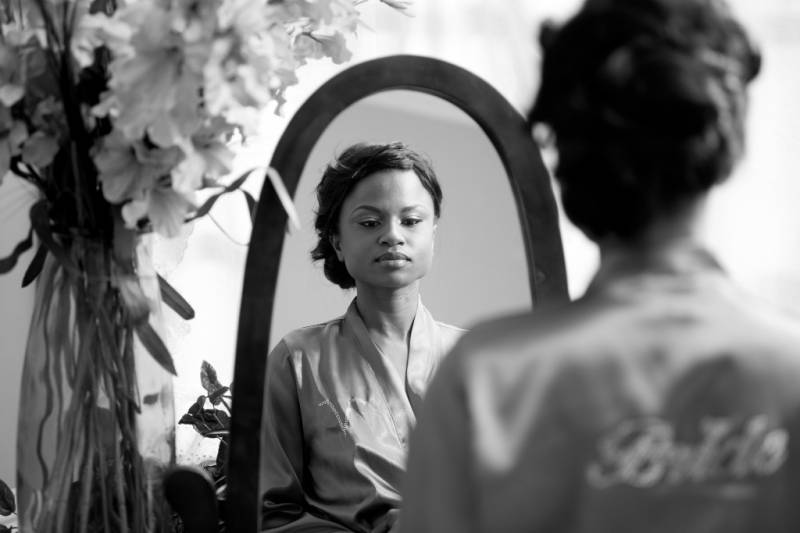 Engagement story:
Nigel asked Verline to spend the rest of her life by his side on Sunday, April 15, 2012. In the spirit of their sacred yet subtle relationship, Nigel wanted the proposal to be meaningful, but not ostentatious. In order to preserve the surprise, he casually asked her to dinner. Unbeknownst to her, he had asked and received permission from her father, Jimmy, for her hand in marriage a few weeks prior while on a family visit to South Carolina.
On that Sunday, Verline agreed to "grab something to eat" later on that evening. Dressed comfortably, and quite casually, the two dined at McCormick & Schmick's Seafood Restaurant at the National Harbor overlooking the Potomac. Shortly after receiving their meals, Nigel told Verline how special she was to him and how he cherished her. He communicated how he shared his love of her family and his vision to become a family with her. Convinced she was the answers to his inner-most prayers, he took a deep breath, got down on bended knee, and asked Verline to marry him. Verline was so excited! She was speechless, shaking, and started crying. "I don't know what to say," she said. "You can start by saying 'I do'" Nigel encouraged, and of course she did!
What makes your love special?
Our love is special for many reasons, but we believe that we are fundamentally complimentary souls. We reflect the best in each other. Nigel and I are spiritually in tuned, and there is a natural balance in the way we move through the world. Our relationship is organic in the sense that there is a unrefined way that we share the same space. We work together as partners and as friends, and we trust each other with our most inward parts.
From the Bride:
My wedding was more than I had imagined it to be. I had experienced a wide range of emotions leading up to the day from- excitement to anxiety. I also went from feeling inexperienced to proficient as it pertained to preparing for the big day. My emotions were often heightened as I was a bride dealing with the loss of her mother. My mother transitioned three years ago and I never imagined having to prepare for the joys of being a bride without her, but despite her physical absence, her presence was felt by me every step of the way. I knew she was there among all of us, celebrating such a joyous and momentous occasion. I was spiritually uplifted by the overwhelming support and love that I felt from family and friends, and most importantly the love of my life.
Your best/most memorable moment:
The most memorable moment for the both of us was seeing each other for the first time during our ceremony. Despite all that was going on around us, we could only concentrate on each other. The moment was about the two of us, surrounded by a community of family and friends showering us with their support and well wishes.
From the Groom:
My wedding experience was a microcosm of the spiritual processes in my life. We used our intuition to select our venue and vendors. We balanced the tasks and responsibilities by relying on each other's strengths and considering each other's objections. We reminded each other of the deeper spiritual meaning of our union to help us reframe the purpose of tasks. Our spiritual preparation helped us create a ceremonial representation of our love in the natural. As I stood at the altar, the Pastor thanked the Creator and then invited our ancestors. I felt thankful and my entire body was at peace. As I stood next to Verline, I realized that the Creator, our ancestors, elders, families, friends, and community members surrounded us both figuratively and literally.
What are you most looking forward to as a married couple?
We are most looking forward to reflecting the best of each other and doing good work in our home, within our family, and in our community. We want to travel and we have a few business ideas that we plan on developing, but we want to impart a strong value system and cultural identity to our children so they can be prepared for the world they will face.
Wedding song:
"A Couple of Forevers" by Chrisette Michelle-We loved the beautiful lyrics of the song and we also love that it musically represented the perfect mix of vintage and contemporary soul.
Advice for a Bride/Groom on their wedding day:
The elders know what they are talking about when they say "Put God first!"
Remind each other of the deeper meaning of the union.
Keep a few wedding-day surprises up your sleeve. It will make the day more memorable for your better half
Family and friends can be complicated. If necessary, have the difficult conversations before the wedding.
Congratulations to Verline and Nigel! We wish you many more years of wedded bliss!
Vendors:
Photographer: Henry Spencer; Memories of Bliss Photography; http://www.memoriesofbliss.com/
Ceremony and Reception location: Old South Country Club; http://www.oldsouthcountryclub.org/
Bridal gown: Galina Signature-David's Bridal
Bridal party attire: David's Bridal
Groom's tux: Calvin Klein-Men's Warehouse
Cake: Alexandra Sweets & Co.; http://www.alexandrasweets.com/
Favors: Favors and Flowers; http://www.favorsandflowers.com/
Wedding planners: Tanzi West; Weddings by Tanzi; http://www.weddingsbytanzi.com/
Music: James (DJ-HD); http://www.imdjhd.com/
Hair and makeup: Hair: Tierra Young; https://www.styleseat.com/tierrayoung
Makeup: Crystal Novas; [email protected]
Flowers: Pupa Belachew; Pupa Weddings and Flowers; http://www.pupaevents.com/pupa_index.html
Stationery: Designs by Elisabeth; www.etsy.com/shop/designedbyelisabeth
Curated by our Wedding Features Editor, C.K. Alexander. C.K is the owner and founder of Love Ink. Keep up with C.K. on Twitter here: @Love_Ink