Shy'i and Johnny's love story began on February 12, 2010 with an unexpected first encounter on Bourbon Street in New Orleans. "My friends and I from graduate school decided to go on a road trip to New Orleans for Mardi Gras since neither of us had been. We finally arrived and got settled in our hotel and got dressed for a night out on Bourbon Street! I was just so excited over everyone's beads and at that point Johnny, whom I didn't know at the time, was walking by and I told my friend in what I thought was a whisper 'he's cute and look at his big beads. ' To my surprise he heard me and said, " What did y'all say about my beads?" I was so shocked that he had actually heard me! So, I immediately stepped behind my friend so he couldn't see me, but somehow he went around my friend and started talking to me and since that day we've talked every day," said Shy'i. Almost 4 years after their chance Bourbon Street meeting, the happy couple celebrated their union with a romantic summer wedding in Memphis, TN. Check out their special day captured by Crystal Brisco Photography!
Bride: Shy'i Rucker, 28, Speech-Language Pathologist
Groom: Johnny Jackson, 28, Contractor
Place of residence: Savannah, GA
Wedding location: Memphis, Tn
Wedding date: 06.14.2014
Wedding Inspiration: Romantic and classic elegance
Honeymoon: Bali, Indonesia
Engagement Story: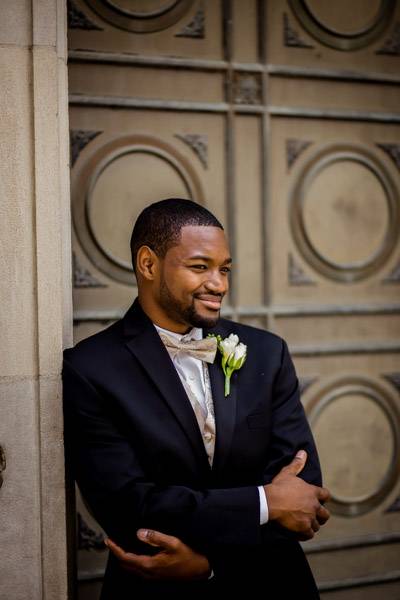 From the Groom:
The wedding experience was awesome! Shy'i is good at planning and is organized so I knew the wedding would be great, but it was way more than I imagined! Since I was away overseas working, I wasn't really hands on with wedding planning, but whenever Shy'i is happy then I'm happy so everything was all good!!! We had so much fun and danced all night!
From the bride:
Upon getting engaged, I started wedding planning immediately and I had exactly 18 months and eight days until Johnny and I were to be married. Johnny and I decided to go with all white flowers for the ceremony. I wanted to display our love for each other and our love for GOD throughout our big day; one of my favorite details was my aisle runner which included the scripture on 1 Corinthians 13:13 And now these three remain: faith, hope, and love. But the greatest of these is love. We also wanted to pay homage to our ancestors and honor the tradition of our ancestors by jumping the broom. For the reception we added blush flowers and lots of candles to create an elegant look and a romantic feel.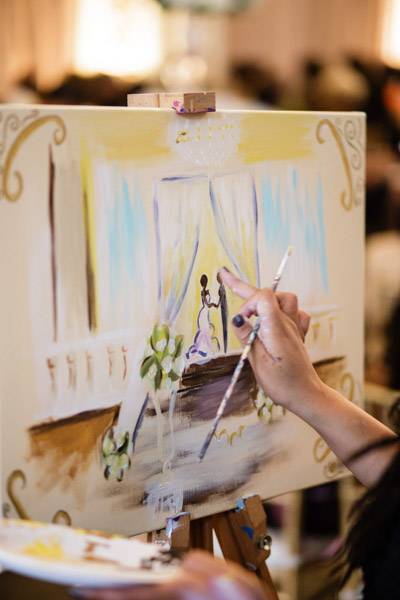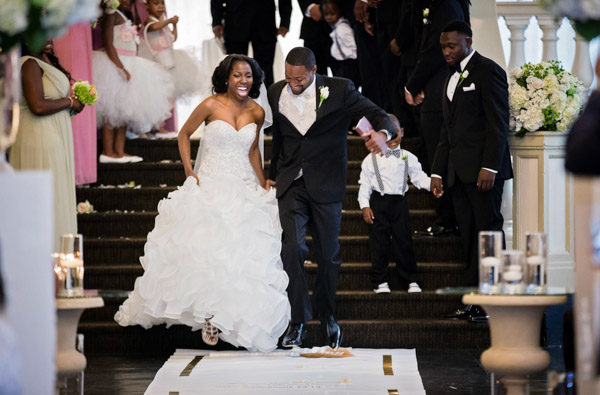 What makes your love special?
Johnny and I started with a really special friendship and our love grew stronger. Our love is special because we make sure that we consider each other's feelings before our individual feelings. We share similar likes and interests so it's always a joy to plan together and we just try to make the most of everything.
Wedding details:
Color scheme- mint, blush, gold, and ivory
Wedding flowers- white hydrangeas and white roses
Wedding cake flavor- amaretto, vanilla and strawberry
Groom's cake– his dog in red velvet
Bride's gift from groom– poodle puppy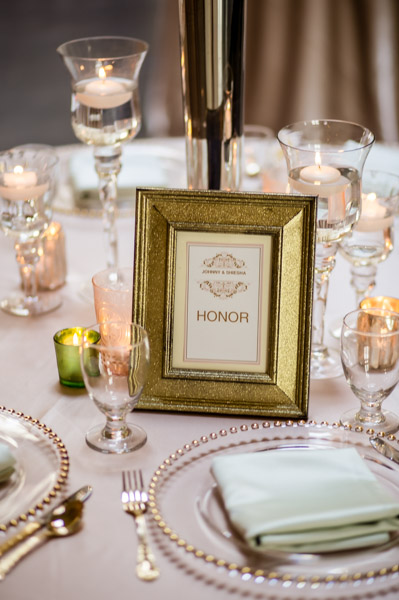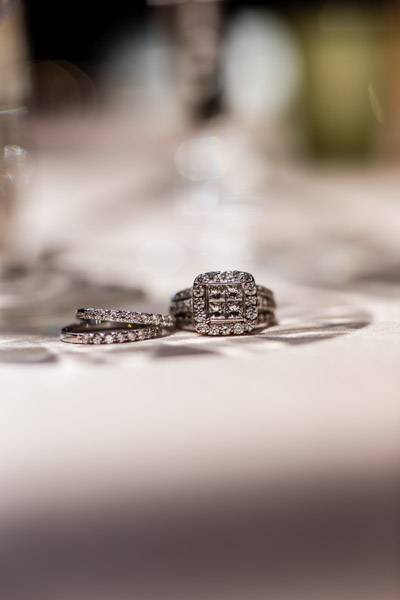 The couples most memorable moments:
Shy'i: Everything was wonderful, but the most memorable was dancing with Johnny during our first dance. We practiced a little, but not much and I was just so happy that we enjoyed the dance together as husband and wife.
Johnny: The total wedding was a blast so every moment was memorable simply because it was the best night of my life! I would have to say what sticks out in my mind the most is when I saw my wife in her wedding gown and she was beautiful! Then she changed her dress for the reception and that really put the icing on the cake!!!
First dance song:
You and I– live performance by R&B singer Keke Wyatt. We chose this song because it's a song that I fell in love with the first time I heard it and it made me think of Johnny every time I heard it. So, I played it for Johnny and he loved it. We practice dancing to it together and decided it should be our first dance song.
What are you most looking forward to as a married couple:
As a married couple we are defiantly looking forward to a continued loving marriage with GOD as the center and to a life together full of happiness.
Advice for Bride/Groom on their wedding day:
Your wedding day will be one of the best and most special days of your life so take you time and enjoy it! Live every moment of it and take lots of pictures and dance the night away and just have fun!
Check out their trash the dress session below:
Congrats to the newlyweds Shy'i and Johnny! We wish you many more years of wedded bliss.
Vendors:
Photographer: Crystal Brisco Photography!
Décor, Floral and Event design- Studio 1524
Ceremony/ Reception location- The Cadre
Videographer- Message in a Bottle
Wedding coordinator- Doris Randle
DJ- DJ Rod
Band- PC Band
Saxophonist- Cameron Ross
Reception Soloist- Keke Wyatt
Caterer- Me and my tea room catering
Wedding Cake and Groom's cake- The Flour Garden
Painter- Jasmine Bailey
Hair- Nefertiti Jones- Hair Essentials Salon- Memphis, Tn
Make-up- Timothy Moore – Atlanta, GA
Wedding and Reception dress- Unique Boutique and Bridal
Bride's shoes- Jimmy Choo and Vincent Camuto
Groom and Groomsmen's tuxedo- Men's Warehouse
Transportation- Carriage Tours of Memphis
Curated by our Wedding Features Editor, C.K. Alexander. C.K. is the owner and founder of Love Ink and Brownstone Bridal. Keep up with C.K. on Twitter here: @Love_Ink