Today we have a special real wedding feature to share. Almost a year ago Mesita Partridge called our office to inquiry about becoming a vendor at our Atlanta Bridal Show. When she called the office I answered, and we were chatting away about the Bridal Salon, "Ivory Bridal & Formal" she was planning to open after the show. During the conversation Mesita calmly said, "I'm the bride in the image in the slide show on your website…yes that's me at my destination wedding in Mexico." I expressed how it really is a small world, and how ironic it was for her to be calling to inquire about the show. We went on to discussed what inspired her to open a bridal salon, and how she could participate in the show.
As it turned out instead of Mesita being a vendor, she became a sponsor of bridal fashions for the fashion segment of the show. We worked closely with Mesita during the planning process of the show and decided to also invite her join us in the 11 Alive News Studio here in Atlanta. We thought it would be great to help get the word out about her upcoming new salon. After the show Mesita had her grand opening, and has since moved into a fab new location in Smyrna, Georgia. Her story from bride to entrepreneur is a powerful one that proves you can do anything you put your mind to!
Read Mesita's love story below, and be sure to click on the hyperlink below to read about the grand opening of Studio Bliss in Smyrna, Georgia!
Mesita Partridge met her hubby Durante in May 2006. They were in the last semester of college at Georgia State and took a class together. Mesita always saw this guy across the room but wasn't interested because she was dating someone else at the time. One day Durante built up the courage to say something to her on the last day of class, and followed her to her car. Mesita thought he was a little weird but his eyes and smile immediately caught her attention and the rest is history. Their gorgeous destination wedding in Mexico, was beautifully captured by Keith Cephus Photography.
Bride: Mesita Partridge 30, Owner Ivory Bridal & Formal
Groom: Durante Patridge 30, Assistant District Attorney
Place of residence: Atlanta, Georgia
Wedding date: 6/18/09
Honeymoon Destination: Excellence Playa Mujeres, Mexico

From the Groom:
My experience with the wedding was a bit overwhelming in the beginning, because everyone had his or her input. However, Mesita and I got together and made it OUR wedding and decided to go the destination route. From there, the excitement grew by the day. I loved assisting with the planning and Mexico. We had a great time and the BIG DAY was perfect!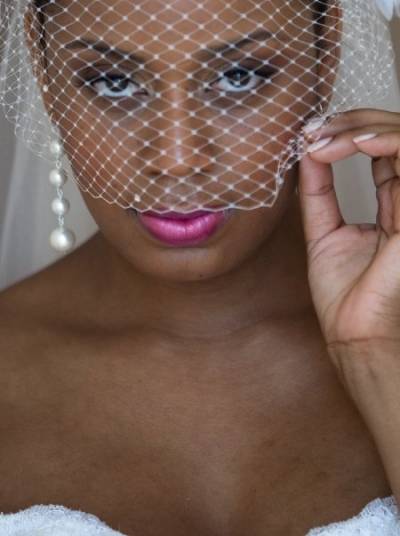 From the Bride:
It was magical. I was initially sad because I wanted to share our day with lots of family and friends, but majority of our guests chose not to come because of the distance and the swine flu had just hit Mexico. The moment I began to walk down the aisle a feeling of peace came over me and I was the happiest I had ever felt. Our day was beautiful! It was the most fun I experienced in a while. Our photographer was awesome and because of him we have awesome photos to remember our day.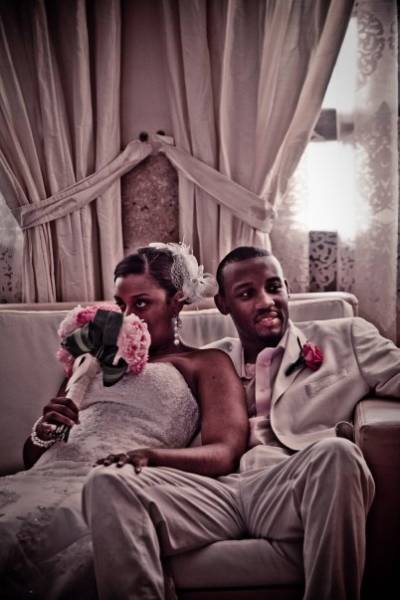 What makes your love special?
The fact that we are best friends and have so much fun together regardless of where we are or what we're doing.
Your best/most memorable moment:
After the reception the hotel had a live band performing on the terrace. We completely took over! My husband was the lead singer and me and the girls were his back up singers. We got the whole crowd up to dance. It was a blast!
Wedding Inspiration:
Beach inspired. Black & white with a pop of pink!
What song did you walk down the aisle to?:
I walked down the aisle to "When I First Saw You" By Jamie Foxx. Durante actually picked it and it was a perfect song!
Advice for a Bride/Groom on their wedding day:
Be calm. Take deep breaths. Remember that the little things that may go wrong don't matter in the end. All that matters is that you are marrying the person of your dreams!
Vendors:
Photographer: www.keithcephus.com
Ceremony location: www.excellence-resorts.com
Reception location: www.excellence-resorts.com
Bridal gown: pronovias.com
Bridal party attire: BCBG
Groom's tux: Brooks Brothers
Cake: provided by hotel
Caterer: provided by hotel
Favors: Beach bags with essentials for the wedding weekend made by me!
Wedding planners: hotel
Music: Ipod
Hair and makeup: hotel
Flowers: hotel
We wish Mesita and Durante a life filled love and happiness! Click here to read about the Studio Bliss grand opening in Smyrna, Georgia.