Yetunde and Trabian met on May 24th through her best friend. Yetunde's best friend happened to work in the same office with Trabian and had been trying to introduce the two of them for quite some time. "I finally decided to meet this guy she had been chatting about. We met up and I thought, "oh wow, he's cute and he has a nice smile too… hmm and he's tall," recalled Yetunde. Trabian's brother was in town celebrating his birthday so Yetunde and her best friend joined Trabian and his bother for a Sunday brunch. " We had the best Sunday brunch with so much laughter; he was on my mind from that day on. We dated for 6 weeks then I realized I was not ready for him. I was trying to work things out with an ex and when I told him, he was very unhappy about it. We really liked each other, but I was in the marriage zone so I was thinking why start something new when I have to practice working things out, plus I really did not want him to be a rebound love. I really liked him and I felt he deserved me fully, not me with someone else on my mind," said Yetunde. A year later, Yetunde had called it quits with her ex and still had Trabian on her mind. She decided to send a hello text and Trabian sent a hello back and the two started to hang out again. "We dated on and off for 3 years mostly because we both were too chicken to deal with this love we felt for each other. I just remember always referring to him as my soul mate, even to strangers, plus we always had the best dates," said Yetunde. Eventually the two had a real heart to heart talk and consciously decided to step into their feelings and be open to receiving love from each other. "In 2012 he surprised me with a trip to Thailand for Christmas. We traveled to Thailand, had a blast and we've been intentionally loving each other ever since," said Yetunde. Check out their Spring outdoor nuptials at the Normandy Shores Gold Club in Miami, captured by Alee Glieberman Photography
Bride: Yetunde Taiwo Shorters, Fashion and Entertainment Entrepreneur
Groom: Trabian Shorters, Social Entrepreneur BMe Community
Place of residence: Miami, Florida
Wedding date: 4/25/15
Wedding location: Normandy Shores Gold Club
Wedding theme: Spring freshness/Blue & Peach
Honeymoon Destination: Africa
Engagement story from the Groom:
Yetunde is really hard to surprise because if she has ANY hint that a gift is coming, she will question you about it nonstop until it comes. So I had to give her no clue I was going to propose on her birthday. She typically does a get together with a bunch of her girlfriends on her birthday, so I told her we should get together after. She and her girls chose to dine outdoors at a local miami restaurant. While she went to meet them, I went to a local clothing store to buy a white linen short and pants set. Then I asked her friend and co-author to tell me where they were. It was near my place so I showed up unannounced. A flock of her beautiful and talented friends surrounded my chocolate dove who was clearly enjoying the friendship (and wine that came with). I told her I was just stopping by to say hi and wouldn't stay long. I chit-chatted for an acceptable amount of time and then asked my fiancé to walk me to the car. As she stood in the walkway to come with me, I turned to her friends as if I was saying goodbye. But instead I said "You all know how much I love Yetunde, and I never want to let her go." Then I turned to face my fiancé then knelt to one knee as I said, "So that's why I want to know, Yetunde, will you marry me?" I opened the little black box and extend the ring toward her as she drew a deep breath and covered her mouth in surprise. Patrons jumped to their feet. Camera phones flashed like Oscar night paparazzi. My babe stood in utter shock…for a while…I was still down on my knee when the 100th picture was taken. "Uh sweetheart, I'm going to stay down here until you answer…" "YES!" She cried out. People applauded. Her girls smiled and cried. Free Champagne came out and shortly thereafter I left so that she could finish enjoying girls time on her birthday before coming home to me.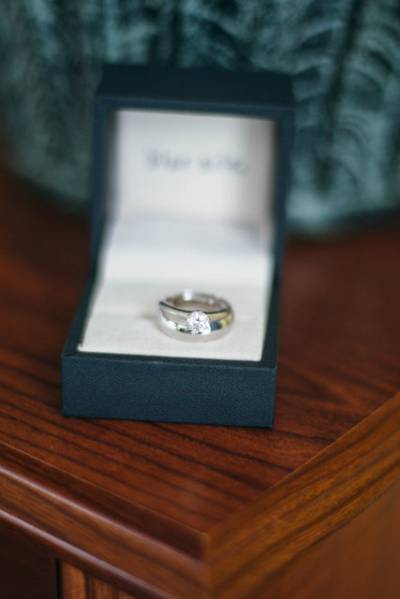 From the Bride:
The wedding experience was very loving. That's the best word I can use to describe it. We had a room full of 100 of our closest and dearest family and friends. I remember waking up in the morning to meditate and I was very calm. I prayed for guidance on this new journey for both of us, the blessings to keep turning to God as we grow in this love and the gift of laughter to keep us engaged with our hearts. Then I proceeded to enjoy every second of it. I was very present. I danced, laughed, cried, made jokes and was able to share my joy with everyone present. I felt blessed and privileged to be able to experience so much love in one day. It was humbling and empowering at the same time.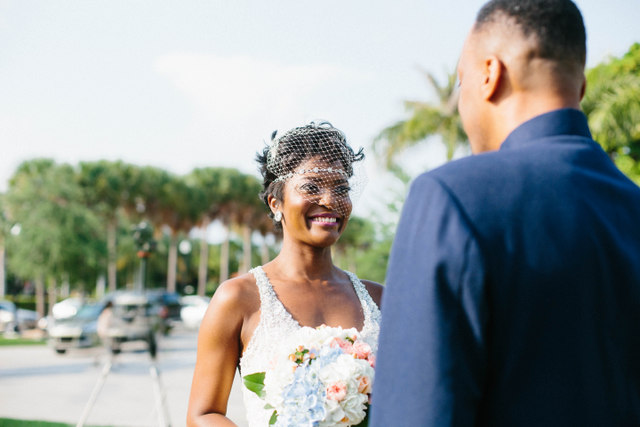 From the Groom:
I love being with Yetunde when we have nothing to do but hold hands and walk around. We walked beaches in Miami and Thailand. We walked to watch sunrises. We walk to watch sunsets. We walked to pet tigers in the tiger temple and to learn from monks at the monestary. She's a beautiful person inside. People literally walk up to us to tell us we're a beautiful couple and I tell her "You know, you're the beautiful part and me being here just makes us a couple." I have other moments, too many to choose from.
What makes your love special?
We have always been each other's number one since the day we met. So even when we were not officially together, we were basically each others yard stick for who we wanted to be with. Nobody matched up, then we figured out why not get the real deal. Plus we are both bossy, but we give in to each other all the time. It's very unusual for bossy people (laughs).
Favorite wedding detail :
My favorite details were color combinations that my friend Tokunbo of Ijorere.com put together. She was able to translate our simple yet engaging way of each other. It was simple and perfect for our style.
Wedding song:
We chose John Legend's All of Me. We chose this song because it reflects how we feel for each other. We loved each other yesterday, we love each other today and we have a friendship that will keep growing as we love each other into our future.
What are you most looking forward to as a married couple bride?
Bride: I am most looking forward to growing old together and having a deeper understanding of our God given purpose of our union.
Groom: Children! Can you imagine having Yetunde for a mom! Lucky kids! She is so funny and full of life and creative and smart. Our kids will be truly blessed and loved from the day they're born. Heck even now before they're conceived!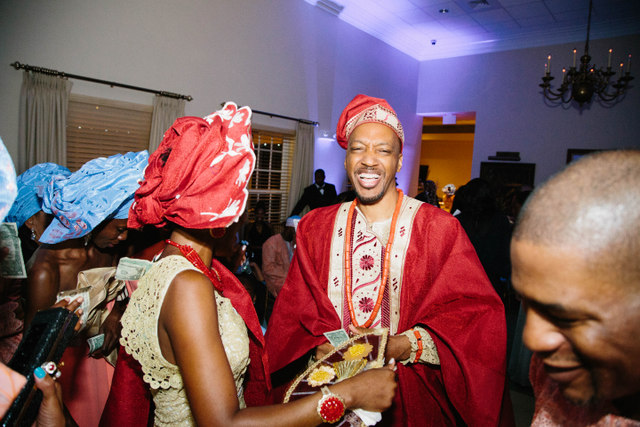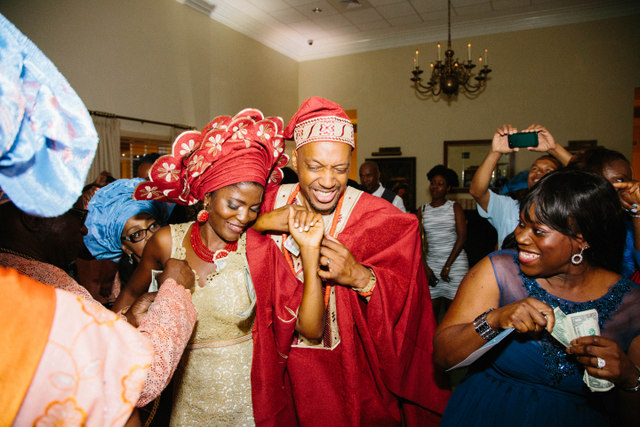 Advice for a Bride and Groom on their wedding day:
My best advice for the bride: remember the reason for the celebration is not about the stuff, it's about you and your husband. Keep that in mind and any imperfections the day of pale in comparison to the purpose of the celebration in the first place.
To the groom. Dude, there is nothing to be nervous about. Stand tall. Be cool. You got this. Let your bride see how excited yet in command you are of the moment. Enjoy it with her and for her. I had a blast on my wedding day. I came down the aisle to the sound of "Blast Off" by a group called Lettuce. I recommend it.
To the bride, much of the same with this twist – congratulations. I believe a husband pledges his life to the well-being of the family, always placing himself as the barrier between his loved ones and danger. As you move to greet him at the alter, look at his proud, cool self, with his "I got this" confident smile on his face and draw a deep breath to appreciate that commitment this man is making to you. Then exhale.
Congrats to the newlyweds Yetunde and Trabian! We wish you many more years of wedded bliss !
Vendors:
Photographer: Alee Glieberman Photography
Ceremony and reception location:
Bridal gown: strong>
Boutique: Leggenda Bridal
Gown by: Pearl Bridals style 120.
Groom's tux: Hand made in Thailand
Cake: Enchanting Creations
Caterer: Produ Grand Events
Favors: Donata Natural Products
Wedding planners:
Music: DJ Money D
Hair and makeup:
Hair: Gena Sullivan
Make up: Lisa Merritt
Flowers: Diana's Flowers
Décor and Stationery
Curated by our Wedding Features Editor, C.K. Alexander. C.K. is the creator of the Single Bride Blog and the owner and founder of Love Ink and Brownstone Bridal. Keep up with C.K. on Twitter here: @Love_Ink