Julia and Mike were introduced through mutual friends in 2010 on a November evening in Downtown Minneapolis. The two were inseparable from that moment on, and later moved to Orlando, Florida five months later so that Mike could continue his education at Full Sail University. The happy couple has been laughing and creating memories together for five years. Check out their special day captured by Haythem Lafhaj & Ashley Nguyen of We're Good Company.
Bride: Julia Marie Guy, 28, Kindergarten Teacher
Groom: Michael Eric Guy, 30, Graduate Student/Writer
Place of residence: Miami, Florida
Wedding date: July 20th, 2014
Wedding location: The Varsity Theater. Minneapolis, Minnesota.
Wedding theme: "Faith, Laughter and Love."
Honeymoon Destination: Skiing in the Swiss Alps. Flims, Switzerland.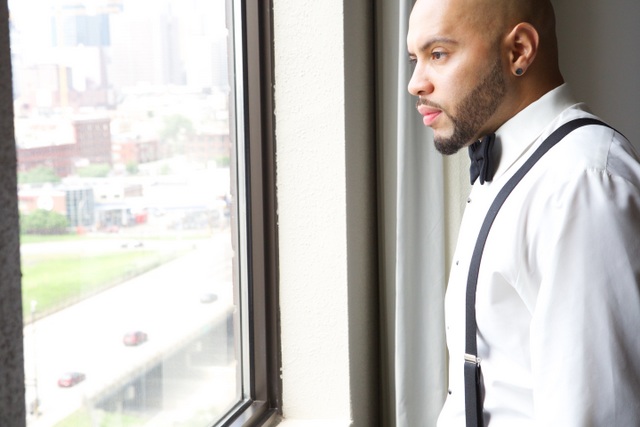 Engagement story:
From the Bride:
I felt incredible during the entire day. Prayer was always first, making sure we came together as a group to give glory to God on such a momentous day. My goal was to make sure the tedious process of getting a bridal party ready was nothing but a good time with great music. I felt so loved and cherished by my friends, as I got ready to take the big plunge into marriage. I sobbed down the aisle and throughout the whole experience, as I was so overwhelmed with joy and love. What a magical time of celebration and togetherness.
From the Groom:
I felt at ease and very confident in the fact that I was about to marry the woman of my dreams. I spent the morning with my groomsmen and nephews getting ready. Our photographer was present documenting the whole time, but that was quickly forgotten as my guys kept the laughs going. After pictures, we made it to the church where we hung out until we were called to take our places. I finally began to feel anxious as I stood waiting, but that quickly subsided as I saw my beautiful bride for the first time on our big day, coming down the aisle. The ceremony was perfect and the celebration continued all night at the reception.
What makes your love special?
Our faith in God and in one another makes our day-to-day life more incredible that words can describe. Forgiveness and laughter keep us grounded, as we continually grow stronger in our marriage.
Most memorable moment:
My choreographed father/daughter dance with my Uncle Rich. He sure has some moves as we went from dancing to "What A Wonderful World" by Louis Armstrong to "Bad" by Michael Jackson in our matching Chuck Taylors. My impromptu on-stage performance of, "Get Me Bodied" by Beyonce, was a big highlight of the night as well.
Favorite wedding detail:
Hands down, the most important detail was the music. Our DJ, Adrian Perryman of Events by MV, played all of our favorite jams keeping us on the dance floor with our guests, all night long. Starting the night off with the classic, "This Is How We Do It," by Montell Jordan, let everyone know it was going to a night to remember.
What are you most looking forward to as a married couple?
Travel, travel, travel! We want to take every opportunity to experience a new city, state or country. Trying different foods and drinks, while learning about various cultures and ways of life. Living up every moment and discovering the beauty that can be found in spontaneity.
Advice for a Bride/Groom on their wedding day:
Remember that it's all about the marriage that comes after the wedding day. Instead of only spending all of your time and energy focusing on all the minor details of your wedding, spend that time in fun pre-marital classes, sharing stories and laughs about all the moments leading up to your big day.
See more from Julia and Mike's special day in the video below:
Congratulations to the newlyweds Julia and Mike! We wish you many more years of wedded bliss!
Vendors:
Photographer: Haythem Lafhaj & Ashley Nguyen
Ceremony location: Bethlehem Lutheran Church
Reception lo
cation: The Varsity Theater
Bridal gown: Bride wore her Grandmother's Dress from 1956.
Bridal party attire: White House Black Market
Groom's tux: Vera Wang, Men's Wearhouse
Cake: Angel Food Bakery
Caterer: Loring Pasta Bar
Wedding planners: Charisse Puetz
Music: Adrian Perryman
Hair: Jill Nyrgen
Make-Up: Brittney Ross
Flowers: Weber's Westdale
Stationery: Invitations By Dawn