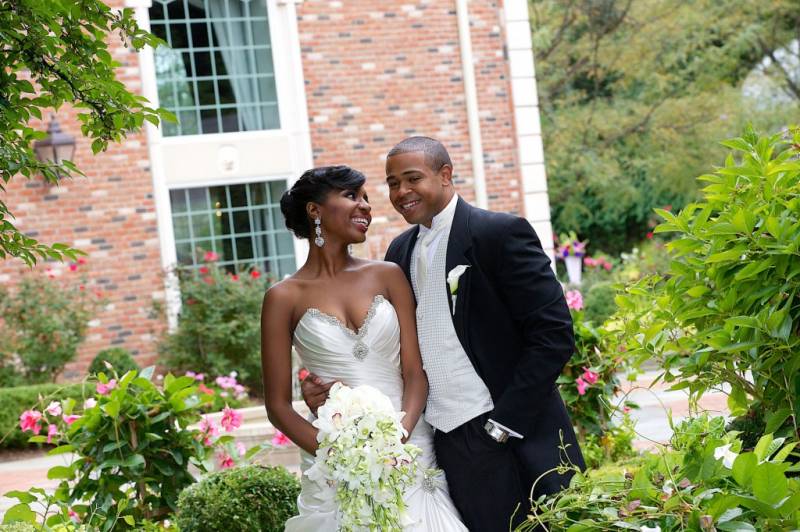 College sweethearts Rashida and Christopher met in 2004 at Babson College as incoming freshmen. After nine years of relationship bliss, the two college co-eds tied the knot in front of close family and friends at The Estate at Florentine Gardens in River Vale, N.J. Check out their elegant and romantic wedding day captured by Aster Photographic Elegance.
Bride: Rashida Malcolm, 26, Owner/Event Planner at POSH Agency

Groom: Christopher Bradley, 26, Project Manager at JP Morgan
Place of residence: Geneva, Switzerland (originally from New York)
Wedding date: 8/23/13
Honeymoon Destination: The Maldive Islands
Engagement story:
If you know anything about Chris, he loves a good steak. So it wasn't out of the ordinary for him to ask Rashida to join him for dinner at one of their old-time spots, Ruth's Chris Steakhouse. Little did she know, but he had called their friends and family to let them know about the secret proposal. "Be there at 7:15. Seriously, don't be late." When they entered the restaurant, they climbed the stairs to an oversized table. Rashida, confused, starts, "Why is the table so–" and then turns to Chris who is down on one knee. The rest of the night was a teary blur for the elated bride-to-be. 30 of their closest friends and family joined them on their blissful evening, and it's been a dream ever since.
Your best/most memorable moment:
My most memorable moment was the first look! I was so excited to see my future husband. I just wanted to be beautiful for him on our day! We shared a private moment (just us and the photographer, lol) prior to the ceremony and being bombarded by a busy, but amazing day!
From the Bride:
Unlike the typical bride, I was not nervous on my big day! I think I had stressed over every detail up to that point so on the day, I just had to let go and let God!
I got engaged in April last year and had a year and a half to plan my dream summer wedding. I recruited members from my wedding posse – groom, mom, mother in-law, and bridesmaids- to attend several bridal shows and meetings with me which was tons of fun and got everyone in the wedding spirit. I honestly could not have asked for a better wedding planning experience!
From the Groom:
I had been looking forward to this day since we got engaged. I was pretty in the loop all throughout the wedding planning (Rashida made certain of that) and it was great so see how all of the pieces unfolded. It was definitely a magical day.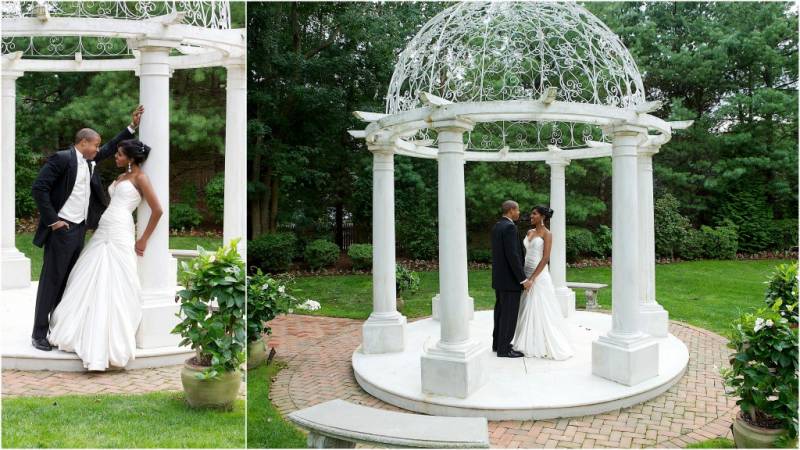 What makes your love special?
We are equal partners in life. Our goal is always to see the other happy and successful. It doesn't get much more special!
What are you most looking forward to as a married couple?
Neither of us are in any rush, but we are both really looking forward to having a family – four kids is the number we negotiated (smile)!
Favorite wedding detail:
It is really tough to choose a favorite wedding detail! I loved our favors – A mini bottle of Freixenet champagne and a monogrammed champagne flute for each guest. But the groom would say that the cake was his masterpiece – Each of the four tiers offering a delight for any chocolate lover with red velvet, cookies and crème, and devil's food as options!
Advice for a Bride/Groom on their wedding day:
I definitely encourage brides and groom to get family and friends involved in the wedding planning experience. Everyone is so excited for you both so it's a great way to bring both sides together!
Congratulations to Rashida and Chris! We wish you many more years of wedded bliss ! Want to see more of this romantic wedding? Check out their wedding video here!
Vendors:
Photographer:
Aster Photographic Elegance
http://www.asterphoto.com/index.php
Ceremony and Reception location:
The Estate at Florentine Gardens
http://www.florentinegardens.com
Bridal gown:
Kleinfeld Bridal
Pnina Tornai Gown
http://www.kleinfeldbridal.com
Bridal party attire:
Synderela
Groom's tux:
Biltmore Tuxedos
http://www.biltmoretuxedos.com/
Cake:
Palermo's Bakery
Favors:
Oriental Trading Company (Champagne Bottle Labels)
http://www.orientaltrading.com/
Favor Favor (Champagne Flutes)
Wedding planners:
POSH Agency – Event Planning
Music:
45 Riots – 9 piece band
Hair and makeup:
Hair – Micsue Hair Salon, New York
Makeup – Christian Dior & MAC
Flowers:
Adam Leffel Productions – Petals Premier http://www.adamleffelproductions.com
Stationery:
Parties and Papers – Wedding Invitation
Wedding Paper Divas – Save the Date http://www.weddingpaperdivas.com
Curated by our Wedding Features Editor, C.K. Alexander. C.K is the owner and founder of Love Ink. Keep up with C.K. on Twitter here: @Love_Ink.