Kris-Ann and Joshua met in 2008. Their love story began while they were both college students at Oakwood University in Huntsville, Alabama. The first time they saw each other, Kris-Ann was a freshman and Joshua was a junior. They both had the same major so they saw each other often. Kris-Ann remembers the very first time she saw Joshua. She thought he was handsome, but felt like he was out of her league because he was a junior and she was a freshman. Joshua remembers his first time meeting Kris-Ann and he thought she was really cute and he wanted to get to know her. One day, they both ended up at the same church. Joshua just happened to sit behind her. At some point during the service Kris-Ann turned around and told Joshua that he shouldn't be texting in church with a smile on her face. After that, they would exchange glances whenever they saw each other on campus. Joshua graduated from Oakwood and decided to go back to Huntsville to work. Kris-Ann got into school in California and had made up in her mind that she would find someone there. However, they both were praying that God would lead them to the person that he wanted for them. One night after work, Joshua decided to go to an event at Oakwood University and Kris-Ann just so happened to be there as well was. The two exchanged glances and Joshua later asked Kris-Ann out on a date, and she happily obliged. The two have been together for four years and celebrated their union with a colorful New York wedding at the Crest Hollow Country Club. Their special day was captured by Fade to Black NY!
Bride: Kris-Ann Humphrey, 25, Medical Student
Groom: Joshua Humphrey, 27, Sales/Marketing
Place of residence: Colton, California
Wedding date: 9/21/14
Wedding location: Queens, New York
Honeymoon Destination: Cancún, Mexico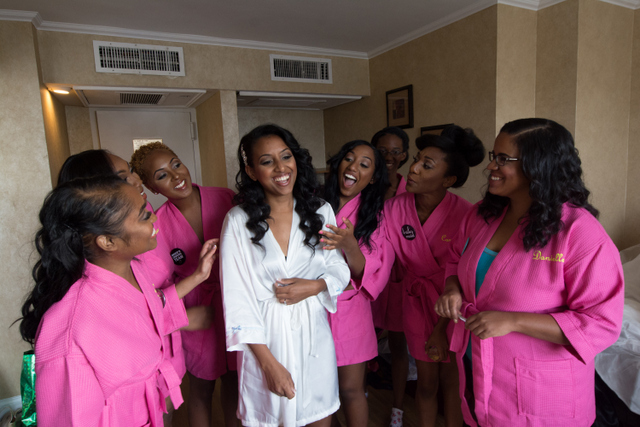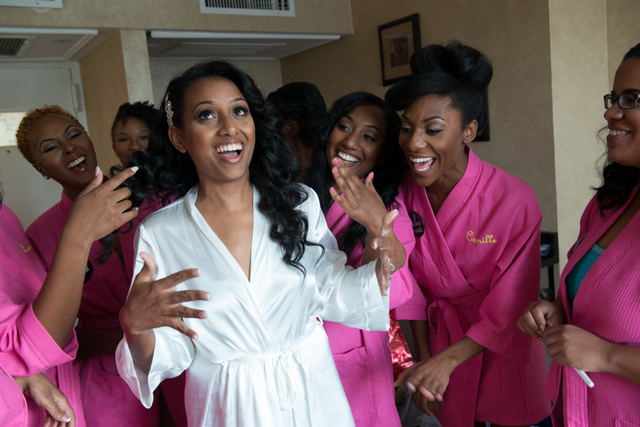 Engagement story:
It was a Thursday afternoon in September, and we both had the day off. Joshua wanted to surprise Kris-Ann with an exciting day trip. He only told her that he had tickets for "something" since January and that they were soon expiring. Kris-Ann thought nothing of it and quickly got dressed, excited about what the surprise was. They drove an hour out to Newport Beach and they stopped in front of this little house that was selling gondola rides! How exciting! The boat ride was beautiful and romantic. The boatman even offered to sing a song. He had the most beautiful voice. Kris-Ann had no idea what was going on, but could only think of how romantic this trip was. Halfway into the ride, the boatman noticed a bottle in the water. He said, "We really try to keep the water and the area clean, if I row up to that bottle in the water, do you think you could reach out and pick it up?" Kris-Ann was surprised and was in disbelief at his request! She resisted, but he was persistent, and he rowed closer to the bottle. With hesitation, Kris-Ann picked up the bottle. With great surprise, she saw that there was a note inside. She opened up the note and there was a beautiful letter from Joshua. As the note trailed off to the end, she noticed that the last sentence was incomplete. Kris-Ann looked up at him to finish it and she saw him fumble for something in his pocket! He pulled out a ring and asked her to marry him. She was surprised but also ecstatic. She of course said YES!
From the Groom:
It was a great moment. It was our moment. I was so happy that it was finally here. So much planning went into it and there were so many precious moments that made it special. My bride looked beautiful when she walked down the aisle and I remember locking my eyes with hers from the moment she walked through the door to the moment I took her to the altar. I will never forget that.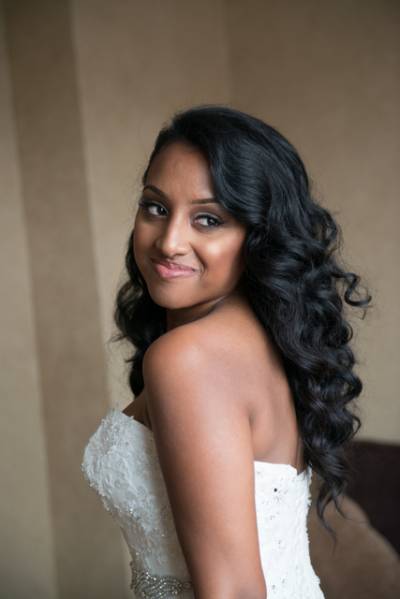 From the Bride:
Our wedding day was a spectacular event! Words cannot describe all the emotions that captured my heart that day. Our ceremony was held at the church that I grew up in and it meant so much to me to marry my husband in a place that held so many meaningful memories. The moment that really had my heart racing was walking down the aisle with my father. I pictured that moment a hundred times in my head and it ended up being as magical as I had dreamed. Holding my husbands hand as we professed our love in front of everyone is a memory that will forever remain in my heart. There were many tears that day and we really felt the love pour out from our friends and family as they joined in our happiness.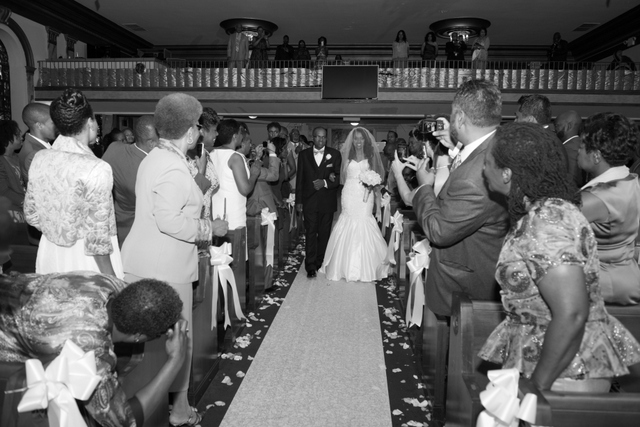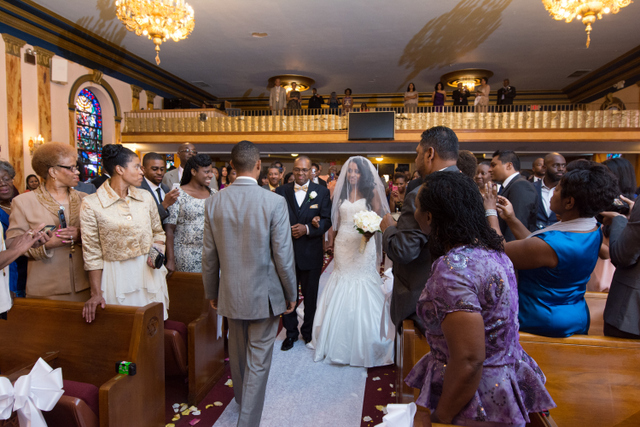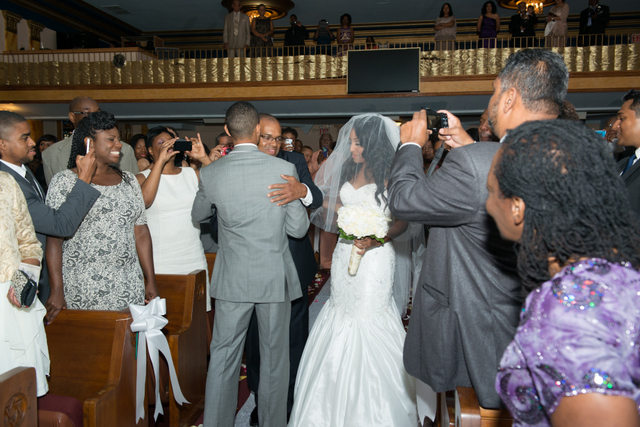 Your best/most memorable moment:
Our most memorable moment was when we were both at the altar, hand in hand, and reciting our vows. We were both really focused on each other and what the promise meant to us.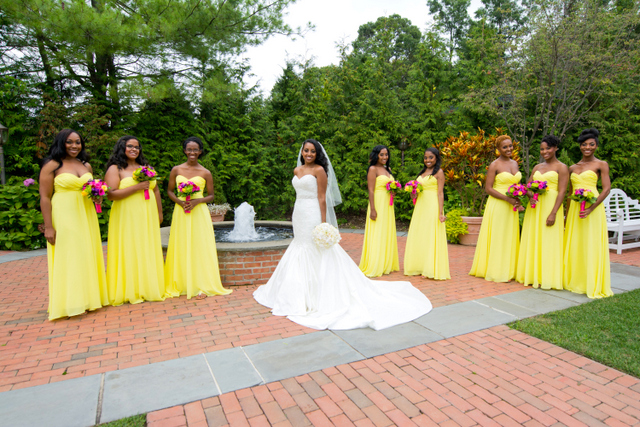 What makes your love special?
The biggest thing that makes our love special is that our love is Christ-centered. We both have a strong foundation in our faith. It has only brought us closer and made us stronger. We encourage and support each other in every way imaginable. When we don't know the answer, we often turn to prayer for guidance.
Favorite wedding:
Our favorite wedding detail was the flowers. We loved how bright and fun they were, and they really captured what we wanted.
What are you most looking forward to as a married couple?
We were both excited about living together and truly becoming one in everything.
Advice for a Bride/Groom on their wedding day:
Have fun! You have worked hard to plan this day and it's not worth loosing out on its beauty by wondering about the details or what everyone else thinks.
Congrats to the newlyweds Kris-Ann and Joshua! We wish you many more years of wedded bliss.
Vendors:
Photographer: Fade to Black NY
Ceremony location: Linden S.D.A. Church
Reception location: Crest Hollow Country Club
Bridal gown:
Designer: Sophia Tolli
Boutique: RK Bridal
Bridal party attire:
Designer: Allure Couture
Groom's tux: Calvin Klein Tux
Men's Wearhouse
Cake: Dortoni Bakery
Music: New York's Ultimate Entertainment
Makeup: Mary Banks
Hair: Hair by Shanelle
Flowers: Distinctive Floral Design
Stationery: Magnet Street
Curated by our Wedding Features Editor, C.K. Alexander. C.K. is the owner and founder of Love Ink and Brownstone Bridal. Keep up with C.K. on Twitter here: @Love_Ink