Chioma and Chinedu met on January 25, 2006. They were both traveling across town and happened to be sitting next to each other. Chinedu noticed that Chioma had a sad expression on her face and felt an uncontrollable urge to try to cheer her up. " Although unusual of me, I decided to chat her up to make her feel better or at least get her to smile…and yes, I was able to," said Chinedu. The two spent the rest of the ride talking and decided to exchange phone numbers so that they could stay in touch. What started as a friendship, quickly grew into a long distance relationship since they both attended schools in different parts of the country. Although the long distance and lack of time spent together almost took a toll on their relationship, the two love birds pushed through and stuck it out until they were able to live in the same place. Almost six years after their chance meeting, these two long distance lovers have finally closed the distance between them- forever. Check out their colorful wedding celebration captured by Nigerian photographer Jide Odukoya.
Bride: Chioma Joy, CJ
Groom: Chinedu Joseph, CJ
Place of residence: Port Harcourt, Nigeria
Wedding date: 3/16/13
Engagement Story (from the bride):
With the help of his friend on Val's day, he gave me a cake (I had my eyes closed for this one). When I opened my eyes and the cake box, I saw a ring inside. He removed the ring from the cake and knelt down asking me to marry him. What do you expect? Of course I said YES!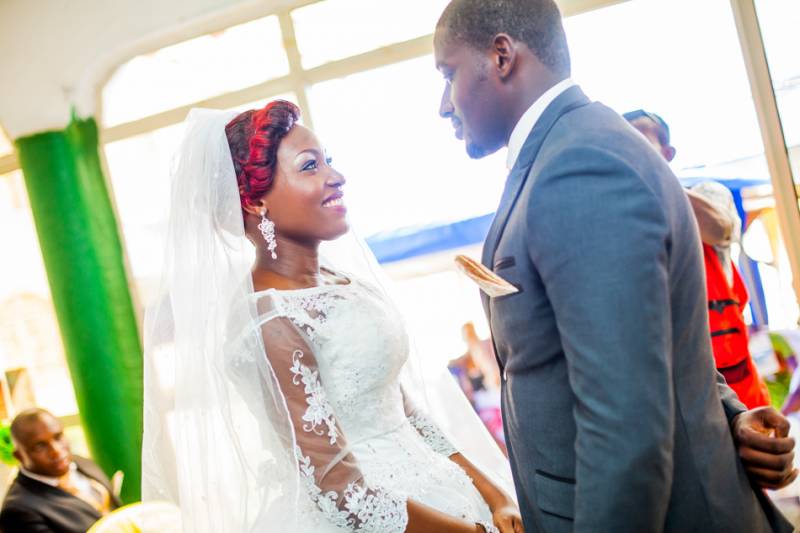 From the Groom:
Joy is a wonderful person whom you can't help but like because she is warm and cheerful. She has a good heart. She is very understanding and respectful. She is also very supportive, caring and she loves with her whole being.
Advice for a Bride/Groom on their wedding day:
My advice to future brides is to always follow your heart no matter what your friends say. Always be yourself and ultimately cultivate a good character and attitude.
Can't get enough of this couple? Check out their super cute pre wedding beach session below:
We wish you both many more years of wedded bliss!
Curated by our Wedding Features Editor, C.K. Alexander. C.K. is the owner and founder of Love Ink. Keep up with C.K. on Twitter here: @Love_Ink