Latoya and Adebowale met in 2007 while they were both undergraduate students at Winston-Salem State University, in Winston-Salem, NC, and have been together ever since. The two college sweethearts celebrated their union with purple infused nuptials at the Cape Fear Botanical Gardens in Fayetteville, NC. Check out their special day captured by Derrick Bryant of One Vision Photography!
Bride: Latoya Perry, 27 School Principal
Groom: Adebowale Asaya, 27 Commodity Buyer
Place of residence: Detroit, MI
Wedding date: June 28, 2014
Honeymoon Destination: Ocho Rios, Jamaica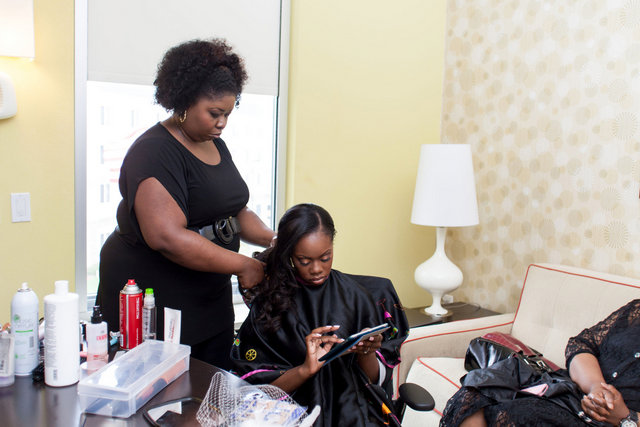 Engagement story :
Tuesday, May 28, 2013: It was a normal Tuesday for Latoya as she began teaching her class at KIPP DC: Promise Academy, and began to enlighten the young minds of her first grade class. At about 11 a.m., during her "breakout session," she took a small group of students outside. Adebowale sneaked into her classroom and hid in the bathroom. With the collaboration of Latoya's co-teacher and 27 first graders, Adebowale came out of the class restroom armed with a wonderful bouquet of roses and an engagement ring. Filled with nervousness, Adebowale fell to one knee and proposed to Latoya. That was the day that changed their lives forever.
From the Groom:
Our wedding was a wonderful. There was no shortage of fun. Latoya looked exquisite, and I was honored to celebrate with our loved ones.
Their most memorable moment:
Our most memorable moment was getting introduced as Mr. & Mrs. Asaya; it was wonderful to hear.
From the Bride:
On June 28, 2014, I was able to experience my fairytale wedding in Fayetteville, NC, in a beautiful botanical garden. Our 200 plus guests came in an abundance of love and didn't hesitate to celebrate with us. I was overwhelmed with joy and love. I had all of my loved ones in a 10-mile radius all in town to celebrate our union under God. There was nothing that could over stress me or what God had under plan.

What makes your love special?
Our story consists of partnership, love, God, and passion. It began in 2007 in the historic hallways of Winston Salem State University. We met in college, and have endured the tests and experiences that are a part of life. From new cities, to friends and family that have come and gone, our love remains consistent and has proved to prevail over all. We aim not to celebrate one day but better yet a lifetime of unity. This story is just beginning.
Favorite wedding detail:
The Food (Prime Rib, Chicken, Mac & Cheese).
Wedding song:
Kenny Lattimore "For You"
What are you most looking forward to as a married couple?
We are looking forward to growing spiritually together. We also look forward to taking that bond, and starting a family with it.
Advice for a Bride/Groom on their wedding day:
Relish in the moment; Enjoy your loved ones; and remember the important things.
Congratulations to newlyweds Latoya and Adebowale! We wish you many more years of wedded bliss!
Vendors:
Photographer: Derrick Bryant of One Vision Photography
Ceremony and reception location: Cape Fear Botanical Gardens
http://www.capefearbg.org
Bridal gown: David's Bridal
Bridal party attire: The Dessy Group
http://www.dessy.com
Hair/Makeup: Johnsie Gunter of Peace Within by Johnsie Salon.
Groom's tux: Express
Caterer: Elliott's on Linden
http://www.elliottsonlinden.com
Music: DJ Wood
https://www.facebook.com/linwood.woodley?fref=ts
Band: Epic Connection
http://www.reverbnation.com/epicconnection
Stationery: PaperStreet Press
https://www.etsy.com/shop/PaperStreetPress
Curated by our Wedding Features Editor, C.K. Alexander. C.K. is the owner and founder of Love Ink and Brownstone Bridal. Keep up with C.K. on Twitter here: @Love_Ink