Track stars Shana and Mike met while they were on the European circuit, where they both were competing professionally. Shana and Mike had never met but they knew of each other. One night a couple of their fellow athletes decided to go hang out at a local nightclub and Shana and Mike found themselves at the same place with mutual friends. Shana saw Mike across the room and was curious about who he was. She sent her friend to ask his name but her friend had other plans and decided to hook Shana up instead. After Mike's conversation with Shana's friend, he decided to go over and talk to her. "We talked over loud music, as best we could, and I don't know what he said but I know I was smiling the whole time. Eventually he let on that my friend had put in a good word for me (which is so embarrassing!)," recalls Shana. It didn't take long for the two to realize that they had something special. Two years after their nightclub meeting they were engaged and ready to spend the rest of their lives together. Check out their romantic pink and navy themed wedding, captured by Chris Charles of Creative Silence Photo + Design and submitted by their planner Elana Walker of Savoir Faire Signature Events.
Bride: Shana Cox, 29, Athlete at Adidas
Groom: Michael Bingham, 28, Professional Athletes
Place of residence: Cary, NC
Wedding date: 11/9/13
Honeymoon Destination: Nassau Bahamas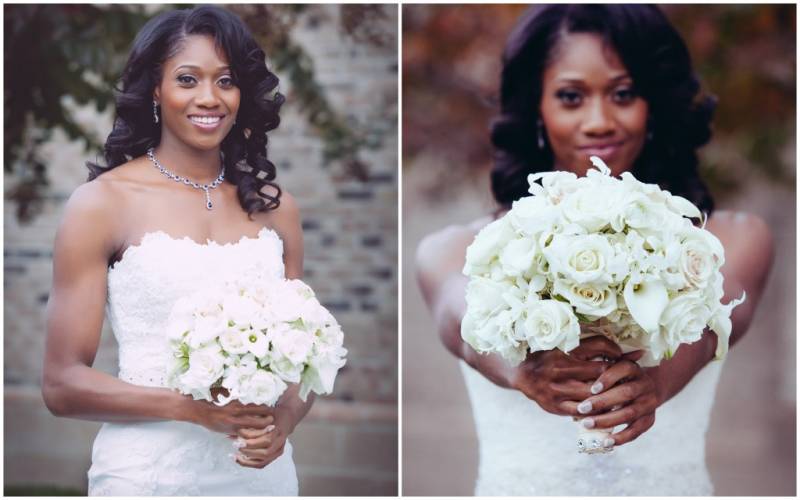 Engagement story:
It happened on a beautiful summer day in June 2012. After a not so beautiful performance at a competition the previous day, Michael had the idea to go to the Royal Botanical Gardens in London. The gardens were amazing, and the weather was perfect. I spent most of the day snapping pictures and naming flowers- really enjoying myself. Michael, however, seemed either bored, or tired, or just plain uninterested. I began to wonder if I should hurry up and end the outing to save his sanity. After all, hours of flowers would eventually bore anyone. Mike assured me that he was still having a good time, and I continued to take pictures and explore the park. After a mostly silent lunch, we walked around a bit more before Mike suggested that we sit down and rest on a small hill by a lake. I figured he was tired, and that is why he had been so quiet that day! Sitting by the lake, I remember Mike asking me how I was feeling, and how I was doing- I just kept rambling off about how frustrated I was with my performance the day before! I kept going on and on about how mad I was about my race strategy and my fitness! All the while, Mike continuously attempted to steer the conversation towards us, and our relationship. I remember being frustrated that he 'wasn't listening to me'. (Or was I not listening to him). Eventually, he reached into his pocket and pulled out a long box- the type you would find a bracelet in. He informed me that he made me a small charm bracelet the day before to cheer me up. I thought it was cute! And when I realized that a ring was a charm on the bracelet, that was it! He proposed!
From the Groom:

"I was overwhelmed with emotion being around some of the most important people in my life at one of the most important times in my life."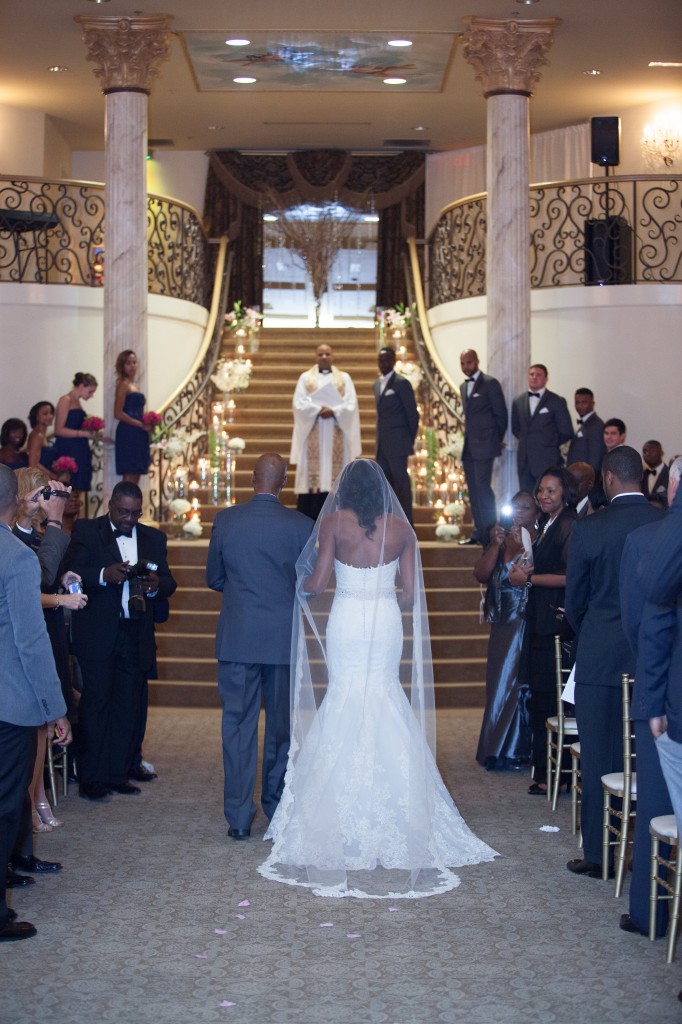 From the Bride:
Planning really made the day easy and mainly because I had Elana of Savoir-Faire Signature Events. The whole process and experience was so easy and stress free. The day of I had no worries at all and I got up at 7 A.M and didn't go to sleep until the next morning at 6 o clock AM. Beginning to end everything was so much fun and I enjoyed spending time with my family and friends. It was a great time with Michael and seems somewhat like a fairytale.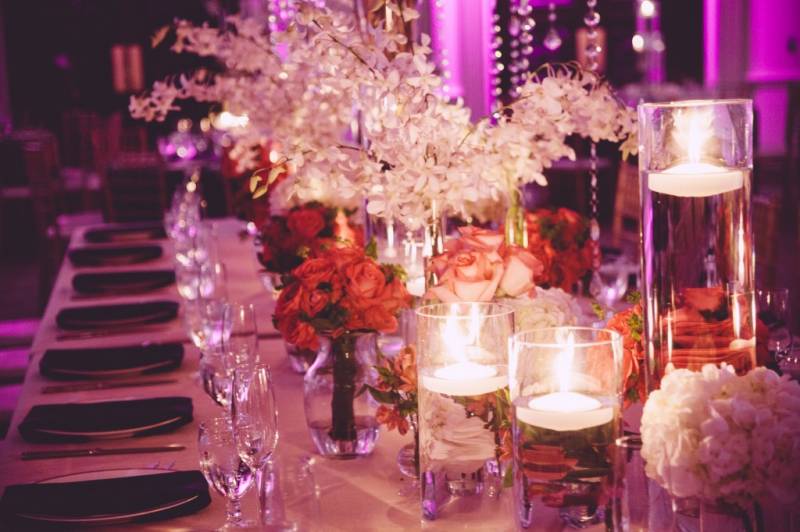 Wedding location: Grand Marquise Ballroom
Wedding theme/motif/inspiration: Pink and Navy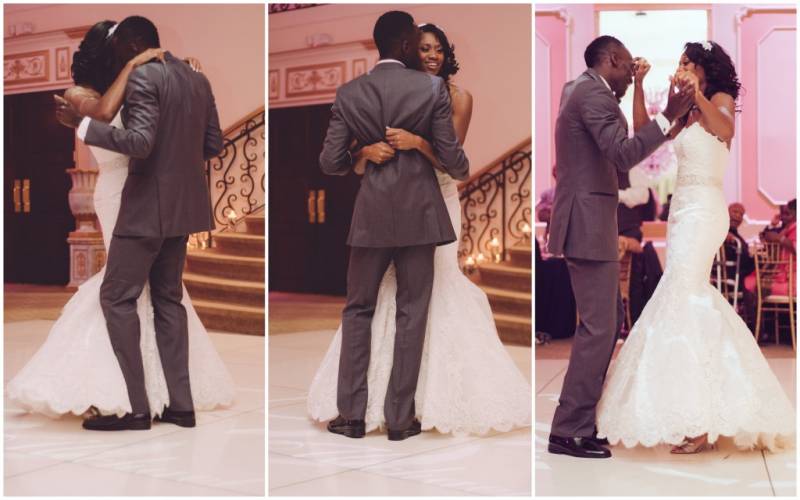 What makes your love special?
How we appreciate each other as best friends and we feel like we've known each other our whole lives. Being husband and wife is great and we love it, but what we really love is the bond of being best friends.
What are you most looking forward to as a married couple?
Experiencing things now together as a unit and having that best friend that can go everywhere with you.
Advice for a Bride/Groom on their wedding day:
Take time to remember all the little moments and take pictures in your brain, so you can remember how you felt and looked. And take time to enjoy the moment.
Congratulations to Shana and Michael! We wish you a wonderful marriage full of wedded bliss.
Vendors:
Photographer: Chris Charles of Creative Silence Photo + Design
Ceremony location and reception: Grand Marquise Ballroom
Bridal gown: Enzoani Bridal, bought at Bridal Reflections in Westbury, New York
Bridal party attire: Vera Wang, from Davids Bridal
Groom's tux: Vera Wang, from Men's Wearhouse
Cake: Dreme Cake Artistry www.dremecakeartistry.com
Caterer: Rocky Top Hospitality www.rockytophopitality.com
Favors: DIY
Wedding planners: Savoir Faire Signature Events, Elana Walker, CWP http://www.eventsbysf.com/
Music: DJ Mass Appeal www.djmassappeal.net
Hair and makeup: Hair: Aura Salon & Boutique http://www.aurasalonandboutique.com
Make up: S. Davis Make Up Artistry www.sdotdavis.com
Flowers: Fresh Affairs www.freshaffairs.com
Stationery: www.weddingpaperdivas.com & Suite Paper www.suitepaper.com for the table names and programs
Curated by our Wedding Features Editor, C.K. Alexander. C.K is the owner and founder of Love Ink. Keep up with C.K. on Twitter here: @Love_Ink