Marshela and Aaron met in October 2012 and have been best friends ever since. "We met through our mutual friend connections and finally decided to connect at a nearby restaurant. From that day, we made it a priority to spend time together and continue learning more about each other," said Marshela. The two celebrated their union with a modern summer wedding at the Dock 580, in Columbus OH. Check out their special day, captured on film by Iconic Media, LLC, and photographs by Flix Photography.
Bride: Marshela McDaniel (Webb), 35, Field Operations Manager
Groom: Aaron McDaniel, 31, IT Account Manager
Place of residence: Columbus, OH
Wedding date: 8/8/14
Wedding location: Dock 580, Columbus OH
Wedding theme: Modern Theme with a McDaniel twist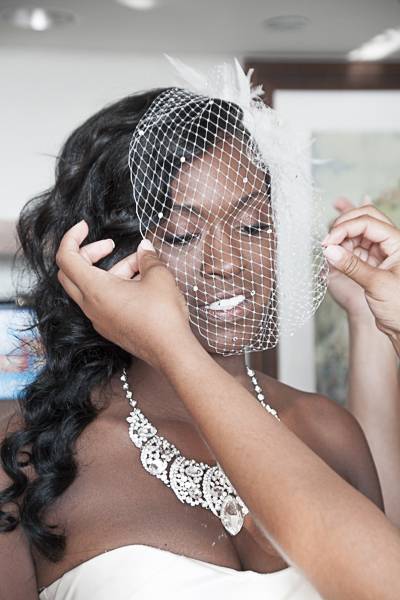 \
Engagement story:
We were at my house on a cold evening. We were having a "dance off" with my 5 year old son. Afterwards we were trying to decide if we should grab something to eat and I went upstairs to change clothes. As I was up there he must have coached my son and the two of them came upstairs with my son holding the ring and him asking if I would marry him. It was a perfect moment!
From the Groom:
It was like watching a movie really, you feel happy and sentimental. It's a life changing moment with your favorite people in the world. Best experience of my life.
Best/most memorable moment:
This day was the beginning of the best days of my life, I watched her gracefully float down the aisle. All I can really remember is how lucky I felt to be in the favor of God to have received this woman.
From the Bride:
The wedding was an amazing moment knowing that I was going to spend the rest of my life with the love of my life and my best friend. I was excited, overjoyed and couldn't wait to celebrate with him, my family and friends. We planned an outside wedding and the day was absolutely perfect. The arrangements were beautiful and everyone looked great. It was a day that I will never forget!
What makes your love special?
Our love is special because we always make the best out of anything. We have a special love because we laugh together and appreciate each other daily. We also share common goals on our future yet we still continue to challenge each other for the better.
What are you most looking forward to as a married couple?
Building our future and our family. Continuing to learn and grow from one another.
Advice for a Bride/Groom on their wedding day:
Enjoy each moment of the day! It goes by so quickly…no need to sweat the small stuff
Congrats to newlyweds Marshela and Aaron! We wish you many more years of wedded bliss.
Vendors:
Videographer: Iconic Media
Photographer: Flix Photography
Ceremony & reception location: Dock 580
Bridal gown: Hayley Paige, Ivy Bridal Studio
Bridal party attire: David's Bridal's Vera Wang Collection
Music: State Famous DJ OP (Otis Parker)
Hair and makeup: Strand Café Salon, Christina Crump, Owner
Stationery: Minted.com
Curated by our Wedding Features Editor, C.K. Alexander. C.K. is the owner and founder of Love Ink and Brownstone Bridal. Keep up with C.K. on Twitter here: @Love_Ink