Yanga and Vusiwe first met in April 2010. Yanga had come over to Vusiwe's place to see a mutual friend who was visiting for the weekend. " As he was just popping in to say hi to my friend and didn't know me, naturally this first meeting should have been a 'Hi, I'm Yanga and Bye." But off course, this is Yanga we are talking about. Anyone who knows him will attest to how friendly and witty he can be. He quickly made himself at home and started chatting me up about the movie I was watching "Deliver us from Eva," recalls Vusiwe . Unbeknown to Vusiwe, it turns out that they both lived in the same complex. One Sunday evening, while Vusiwe was enjoying a nap, she heard a knock at the door and when she went to open it, she found Yanga waiting there in his PJ's. "With absolutely no warm reception from me, he welcomed himself in and made himself right at home. At this point I'm thinking, this man must be out of his mind, coming to chat me up looking like this. But he quickly set the record straight and told me he was just there to watch the movie (Deliver us from Eva) with me, nothing more, nothing less," said Vusiwe. While watching the movie and chatting, the two realized that they also worked near each other. Yanga offered Vusiwe a ride to work the next day. The two shared a ride to work and exchanged emails before leaving each other and from that day on the two were inseparable. Check out their rustic themed South African wedding captured by Davene Prinsloo!
Bride: Vusiwe Njozela , 27, Marketing Co-coordinator
Groom: Yanga Njozela, 28, Entrepreneur
Place of residence: Cape Town
Wedding date: 9/12/14
Wedding location: The Plantations
Wedding theme: Rustic
Honeymoon Destination: Maldives
Engagement story :
We were at home after doing a 10km charity run and were dog tired so decided to spend the rest of the day indoors watching movies. So while watching a movie, a scene came on where a guy was talking about marriage, so I jokingly asked, "So when does a girl get a wedding proposal around here." Next thing I knew, I saw him kneeling in front of me…needless to say, I just started crying uncontrollably. Turned out he had the ring for over two months and was waiting for the "perfect" moment.
From the Groom:
A God ordained day! Blessed and highly favored we are. Bubu & Bubu (as we fondly call each other); best friends wed with Agape love. Beautiful people, stunning decor, best wedding venue, amazing food, great entertainment. Fruits of the spirit…love, joy, peace, kindness, goodness, happiness all filled the atmosphere. Njozela & Gali families become one. The 12th of September will never be the same again!
Your best/most memorable moment:
My nephew walking down the aisle with a board written "Yanga here comes your bubu"
Walking down the aisle and seeing him trying incredibly hard to hold back the tear
Him kissing me on my shoulder right through the reception speeches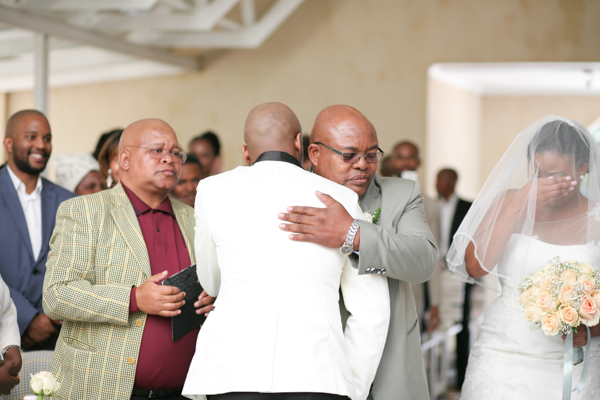 From the Bride:
It was the perfect day for me. After months of planning, everything went off so well, no glitches, nothing. The day was filled with soo much love and my groom looked absolutely handsome. I had time to take in everything, chat to everyone, it was just amazing. I would do it again in a heartbeat.
What makes your love special?
I call him "unnecessarily sweet". The genuine love, Agape love is what makes out love special.
Favorite wedding detail:
The simple, yet elegant table décor, jazz band and the cake.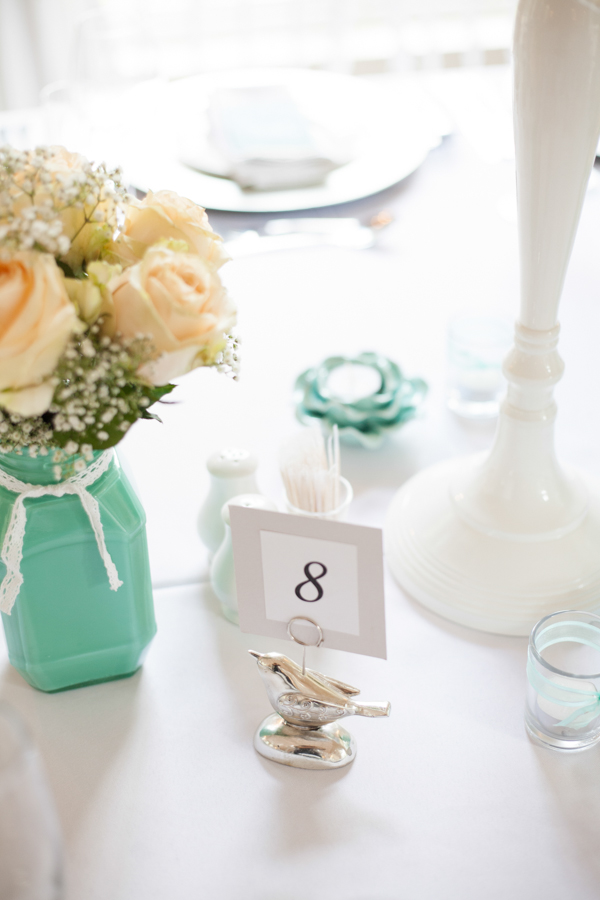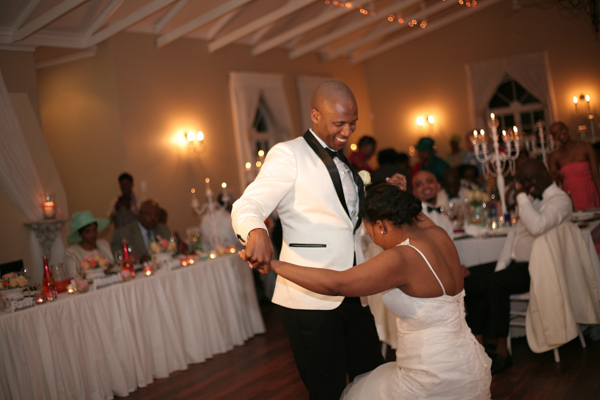 What are you most looking forward to as a married couple?
Finally doing this right, as man and wife, as the bible calls us to and also spending endless time with my best friend.
Congrats to the newlyweds Vusiwe and Yanga! We wish you many more years of wedded bliss.
Vendors:
Photographer: Davene Prinsloo
Ceremony & receptions location: The Plantation
Bridal party attire Blushing Brides
Cake: House of Cakes
Flowers: : Lynely Cusens of Floral Creations
Videographer: Salvelio Meyer
Curated by our Wedding Features Editor, C.K. Alexander. C.K. is the owner and founder of Love Ink and Brownstone Bridal. Keep up with C.K. on Twitter here: @Love_Ink