Brittany and Michael met at Winthrop University in 2007. "As a freshman, I kept my distance from most guys and preferred handshakes over hugs. One day, Michael was in the cafe with a mutual friend of ours who warned him that I don't like to hug a bunch of guys. They were watching when a guy tried to hug me and I brushed him off. Michael burst out in laughter and I was so embarrassed," said Brittany. Brittany and Michael were later introduced and they hit it off right away. The two college coeds dated on and off throughout their college years and decided to finally make it forever in 2012. Brittany and Michael celebrated their union with a romantic summer wedding at the Metropolitan Convention Center, in Columbia, SC. Check out their special day captured by Fusion Photography!
Bride: Brittany Bradley Jenkins, 25
Groom: Michael Jenkins, 28, Professional Basketball Player
Place of residence: Charlotte, NC

Wedding date: 8/2/14
Wedding location: Columbia Metropolitan Convention Center
Wedding theme: Travel, Love & Long Distance
Honeymoon Destination: Puerto Morelos, Mexico
Engagement story:
I was visiting Michael in Brescia, Italy for the Thanksgiving holiday in 2012. I had the opportunity to see him play and do a little sight seeing. After a long day of traveling, we went to dinner Thanksgiving night. It was absolutely romantic with candlelight and a great ambiance. After dinner, a few glasses of wine and dessert, he popped the question! I was completely caught off guard, but pleasantly surprised. It was a very beautiful moment.
From the Groom:

My wedding experience was interesting because I spent the majority of the process out of the country for work. I just tried to assist and be there for my wife as best as I could. I felt great until about 30 minutes before the wedding. That's when the nerves kicked in. After a couple jokes and laughs with my friends it subsided, and I was back to feeling great!
From the Bride:

I did a lot of planning on my own since Michael was out of the country and I had quite a few DIY projects including my invitations, escort cards and programs. My wedding planner was a life saver! My nerves kicked in the moment I woke up on my wedding day! They did not settle until I walked down the aisle and saw Michael making a funny facial expression, of course! The rest of the evening was full of fun and laughter.
What makes your love special?
We have been in a long distance relationship throughout the years. When we were apart, we wanted to be with each other and when we were together we never wanted to be apart. Even when he was half way across the world, we stayed connected and our bond stayed strong.
Favorite wedding detail:
The escort card table was one of our favorite details of our wedding. I designed and printed each escort card and the added decor by my wedding planner really set off our travel theme.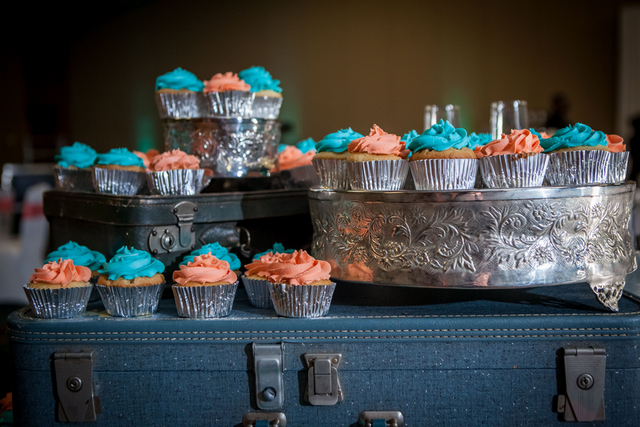 The couple's memorable moment:
Our entrance/first dance was our most memorable moment. We were looking forward to our reception because we both love to dance and have a good time! It felt like we were the only people in the room.
Wedding Song:
We chose John Legend- Stay With You, for our first dance. It just spoke so much to the truth of our relationship. We've been through so much with the distance between us, growing independently and continuing to love each other through it all.
What are you most looking forward to as a married couple?
We look forward to traveling, growing with each other and starting a family of our own. Because of his career, every season, every year could be different.
Advice for a Bride and Groom on their wedding day:
Take in every moment and enjoy it! Smile as much as possible and dance as long as you want!
Congrats to the newlyweds Brittany and Michael! We wish you many more years of wedded bliss.
Vendors:
Photographer: Fusion Photography

Ceremony and reception location:
Columbia Metropolitan Convention Center
Bridal gown: Galina Signature, David's Bridal
Groom's tux: Vera Wang, Men's Warehouse
Cake: Two Sisters and a Cake
Caterer: Ovations Food Services
Wedding planners: By Invitation Only
Music: DJ Streetz
Makeup: GlamBeatz by Danielle Anderson
Flowers: Nan's Flowers
Videographer: Cinema Couture
Curated by our Wedding Features Editor, C.K. Alexander. C.K. is the creator of the Single Bride Blog and the owner and founder of Love Ink and Brownstone Bridal. Keep up with C.K. on Twitter here: @Love_Ink