Erica and Davon met on the popular social site Blackplanet, when they were both in high school . "We were both young and in high school and he was the sweetest guy to me, he would say all the right things and it felt so real and I just had never knew anyone who was as sweet as him. I remember my first comment I left on his page was "Ladies beware: This is the sweetest guy I have ever met and you are going to make some lady very happy one day"…little did I know that was me," recalls Erica. The two never exchanged numbers, but continued their conversations through Blackplanet for over a year. After high school the virtual friends lost contact as they both went off to college in Texas. In September 2008, Erica and Devon would be reunited. Hurricane Ike came to Houston and it caused Davon's job to send him to Austin. "He randomly text me one Saturday night saying 'Hey this is Davon, some co-workers and I are in town and we don't know what clubs to go too.' I suggested a club and him and his co-workers went out, he didn't invite me, nor did I want to go or think much of it that he was in town. The next day (Sunday) he texts me again and he says 'Hey I just wanted to take you to lunch to say thank you for giving us somewhere to go last night'… I took him up on his offer." On September 14, 2008 the two finally met face to face after years of conversing online. "It was the first time we've ever seen each other in real life, but you wouldn't have known cause we've had so many conversations I knew him already, it wasn't awkward or anything and we talked for hours. He stayed in town for the next 7 days and we literally spent every day together, which started the beginning of our relationship," said Erica. After 6 years of being together, the friends turned lovers, celebrated their union with a "diamond" themed wedding in Austin, TX. Check out their special day captured by Knots and Tots Photography!
Bride: Erica Chante Daniels, 28, Account Executive for Apple
Groom: Davon Deshaun Daniels, 28, Linux Systems Supervisor for HostGator
Place of residence: Austin, TX
Wedding date: 10/11/14
Wedding location: Austin, TX
Honeymoon Destination: Ibiza, Spain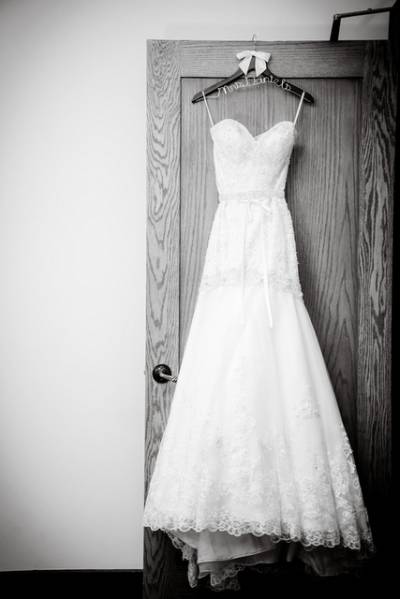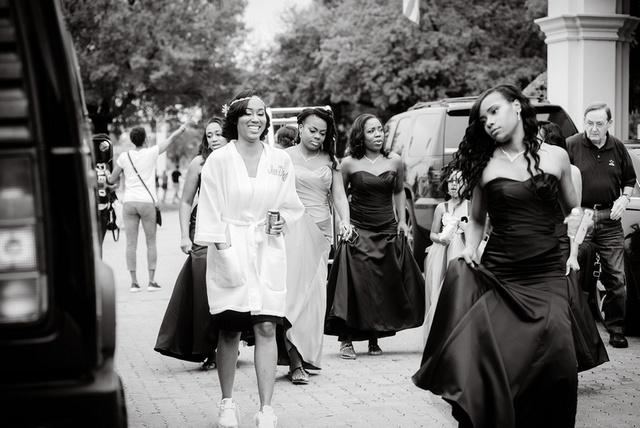 Engagement story:
August 13, 2013, his birthday. I had just spent the last 6 months planning the best surprise ever for him….an all-expense paid surprise trip to New York City! It was so hard to keep this from him while getting everything in line. I was just so happy and excited to be able to finally tell him what the surprise was. He wasn't able to take lunch that day but I was so eager to tell him that I came up to his job and told him about the surprise. I told him we had to head home early that night because we had to pack and leave the next morning. He was so shocked, all his friends, and people at his job knew, he already was approved to take the days off, so he was just so surprised me and everyone else was able to keep this from him. I'm on such a natural high at this point, because I just knew this was going down as the best surprise ever in our relationship and he'd never be able to top this! We always joke who got the better gift/surprise, so in my mind I just KNOW my surprise will forever be the best! So we both go back to work and he says "let's just tell everyone to come to Razoos and have a few drinks for my birthday", cool. So I let everyone know, not really making it a big deal, but just come hang out if you're able to make it. We get to Razoos after work and it's a lot of people here, and in my head I'm like "WOW! They must really like Davon, everybody came for happy hour", so again I'm happy cause all our friends came to celebrate and I'm bragging on us going to New York in the morning and how he had no idea. We tell the waiters it's his birthday so of course they get ready to bring out the dessert and sing him happy birthday, so they come out and he wants to do a little speech before hand. He makes me stand with him and everyone pulls out their phones to record it, I'm thinking they must want to record his b-day speech or something lol. He says a speech thanking everyone for coming and then the waiters say "BIG happy birthday on 3. 1….2………..3" So I sit down cause it clearly wasn't my birthday so we could sing to him, and that's when everyone yells "WILL YOU MARRY ME?" and he got down on one knee and proposed. Check out Proposal Video here.
From the Groom:
My wedding experience was more than I ever thought it would be. From the months leading up to it, to the day of, everything worked out just as planned (with the exception of one or 2 minor details). Most people I know usually say planning and having a wedding is stressful due to budgets, time constraints, etc, but luckily my wife and I were in a position to not have those troubles. We made a plan that worked for us. On the day of, I was surrounded by so many of my closest friends whom I consider family which made everything that much easier. Anything I needed, any last minute errands, they were there for me. I wasn't even nervous or anxious until literally the first song played in the Church, and that's when I thought to myself, "Wow, I'm really about to do this." The entire time I stood there, as I saw our parents, grand parents, and the bridal party, walked down the isle I just kept thinking to myself is this real? Then when those doors opened, and I saw my wife for the first time in almost a whole day I knew I was exactly where I wanted to and needed to be.
The couples best moment:
My best moment would be when I finally walked down the aisle to Davon. In that moment nothing else mattered, I don't remember seeing anyone's face, I don't remember the music playing, I didn't have any nerves, the only thing that mattered was seeing him. He was smiling at me, and I was smiling at him. I've heard people say "You're only nervous when you're unsure of who you're marrying" so in that moment to see him smiling as I was, it was almost a confirmation of this moment and everything it stood for. One of the best feelings ever.
From the Bride:
My wedding process/day was pretty great, I must say. My mom was a wedding planner in the past so she kept us on a time schedule, which helped us get stuff done without waiting till the last minute. I consider myself and my husband very easy going so we never stressed about table clothes or flowers or any of those minor items, it went pretty smooth. We created a budget and a savings plan which helped majorly to pay everything off prior to the wedding. My wedding day I wasn't nervous, but one of my bridesmaids kept playing Beyoncé all day so I kept getting emotional as songs like "dangerously in love" and " 1+1" came on. I was just so excited and anxious to see how beautiful everyone and everything would turn out. I was eager to get the party/reception started yet still tried to find a way to remember and enjoy each moment because it definitely went by fast.
What makes your love special?
To me what makes our love special is the roller coaster we have been on, yet our commitment to each other remained. He lived in Houston and I lived in Austin and had no idea how a long distance relationship was going to work. We managed to do a year and a half of driving back and forth to see each other every other weekend. 6 years later after doing long distance for almost 2 years, living in Houston together for a short while and now back in Austin together with not a single break up in between our lives together are here in Austin and we couldn't be happier.
Wedding songs:
Brides entrance song – Johnny Gill – You for me, – "You for me, me for you" Those words explain how we both feel towards each other, this is not a 1 way relationship, he was made for me and I was made for him.
Mary J. Blige – I found my everything, our first dance song – This was my way of letting my now husband know that I found my everything in him, emphasis on the word "Everything"
Favorite wedding detail:
Our shoes that we wore. Instead of the traditional heels and dress shoes, we opted for tennis shoes as this is what we wear on a daily. We both wore Air Max 90's in the colors of the wedding, mine were hot pink while Davon's were navy blue and pink with lights in them.
Advice for a Bride on their wedding day:
Just have fun and relax. Trust in yourself or your planner that everything you have done to make this day amazing will all come together and be better than you expected. The day goes by fast so be sure to stop for a second and just be in that moment with yourself, your family, your friends and most importantly your now husband/wife.
Congratulations to Erica and Davon! We wish you many more years of wedded bliss!

Vendors:
Photographer: Knots and Tots Photography
http://www.knotsandtotsphotography.com
Ceremony location: Riverbend Church
Reception location: DoubleTree Hotel
http://doubletree3.hilton.com/en/hotels/texas/
Bridal gown: Alexia Gavela Bridal
Bridal party attire: Alfred Angelo
Flower Girl Dresses
https://www.etsy.com/shop/coloranglesBoutique
Groom's tux
Cake: Que Sera Bakery
Caterer: Doubletree Hotel
Favors: MyWeddingStore
https://www.etsy.com/shop/MyWeddingStore
Wedding planner : Juanita Patterson
http://www.jrpevents.com/index.html
Music: DJ Dontizl
Hair and makeup : Hair Shay Mayon
Make Up Antionette Okere
Flowers: HEB Floral
Engagement Videographer : Justin Hospie
http://www.openmindimagery.com
Curated by our Wedding Features Editor, C.K. Alexander. C.K. is the owner and founder of Love Ink and Brownstone Bridal. Keep up with C.K. on Twitter here: @Love_Ink