Otis and Alexis met in 2005, at a restaurant/bar owned by one of Otis' friends. "As soon as we met, he started walking around the bar, jokingly referring to me as his "wife". I shook my head and laughed it off, although I secretly thought it was cute. I liked him immediately; he was funny, outgoing and confident, and I was instantly intrigued by his gregariousness," recalls Alexis. Otis and Alexis' instant connection would have to take a back seat as they were both on the verge of major career and life changes that would take them to different cities. The two dated for a few months, but shortly thereafter they both went off to start their new lives in different states. "Before he left, we discussed trying to do a long-distance relationship, but I've never been a fan of them because I rarely see them work. So instead we parted ways with promises to keep in touch," said Alexis. However, as the years passed they both wondered what the other was doing. In 2009 Otis reached out to Alexis and said that he wanted them to try and make their relationship work. Alexis agreed, but she knew that a long distance relationship was still not an option for her. Otis decided to choose love and made the decision to move to the state where Alexis lived. The happy couple has been inseparable ever since. Check out their elegant D.C. nuptials at the D.C. Carnegie Library, captured by Terri Baskin Photography !
Bride: Alexis K. Chancellor, Attorney
Groom: Otis Morris, Jr., Construction
Place of Residence: Washington, D.C.
Wedding Date: 5/17/2014
Wedding Location: Carnegie Library, Washington, D.C.
Engagement story:
My husband proposed to me on his birthday in 2013. The two of us went out to celebrate his birthday weekend had a fancy dinner and stayed at a new hotel that just opened downtown. He proposed that night after dinner and told me that saying yes was the only birthday present he wanted. So I said yes!!!!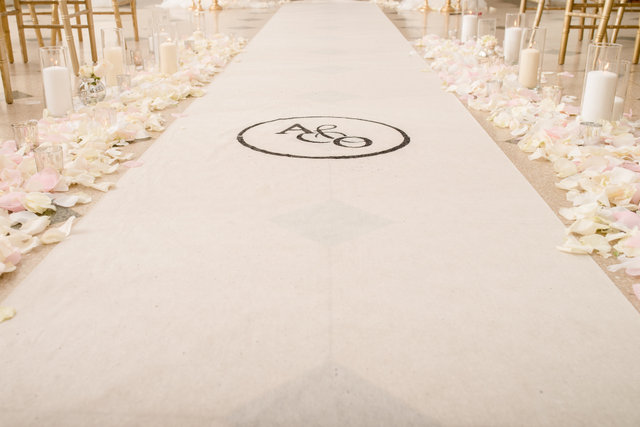 From the Groom:
I was also calm that day and excited to see my beautiful bride-to-be. I'd watched her work so hard for a year planning every detail of the wedding and I was very proud of what she put together. Alexis looked beautiful on our wedding day and I was very happy to start our life together as husband and wife.
From the Bride:
I actually felt pretty calm on my wedding day. All of my family and friends were already in town awaiting the ceremony, so I was just excited about getting the events underway and marrying my husband-to-be. Otis and I both love hosting parties and we wanted our wedding to be a fun celebration. All of our friends and families showed their love and support for our marriage and we wanted to use the wedding to celebrate them and show them our appreciation.
What makes your love special?
The thing that makes our love special is our friendship. Not only do we love one another, but we genuinely have fun together. We laugh at each others dumb jokes, we can have fun whether we are on an exotic vacation or just spending a lazy afternoon on the couch watching football or Dexter reruns. We just enjoy being together, no matter where we are or what we are doing. It's hard to find someone that you can live with every day; if you find someone that you love being around, hold on to them.
Favorite wedding detail :
I had so many favorite things, but I loved our wedding cake, the bow tie napkins on the dinner plates, and champagne favors. I really loved all of the little style details that went into the wedding. I also loved my bouquet and signature drink signs, made by Selena of Glitter Hive.
The couple's most memorable moment: There were so many great moments during our wedding; I literally loved every second of that entire day. But the most memorable moment for me was seeing my new husband dancing with my grandmother at the reception. It was the cutest thing ever!
Wedding song, explain choice for song: Our "song" was So Amazing, by Luther Vandross. We picked it because Luther wrote the song with us in mind! There really isn't any great meaning behind our song choice except that we both really liked the words to the song.
What are you most looking forward to as a married couple?
We are looking forward to experiencing life's adventures, both good and bad, as a united front. Life is so much better when you have a teammate to run ideas past, defend you, encourage you, and love you, even on the days that you aren't that lovable. We are looking forward to vacations, birthdays, babies, family holidays, first days of kindergarten, graduations, retirement, grandchildren, and all of the time in between those events.
Advice for a Bride/Groom on their wedding day:
Take moments to yourself during the day, and really soak in all of your surroundings. The day goes by so fast that you need to take a step back and enjoy the moment. And brides, bring an extra pair of shoes –flat ones; your cute, brand new high heels will turn on you at some point!
Congrats to newlyweds Alexis and Otis! We wish you many more years of wedded bliss.
Vendors:
Photography: Terri Baskin Photography
Event Planning: The Oxidine Group
Wedding Dress: Ian Stuart
Bouquet: The Glitter Hive
Cake: Fluffy Thoughts
Ceremony & Reception Venue: D.C. Carnegie Library
Shoes: Betsey Johnson
Bridesmaids' Dresses: Wtoo
Make-Up: LuxuryBrown Beauty
Groom's Attire: Vera Wang
Bridal Jewelry: Kate Spade
Bridesmaids' Jewelry: Kate Spade
Bridesmaids' Make-Up: Tiffany Lumpkin
Candy Buffet: The Oxidine Group
Drink Signs & Favor Design: The Glitter Hive
Rentals: Davinci Florists
Canopy: That's Your Q Designs
Officiant: Pastor Ralph Lawton
Curated by our Wedding Features Editor, C.K. Alexander. C.K. is the owner and founder of Love Ink and Brownstone Bridal. Keep up with C.K. on Twitter here: @Love_Ink