This historically-inspired wedding style shoot is the perfect mix of vintage fashion and sophistication. We love the vibrant and romantic red and violet palette with gold and bronze accents, lush florals and crystal elements that were all beautifully captured by Tracey-Ann Jarrett PhotoNotions.
Trudy Armand Events, a Florida-based wedding planning and design company, teamed up with a group of talented vendors to create this Harlem Renaissance styled shoot, which showcases elements like the antique 1920s and 1930s charm you'd find in this time period, as well as hints of modern glam.
Shoot location: Comber Hall in Coral Gables, Florida
Shoot theme: Harlem Renaissance
Color combinations: Bronze, chocolate, cranberry, violet
Favorite detail: The special headpiece designed by Accent You for this shoot.
Decor Details:
Linens:
Fortuny gold tablecloth with a chocolate decadence sequenced overlay and glitter damask. The tablecloth on the cake table was white and gold.
Centerpiece Description:
Sterling silver centerpiece containers draped in crystals and glass beading. Filled with classic red roses, lavender roses and red gerber daisies. Accents of black ostrich feathers and peacock feathers brought together the warmth and romance of the Harlem Renaissance.
Place Settings:
"Exquisite gold" china plates and ruby colored "Iris Goblets," alongside vintage crystal glasses and "Gold Abbott" flatware.
Stationery:
The elegant round invitations and menus, as well as the table numbers (featuring stars of the Harlem Renaissance era) and guest seating cards were all custom designed by Trudy Armand Events.
Please share unique details from your shoot:
Since we are always on the look-out for unique goodies, we were glad to find these gorgeous accessories for this shoot. Sandra Isaacs is the designer behind Accent You. We fell in love with this handmade headpiece and were very lucky to have it because it really represents the elegant style of the Harlem Renaissance.
We created the ambiance of the Lenox Lounge by projecting an old enhanced black and white image onto the black curtains on the stage in Comber Hall. Add to that our props and accessories from Unearthed Vintage, Eclectica Miami and the Spin Alley Store and you have a simple, yet elegant lounge for the couple and their guests.
Here's what the couple had to say about the inspiration behind their styled shoot:
"Since we are swing dancers and Harlem is the birthplace of the lindy-hop, we have long been fascinated by the style and music of the Harlem Renaissance. It represents a time in history where African Americans began to freely express themselves through music, art, and literature. African Americans living and creating in Harlem during the 1920's and 1930's evoked a style and elegance which we still cherish today. We knew that we had a lot of resources to represent this period in history well, so we set forth on the adventure and recruited some of the most talented and creative artists in the industry to fulfill our vision while staying true to the era."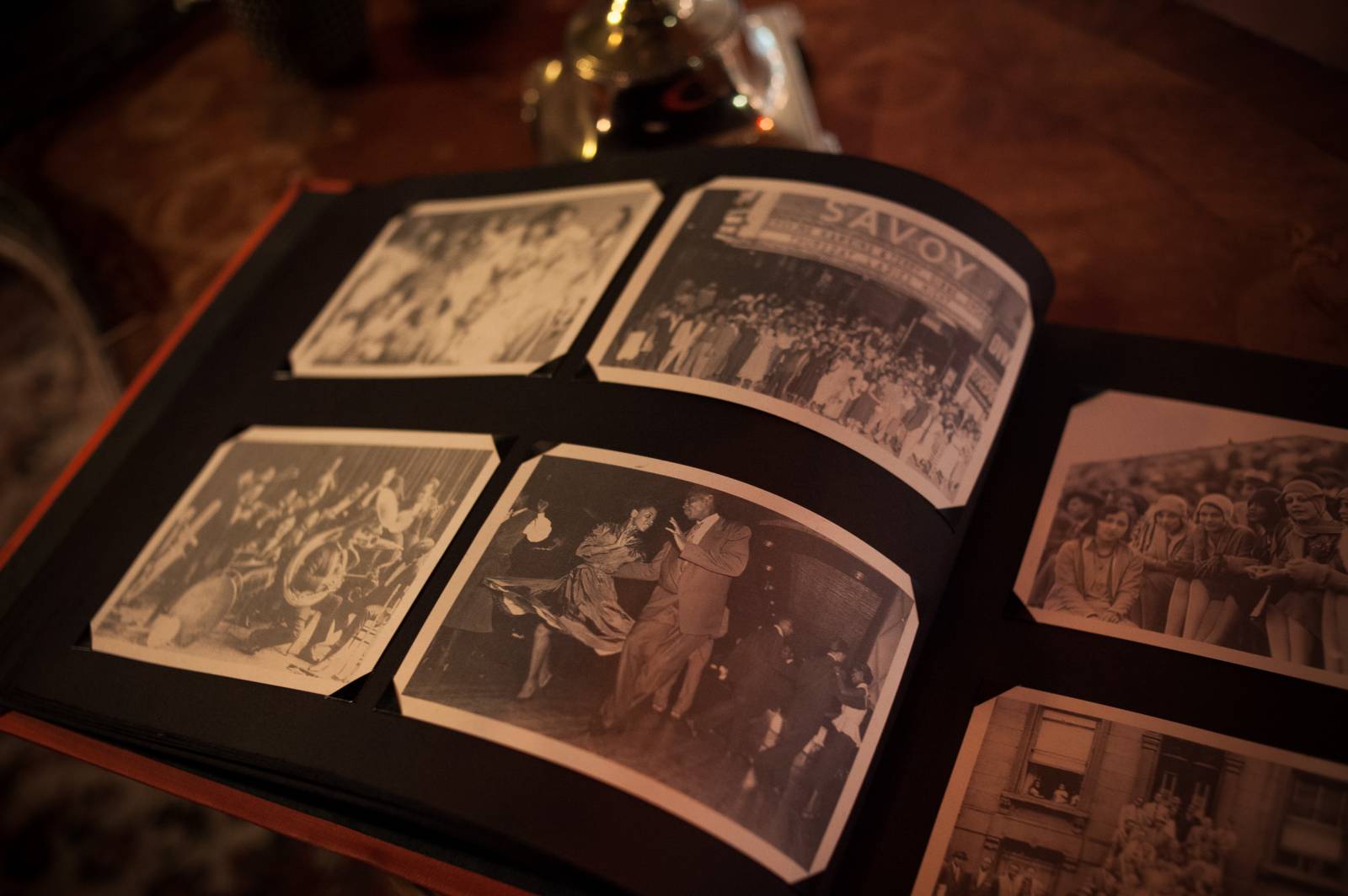 We can't get enough of this gorgeous styled shoot. Share your favorite details in the comments below.
Vendors:
Photographer: Tracey-Ann Jarrett PhotoNotions Photography
Event & stationary designer: Trudy Armand Events
Venue: Comber Hall
Bridal gown & accessories: Accent You by Couture Bridal Miami
Hair & makeup: Mia Farah Beautique
Groom's tux: JC Penney < /p>
Cake: Elegant Temptations Custom Cake Boutique
Floral design: Flowers by Gerardo
Rentals: Atlas Party Rental
Antique phonograph: Spin Alley Store
Vintage Finds: Eclectica Miami
Vintage lounge furnishings: Unearthed Vintage
Sources
Tracey-Ann Jarrett PhotoNotions Photography|Flowers by Gerardo|Elegant Temptations Custom Cake Boutique|Spin Alley Store|Accent You by Couture Bridal Miami|JC Penney|Comber Hall|Trudy Armand Events|Mia Farah Beautique|Atlas Party Rental|Unearthed Vintage|Eclectica Miami