Octavia and Justin met on the campus of Winston-Salem State University in Winston-Salem, North Carolina during 2009. They began dating in 2010 and have been together for seven whole years! In the spring of 2017, Octavia and Justin made their love known to the world with a sophisticatedly blended wedding. Check out their special day, captured by Dajuan Jones of In His Image Photography.
Bride: Octavia Hammond, 27, University Admissions Recruiter
Groom: Justin Little, 30
Place of residence: Winston-Salem, North Carolina
Wedding date: April 8, 2017
Wedding: Millennium Center, Winston-Salem, North Carolina
Wedding theme: Although I did not have a specific theme, I knew I wanted to mix old and new. Hence, choosing the Millennium Center as my venue. It is an old post office and has lots of "character." I loved being able to mix vintage and modern elements to create a simple, elegant space. I used lots of white hydrangeas and added some coral tulips and roses for the color. We had an assortment of tall and short centerpieces that were used in both the ceremony and reception. My bridesmaids all carried small bouquets of white hydrangeas and my bouquet also included tulips, roses and hydrangeas.
Honeymoon Destination: Palm Beach, Aruba
Engagement story:
We had planned a full weekend to celebrate my 25th birthday, and had gone to the J. Cole concert the night before. The next day, on August 13, 2015, we went to winery and later on had dinner. Justin seemed very nervous all throughout dinner, but I will still oblivious. He proposed after dinner once we got home! It was a complete surprise and very intimate, I appreciate him wanting to share the moment with only me.
What makes your love special?
We are literally best friends. We have so much fun no matter what we're doing.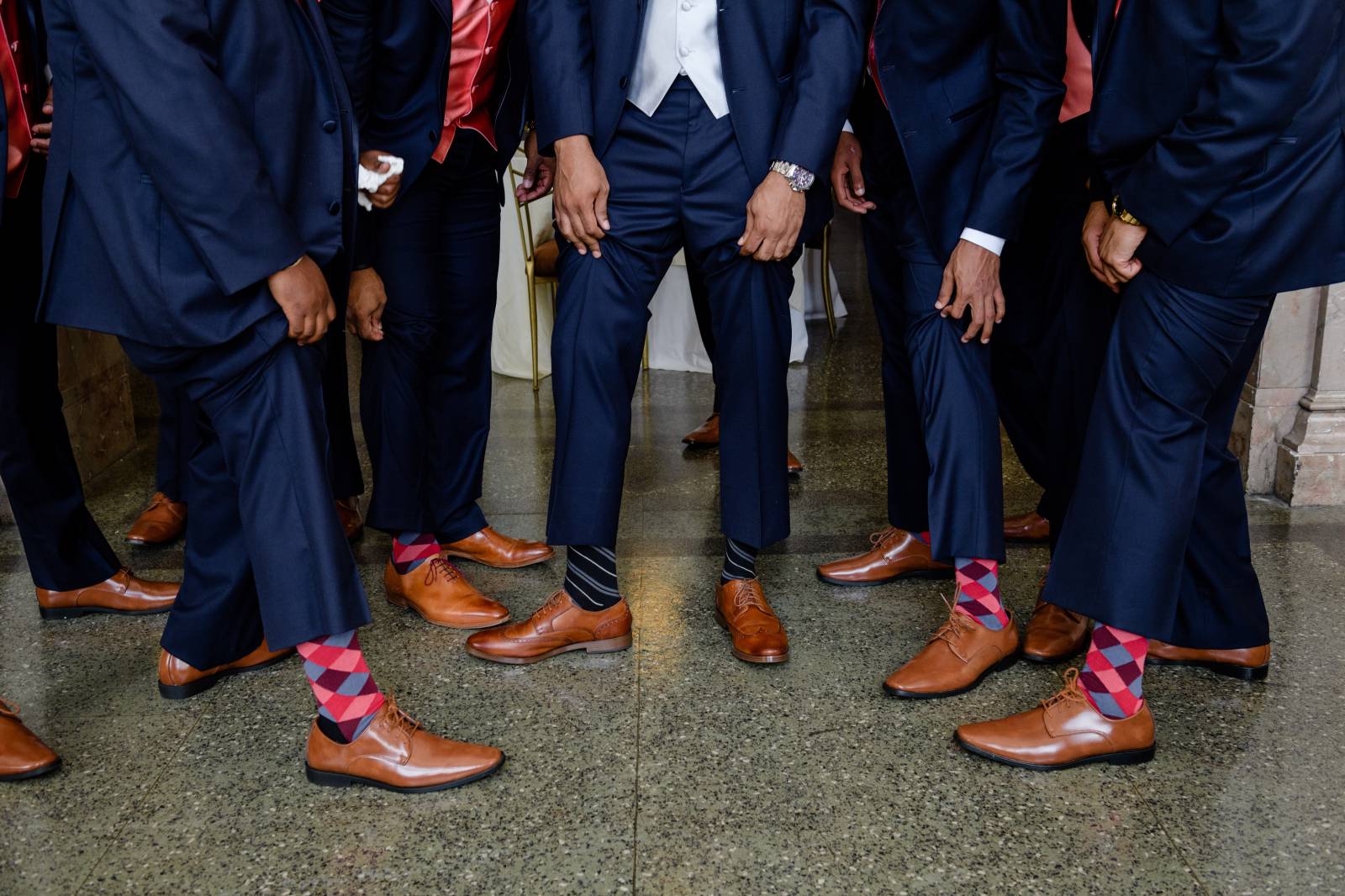 From the bride:
It was perfect! My bridal party made sure that I felt pampered, and we had so much fun prepping for the day. I was surprisingly very calm and relaxed. I don't think I had ever been so sure about any other decision in my life. I had zero doubts about whether I was marrying the perfect man for me!
Your most memorable moment:
Saying "I DO!"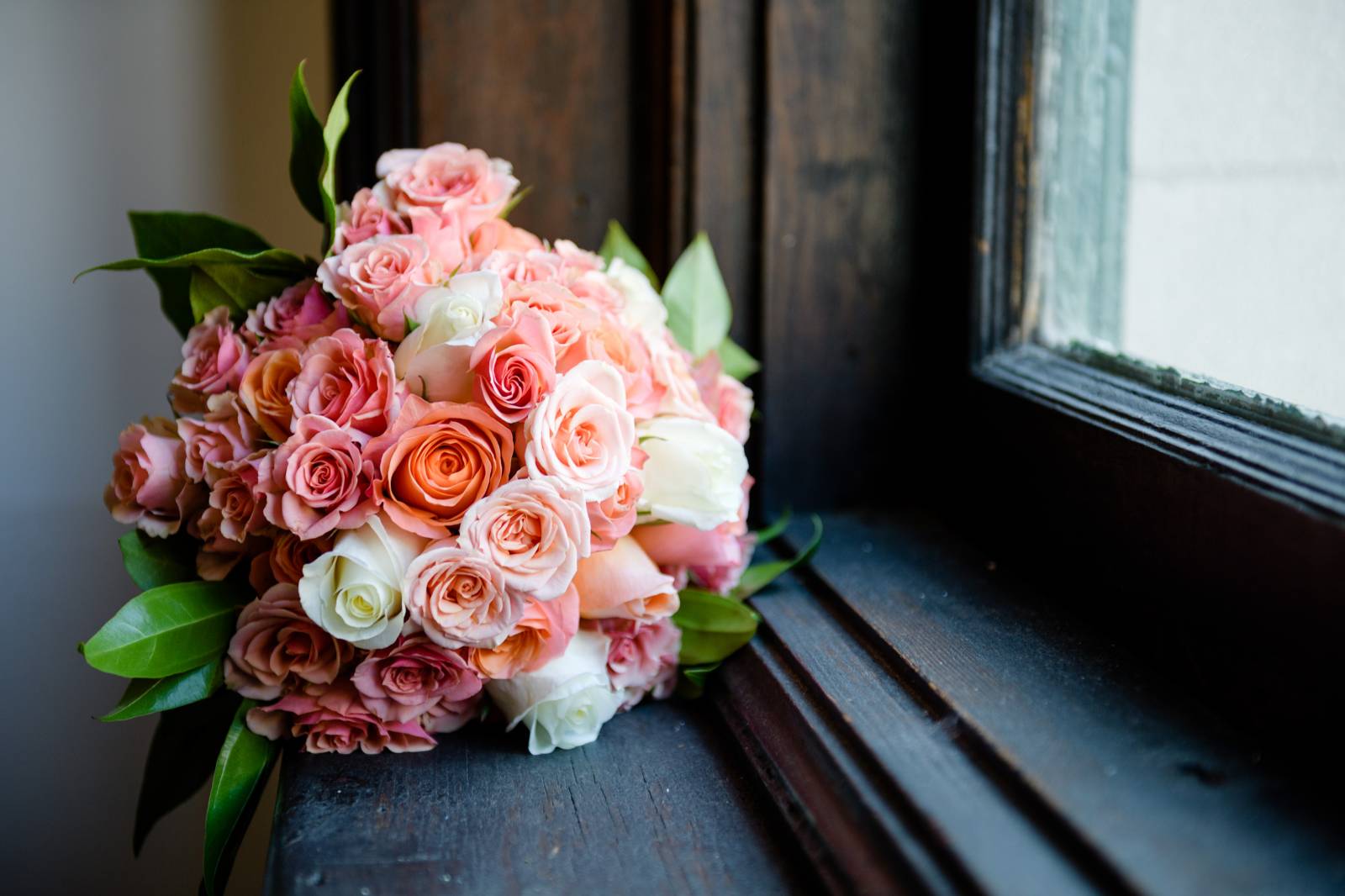 Wedding song:
For our procession, John Legend's "You & I" played, and then our first dance was Kenny Lattimore's "For You."
Favorite wedding detail:
Our photo booth! We, as well as our guests had a ball all night long in our photo booth! We love looking back at all funny pictures that were taken that night.
What are you most looking forward to as a married couple?
Building our lives together, creating more memories, and generally enjoying one another.
Advice for a bride and groom on their wedding day:
Breathe, enjoy the process, and remember your reason for planning. It can be overwhelming at times, but the end result is always worth it.
Congratulations to the newlyweds! We wish you a wonderful wedding and marriage.
Sources
In His Image Photography|The Millennium Center|The Millennium Center|The Millennium Center|Delicious Bakery|Forever Young Photo Booth|Traci Cooper|David's Bridal|Maggie Sottero