Merlyn and Xavier first met through their mutual love of coffee at a local Starbucks. Seven years later and their love is stronger than the caffeine that brought them together. And it's that very reason why Merlyn and Xavier celebrated their relationship milestone with a rustic and romantic backyard wedding. With stunning waterfront views and lush green backdrops, this happy couple got in touch with mother nature and their creative sides. Check out their special day, captured by Edward Underwood Photography.
Bride: Merlyn Perez, 37, Director of Operations at a D.C. Nonprofit and Wedding Planner
Groom: Xavier Conley, 42, Auto Glass Department Manager
Place of residence: Rockville, Maryland
Wedding date: May 28, 2017
Wedding location: Bayfields B&B, Harwood, Maryland
Wedding theme: Waterfront rustic chic with pops of bright colors
Honeymoon Destination: Costa Rica
Engagement story:
It wasn't a surprise engagement like most couples. Having been together for seven years, we discussed marriage many times. Finally the time just seemed right so we sat down and discussed it like adults, picked a date, bought a ring and the rest was history.
From the bride:
Being a wedding planner I knew exactly what I wanted and what I didn't want. I planned the entire wedding myself and then had some of my staff help me with month and day-of execution so I could be able to relax and enjoy my day. However I was very involved with all of the details.
From the groom:
We kept the wedding small because we wanted it to be very special and intimate. I cried when I saw her walking down the aisle — which even took me by surprise! Seeing the smile on her face throughout the whole day and knowing how much I loved her made everything worth it. We also bought out the B&B for the entire 3-day Memorial Weekend and brought most of my immediate family from out-of-state to stay with us, which was really nice. I enjoyed spending time with everyone under one roof and having people meet each other for the first time. It made it feel almost like a family reunion-wedding.
Favorite wedding detail:
We loved all of our personalized wedding details the most. For example, we adored the wedding signs that lined the aisle with bible verses about love. I hand made them all, so they hold a special meaning. The window pane seating chart that a friend of mind hand wrote were also a favorite. Another detail we liked were our chair back signs that said Senor Conley and Senora Conley, and the Cuban Cigar Bar which featured my Cuban heritage.
What makes your love special?
We complement each other in the strangest ways. We're like Yin and Yang personality-wise. Xavier is loud and outgoing, while I'm very quiet and reserved. Yet, we have many commonalities such as the same birthdate (month and day), which makes us birthday twins and gives us many common personality traits.
We also have a lovely blended family, both of which took part in our wedding. My daughter was the maid of honor and Xavier's son was the best man. His granddaughter was the flower girl.
Wedding song:
We chose the Isley Brothers' "Make Me Say it Again Girl." The lyrics say it all, especially the chorus, "you're all I need!"
Your most memorable moment:
The ceremony and the toasts were so emotional. We did not expect to see this many tears! But it meant that this moment was very special and heartfelt for a lot of people.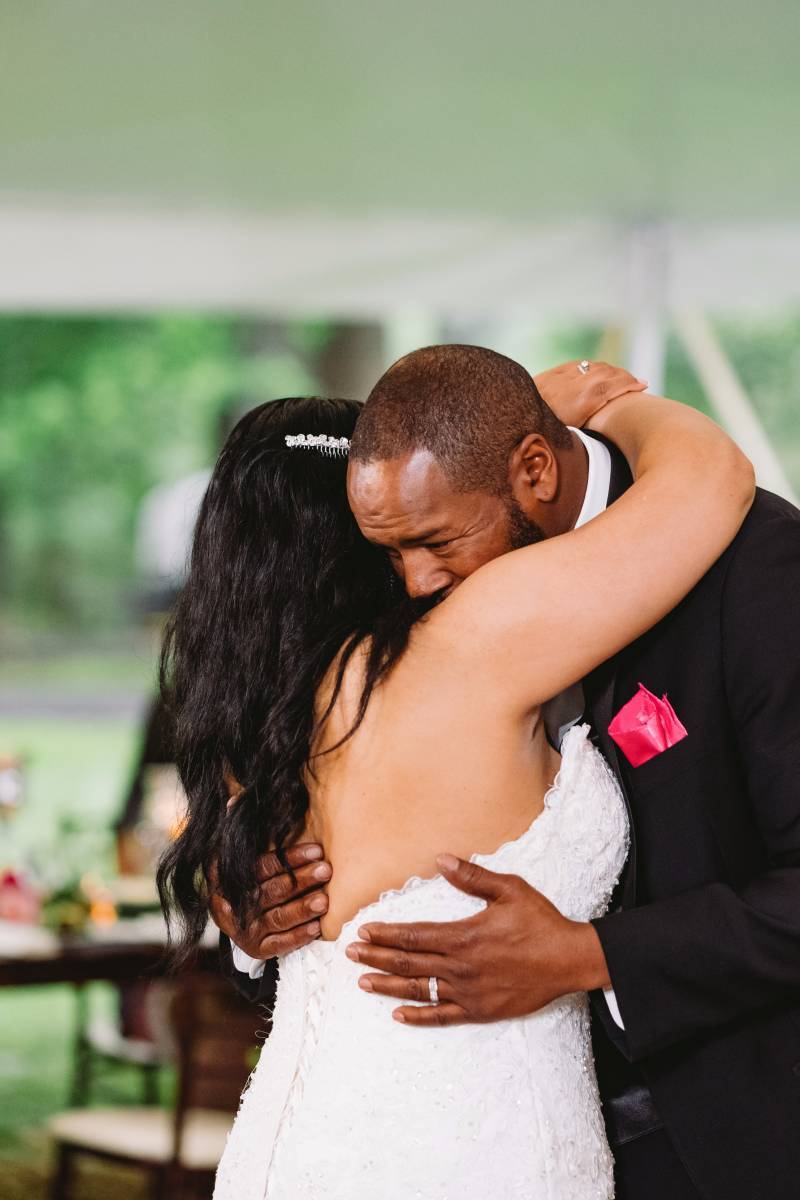 What are you most looking forward to as a married couple?
Growing old together.
Advice for a bride and groom on their wedding day:
No matter how well you planned everything out, something unexpected will go wrong. So take it in stride. And make sure you hire a coordinator to help manage these unexpected emergencies so that you can let them handle it and continue to be gracious hosts.
Congratulations to the newlyweds! We wish you many years of wedded bliss.
Sources
Edward Underwood Photography|Michael Brazda Films|Bayfields B&B|Maggie Sottero from Couture by Posh Bridal|David's Bridal|Men's Warehouse|Catering by Uptown|Etsy SipHipHooray|A Bride's BFF|Imani Entertainment|Hair and Faces by Lisa|Elegant Wedding Invites|Weir Event Rentals|Price Rentals & Events|Something Vintage