Natasha and Onu met through a mutual friend at a happy hour years ago. They kept in contact through that one common friend they had, and two years later they connected at Georgia Tech's homecoming, which also happened to be Onu's alma mater. During that festive gathering, it was the most comfortable and amazing experience they had the pleasure of feeling. It was as if they'd been friends all along. From that day, their bond grew and they both knew they could never part. And it's that devotion that led this pair to celebrate their engagement at the Crowne Plaza Skyroom in Atlanta, Georgia. Check out their sultry and sophisticated affair, captured by Love in Motion.
Bride's full name and occupation: Natasha Wright, Business Intelligence
Groom's full name and occupation: Onu Okebie, Business Development and Strategy Leader
Place of residence: Georgia
Engagement Shoot Location: Crowne Plaza Skyroom, Atlanta, Georgia
Wedding date: August 18, 2018
Engagement story:
For the proposal, Onu made up plans and then canceled them last minute and was going to take me to dinner to make up for it at our favorite restaurant. He had secretly planned the proposal and the entire staff was in on it. He even had his sister and brother-in-law sneak in undetected and record the entire thing. It was a job well done because I didn't see it coming and couldn't stop crying. To this day I can't watch the video without dropping a few tears.
For the Groom: Walk us through the behind the scenes of creating this special day.
For a special day between Natasha and I, it's all about the details. We don't try and go big or draw a lot of attention, it's more about remembering the smallest thing that I know will make her smile. So when people hear our story, see our pictures and celebrate our love, they will see "us" and nothing else.
What makes your love special?
Our love is so special because it's of course our love. But to help you understand, think of it like this, our love is fluid and is continuously filling whatever place needs filling, all the time.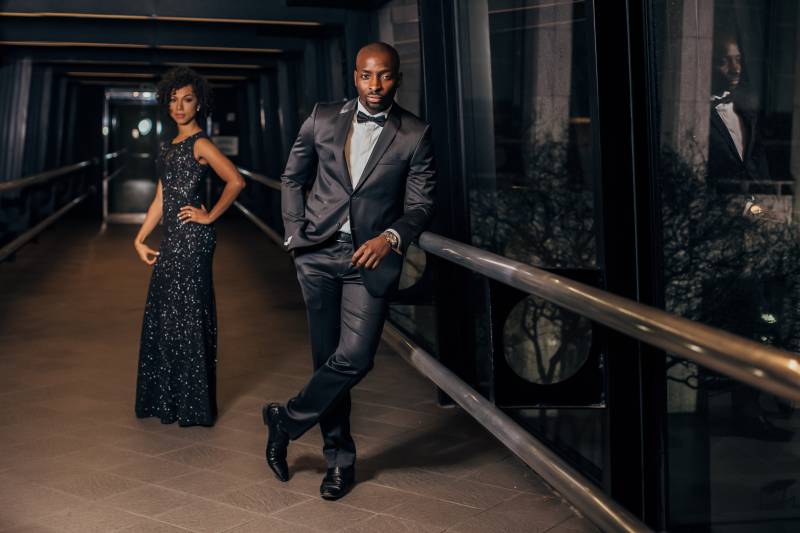 What was the theme of your shoot?
I told Natasha I wanted our shoot to be seductive, sexy and a few other adjectives, jokingly of course. Well, she took what I said and ran with it. We wanted the shoot to reflect the tone and mood of our big day though, so if anyone is curious as to what to wear or what to expect, our engagement shoot should be a good point of reference.
Were there any memorable moments during the shoot?
There was this one particular moment during the shoot when I looked at Natasha and I just got chills. I was like, "Wow…" Funny thing is, this moment was captured on camera, but only I know which shot it is.
What are you most looking forward to about your wedding?
We're both anxiously awaiting the ceremony itself. Everything about it excites us, but we can't wait until that moment we both say, "I do."
Have you started planning your wedding?
I'm not one to toot my own horn but I'm like an ultimate planner. I basically stayed five steps ahead for almost everything. In my defense though, I was so excited to be engaged that I couldn't sleep for maybe the first week, so I planned instead.
Congratulations to the happy couple! We wish you a fruitful wedding and marriage.
Sources
Love in Motion|Ashley House