When a lady of Alpha Kappa Alpha fell in love with a brother of Alpha Phi Alpha, Amaya and Theo Woodley wrote a love story that was worth sharing. Like many true loves, Amaya and Theo had been right under each other noses all along, after meeting briefly on campus and reconnecting two years later. From college sweethearts to lifetime lovers, this Charlotte couple begin their new life together with a daytime brunch wedding that exudes class and glamour, captured by Temilola Ajibulu Photo + Cinema.
Bride's full name: Amaya Woodley
Groom's full name: Theophilus Woodley
Wedding date: December 1, 2018
Wedding location: Mint Museum, Charlotte NC
Wedding theme: Daytime Wedding in the City with Brunch
Tell us about your wedding! What was the inspiration behind your day? Did you have a specific
theme, style or color palette? Did you incorporate any cultural or religious traditions in any part
of your day?
Our wedding was brunch theme with a daytime ceremony in a museum with floor to ceiling windows for
optimal lighting. We wanted the wedding to feel like a breath of fresh air with the classic color palette of
black, white, and gold.
Let's talk wedding decor. How did you decorate your space for the ceremony and the reception?
Was any part of the decor DIY?
Because we wanted the wedding to feel like a breath of fresh air we allowed the floor to ceiling windows
to be the focal point of the room with greenery hanging from the ceiling. We opted for white table cloths
and clear chairs to make the room for spacious and open.
What were the florals like in your wedding? Did you use flowers in any of your design elements
like the bridal bouquets, centerpieces or ceremony backdrop? Did they play an important part in
the overall style of your wedding?
We opted for greenery during the ceremony and reception. My bouquet was made up of artificial
flowers that were white with some greenery incorporated. My bridesmaids had baby breaths for their
bouquets with gold ribbon tied around the base. For centerpieces we used floating candles in clear
vases of various heights.
Did you personalize the day in any way (food trucks, guest entertainment etc.)? What were some
of your favorite parts of your wedding?
My favorite part of the wedding was the ceremony. The aesthetics from the lighting and positioning of
the room during the ceremony truly displayed the theme I was going for. As we came together as one it
seemed like there was a sense of peace and calmness that fell over the room.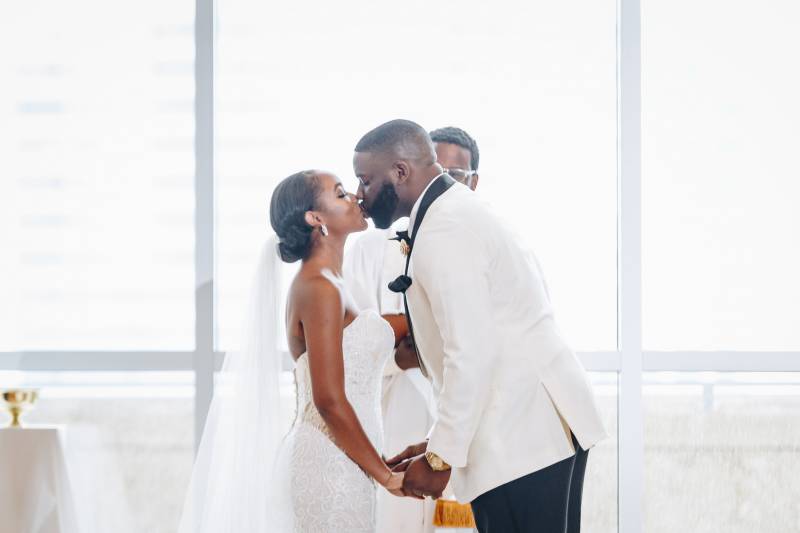 How did you meet? Tell us about the proposal.
Theo and I actually met my first day on campus at college as he was my assigned freshman orientation
leader. We didn't start actually dating until my junior year of college after we reconnected during the
summer prior and we never looked back. Theo popped the question Christmas Day in front of our family
as we were guessing the Christmas character tapped to our backs. Unbeknownst to me, I had the word
"wife" on my back which made for a pretty challenging time trying to guess the answer. After many
failed guesses, he pulled the name off of my back and showed me what it said as he got on one knee.
Let's talk fashion. How did you both choose your wedding day look? Describe the looks in
detail.
For my senior prom I had a mermaid dress and always told myself for my wedding I wanted the exact
same style, so it was a no brainer when I went to try on dresses. I actually think my dress was the first
one I ended up trying on. I wanted my husband's tuxedo to match the color of my dress which was off
white and The Black Tux made sure that the color was a perfect match and the perfect fit for him.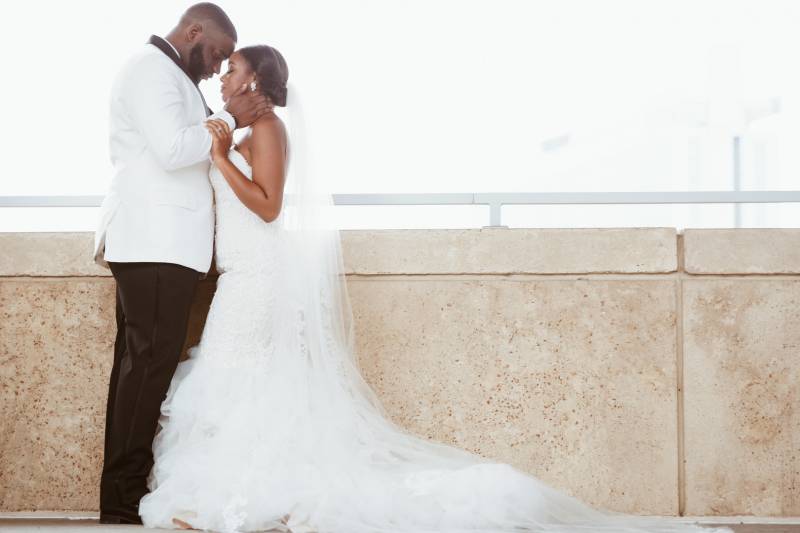 What was the most anticipated or special moment of your wedding day?
Hands down the most anticipated moment of the day was when I was waiting to walk down the aisle to
see Theo's face.
Do you have any wedding planning or marriage advice that you'd like to share with other couples planning their day?
One word- elope!
Congratulations to the happy couple! We wish you many years of wedded bliss!
Sources
Temilola Ajibulu Photo + Cinema|The Mint Museum|Anjolique Bridal and Formal|Ladies of Lineage|Monica Nicole Beauty|Hairapy Salon Studio|April's Floral Expressions|Dollhouse Bridesmaids|The Black Tux