Tashawna and Corey met in 2014 through mutual friends who were engaged at the time. More specifically, Corey was close friends with Tashawna's friends' fiancé. One evening Tashawna enjoyed a night on the town with her friend, who happened to mention Corey as a person she should consider talking to. In her friend's opinion, she and Corey had "similar personalities" and would be a perfect match. And she happened to be right because three years later and this couple couldn't be happier. Check out Tashawna and Corey's walk down the aisle at The Dumbo Loft in Brooklyn, captured by Andrew Browne Photograph.
Bride: Tashawna Bryant, Real Estate Agent, 25
Groom: Corey Bryant, Writer and Dog Trainer, 30
Place of residence: Brooklyn, N.Y.
Wedding date: May 3, 2017
Reception date: May 4, 2017
Wedding location: The Dumbo Loft in Brooklyn, N.Y.
Wedding theme: Old school 1920s Harlem/Brooklyn Renaissance
Honeymoon Destination: Hawaii
Engagement story:
It was Mother's Day 2015 when Corey proposed. We were in a hotel. Corey woke up early that morning and I figured he was going to get a gift because we were newly pregnant with our son Joseph. He came back and I was getting ready for a day out with him, (my hair was not combed) and he pulled out this huge box. Looked like it could fit a necklace or set of jewelry and told me to open it. I was not thrilled because he knows I'm not a jewelry girl but I did, there was another smaller box, opened that box, there was yet another box. I started to panic as in that moment I knew what was in the box and I just began to cry and blurted out "NO" in the midst of being emotional. He got on the phone and called his sister and told her that I said no. We had to clear it all up once I stopped crying. The most memorable moment was not actually hearing a word he said after I actually saw it was an engagement ring. So I don't actually remember him asking if I'd marry him.
From the bride:
Getting married is by far the hardest thing you can do when you don't care about the festivities. I loved the idea of weddings but always hated the cliché events you see on TV. I just wanted to be a "Bryant." I didn't care for walking down the isle or the seating arrangements or the song that'd played when we danced. On that day though, I felt like I've always felt, which was that I was the only woman that could be next to him. I lived in the moment for once and I enjoyed feeling like we were stars, but not for our family and friends or the camera, but were stars to one another.
From the groom:
It was definitely fast paced. I've never moved that fast a day in my life. I'm a laid back individual, so to have to be on a timed schedule was a killer. But I just wanted to make it a good day for her. The event itself was just as I pictured. Humble. Family coming together and mingling with a few "turn up" moments. That's what we wanted and that's exactly what our wedding day was.
What makes your love special?
Our love is genuine. Some people find it hard to find someone who really cares for them through everything. Your flaws, talents, potential, shortcomings, embarrassments, imperfections, egos etc. Even when we are in our rougher times, we still see that this is a part of love and growth; it's passionate. And for both of us outside of our families, it's a first time feeling.
Your most memorable moment:
The best memory from our wedding day happened when we were sitting in the 1933 Packard in front of the venue. Five minutes before the driver from the company is due to leave and we need a photo of Corey seeing me for the first time. I'm on the phone being a bride-almost-zilla and he comes literally left field running to the car and the photographer says, "Oh that's a great shot!" And I just think to myself, "Hmm, he looks pretty good in white too" (I love him in all black). Another memorable moment was the garter removal. Hands behind his back, Corey dived head first, but couldn't find it. We'd danced prior to me sitting down for the removal so the garter was at my ankle. It was hilarious!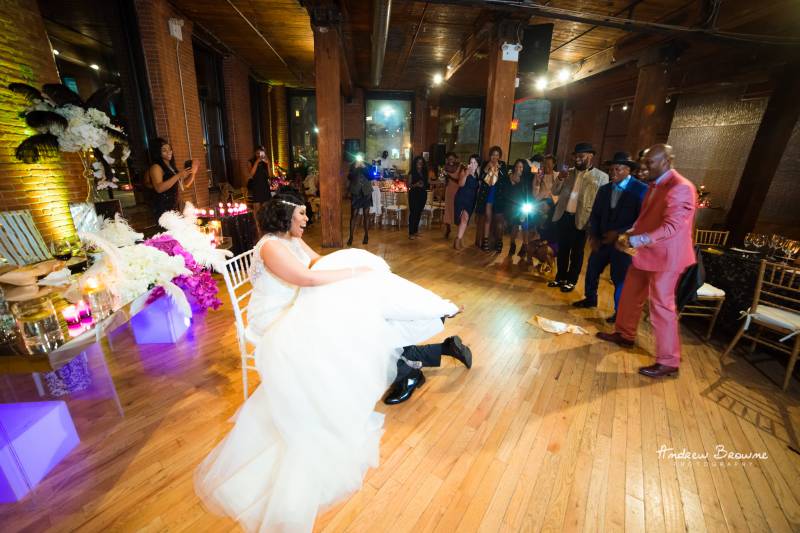 Favorite wedding detail:
Bride: My fur! I just had to have one to wear with my gown, I didn't care what time of year I was getting married. The fur was a keeper. It was the pumpkin to my callaloo soup.
Groom: Our sweetheart table was my favorite detail.
Please feel free to include any other interesting anecdotes from your big day!
Bride: I don't think I used the restroom at all the entire reception, which lasted about five to six hours. It was so much fun and non-stop camera flash. I didn't want to miss a thing.
Groom: I enjoyed my lap dance.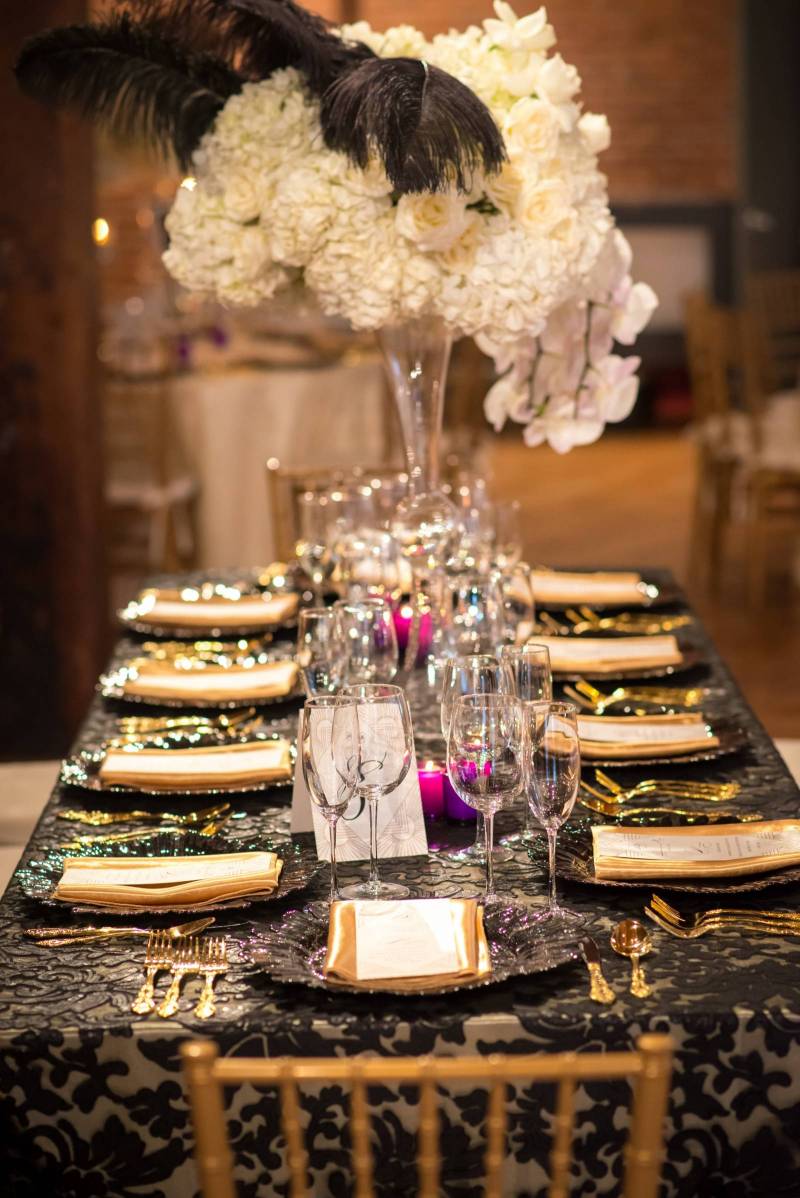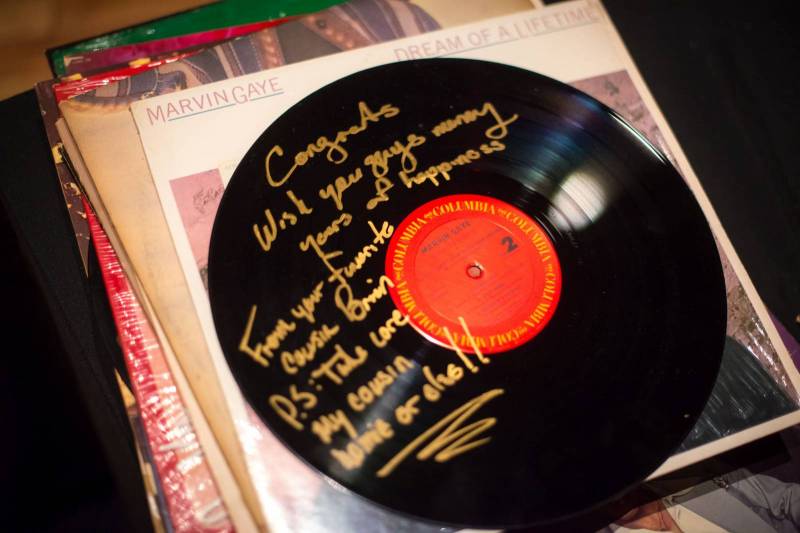 Wedding song:
Our song was "Sensuality" by Isley Brothers. We chose this song because it's an inside joke we ran with since our first year of dating. Corey played it almost everyday when he woke up, ironically after we "consummated" our commitment. The words to the song are actually very sexual but those Isley Brothers sure can make it sound sophisticated. We had actually switched the song to "Fortunate" by Maxwell for that reason but the DJ didn't get the memo so it was fate that we had to be 100 percent real with ourselves.
What are you most looking forward to as a married couple?
Growth. That's a big part of our commitment to one another. We both don't want to be who we were growing up or who we necessarily are at this moment. Our idea of marriage and family is our own, and we can't wait to see it to fruition.
Advice for a Bride and Groom on their wedding day:
Start early and hire a planner!
Congratulations to the newlyweds! We wish you many more years of wedded bliss.
Sources
Andrew Browne Photography|The Dumbo Loft|JunePlumm Events|Fun Fete Fabulous|LePenn designs|Like No Other Linens|Suede NYC|Shy Burton|NickyB on Hair|Ezee Event Services|Shake n Stir|Evolution Event Rentals|All Affairs Rental span>|Westside PArty Rentals