Images by German Larkin.
Since her April 2022 engagement to music executive Elliot Grainge, social media star, model, and Nude Stix beauty director, Sofia Richie has been at the top of the list of most anticipated brides of 2023. Although Richie has held a place in the celebrity spotlight since birth, being the second daughter of global music icon Lionel Richie, she's also managed to keep her personal life rather concealed compared to her contemporaries.  However, Sofia's private persona didn't leave the public wanting to know any less about her nuptials. If anything, the mystery of it all has made her 8.2M followers that much eager to follow her on her wedding journey via social media. 
As if Sofia couldn't be any cooler, she casually documented the lavish experience simply from her cell phone, capturing #ootd fashion photos and GRWM tik-toks that have all gone insanely viral. Most notably Sofia debuted multiple looks in Chanel, a seemingly appropriate choice for a wedding in the French Riviera.
With brides now spending just as much, if not more time curating looks to wear throughout their wedding week or weekend than finding their actual wedding gown, it's become apparent that perfecting the wedding wardrobe has become more of a "must". The new Mrs. Richie-Grainge's looks are ones to be aspired to, thanks to her exceptional sense of bridal style. So we've pinpointed the biggest takeaways Brides should note.
Simple Is Sublime
From her wedding glam to her overall bridal style, the method to Sofia's bridal magic was found in its simplicity. Not once looking over-accessorized, over-styled, or overdone, Sofia was consistently chic thanks to her minimal stylistic choices. So often in bridal fashion, brides feel pressured to make a statement or fashion splash for every look that they can overcomplicate their fashion moment. Sofia stunned in a custom Chanel full lace fit and flare dress with a chic halter neckline. Her hair was pulled back into a sleek bun with her only accessory being a lightly embellished veil and stud earrings. Sometimes less is more than enough!
Image by Emilie White.
The Past Can Be the Greatest Reference
Although Sofia's fashions proved to be in tune with the modern age , a few standout looks from her wardrobe were pulled from styles past. It can be tempting  for brides to get wrapped up in trying to remain in tandem with the ever-changing fashion  trends, but there's something to be said about the classics from previous eras. Taking direct inspiration from 90's runway Chanel, a lá supermodel icon Claudia Schiffer, Sofia wowed us  a nearly exact replica of the chic, white mini dress from the iconic house's F/W 1993 show. Sofia also worked with the brand to design an all-white version of Stella Tennant's Chanel F/W 1997 Couture look, a two-piece co-ord that was both flouncy in movement and glamorous with its heavy, fringe-like beading. Even though these looks are more than a decade old, they seemed to be very inline with Sofia's old money meet it girl personal style. When looking for ideas for your own wedding looks, taking style notes from previous years is a good place to start, especially from designers that already inspire your everyday wear. 
Images by Vogue Runway and Emilie White.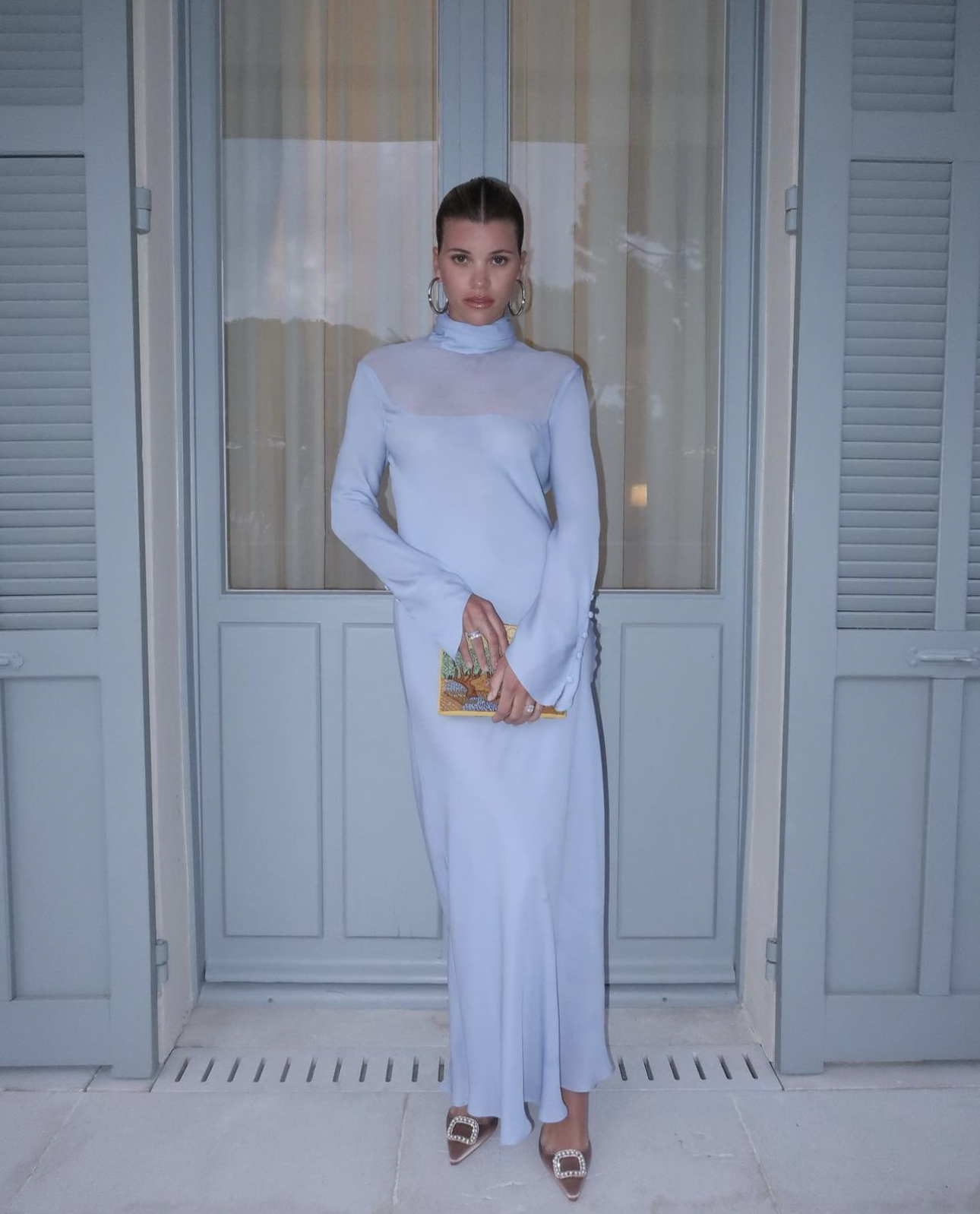 Color Outside the Lines
In efforts to remain in the center of it all, many brides lean towards wearing wedding white for every one of their wedding events. However, adding hues to your wedding wardrobe can give your wardrobe collective all the more range, making it even more memorable for your guests. One thing about the young and fun beauty director is that she has never been one to shy away from color. In an era obsessed with all things monochromatically neutral, Sofia's colorful bridal looks were a breath of fresh air. Donning her "something blue" as a light blue maxi by Khaite. Despite white being a popular choice for brides in their wedding week fashions, no rule book says that's the only color appropriate to wear for the momentous occasion. Instead of slimming your options to one hue, be unafraid of dabbling in color your wedding week to help set each of your looks apart.
Image by @sofiarichiegrainge on Instagram.
Keep Your Accessories Fun
Despite a wedding being a serious occasion in life, it's still one of a woman's greatest opportunities to have fun with fashion. You can easily incorporate fun elements with your shoes, jewelry, and other accessories.  It's also an easy way to infuse your style or cool trends into a classic bridal look. Sofia wore a rather standard cream Chanel blazer dress with gold accent buttons, a look that could read as old fashioned but became instantly stylish by pairing a multi-colored Chanel cross body and pink pointed-toe flats.  So if you have a bridal look that feels underwhelming adding the right statement accessory pieces can elevate it from ordinary to one-of-a-kind.
Images by @sofiarichiegrainge on Instagram.
Stay True
In an era where fashion inspo is available to us at our fingertips and trends are sold to us at every corner, know this: being yourself, authentically and truthfully, will never go out of style. Although it's nice to consider "timelessness" as a factor in your wedding day fashions, don't get so consumed by so-called fashion rules that you miss out on the opportunity to fully showcase your style in your bridal wardrobe. Sofia at her core has always given us classy, elegant, and minimal yet fun, playful, and youthful looks and she didn't deviate from that essence in her wedding week fashions. Instead, she seems to have plotted out the bridal fashion traditions she wanted to be sure to take on and did them her own way. We love that Sofia wasn't trying to be anybody but herself. And that's truly what made her wedding week the talk of the fashion lovers' Internet.
Images by @sofiarichiegrainge on Instagram.
Written by Writer Kennedi LéShea & Fashion Editor Dara Adams.