Image by @kingjames on Instagram.
As we continue to celebrate Black History Month, many of our stories are being remembered and recognized, while others are being written within our midst. Notably some of the most impactful contributions to this world have not only came from the minds and talents of Black People but are a product of Black Love.
There are countless couples in the Black diaspora who've worked together to achieve greatness for themselves, their families and their communities, and their efforts continue to breed legacies that we revel and glean in today. For the remainder of February, we will be highlighting some of Black Love's greatest participants in different areas and fields to share their stories and accomplishments in Black History.
Jesse Owens + Minnie Ruth Solomon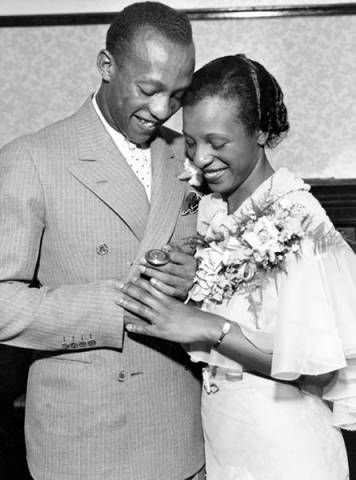 Track & field Olympian Jesse Owens and Minnie Solomon were two lovers who met in junior high school and later married in 1937, in the bride's hometown of Columbus, Ohio. The two would continue their love affair for years to come.

Jesse famously competed in both the Olympics and Big Ten, where he made a career record by setting three records and tying with another in less than an hour of competing. A feat that has yet to be broken.
While Jessie spent time away, Minnie prioritized the raising of their three daughters but she eventually expanded her already responsibilities by joining her husband in curating their own philanthropic efforts. With Jesse being a longtime supporter and board member of the Up with the People non-profit international travel program for young adults, he would later go on to help start the ARCO/Jesse Owens games; an annual track meet for children ages ten to fifteen to compete and award scholarships to its winners-An opportunity Jesse wasn't privileged to receive during his own academic career in his younger years due to racism and discrimination.
After his passing in 1980, Minnie made it her mission to keep her husband's historic legacy alive by stepping into his role as board member for Up with the People as well as ARCO ambassador, while also becoming chairman of the Jesse Owens Foundation. She also added mentoring and donation efforts to their activities. Minnie passed away in 2001 and their daughters continue their philanthropic efforts while also keeping the memory of their parents alive. And while the two shared 48 years of marriage together, they forever remain a staple of Black Love we can all learn from.
Image by Cleveland Press Collection.
Florence "Flo Jo" Griffith-Joyner + Al Joyner
Florence Delorez Griffith married Al Joyner after the two met for the first time at the 1980 Olympic Games. Both prolific track stars in their own right, Florence became better known by her nickname of "FloJo" in the late 80's when she became critically-acclaimed for her record-breaking sportsmanship in tandem with her unapologetically eclectic style. There wasn't a game or meet she wasn't dripping in the hottest of fashions. From her signature, long and intricate nail designs to her bold makeup and bright outfits; FloJo was a sports and style icon for the ages.
Al was a star athlete in high school and went on to remain an elite track & field runner in his collegiate journey at Arkansas State University. A three-time NCAA All-American indoor champ, three-time NCAA All-American outdoor champ, and four-time Southland Conference champ, Al made history again when in 1984, he became the first African-American in 80 years to win a gold medal in the triple jump competition division. For his big win, he was awarded the Jim Thorpe Award, only awarded to the best American athlete in an Olympic Field Event. Him and Flo married on October 10, 1987 and Al later went on to become his wife's coach leading her to three more victories at the '88 Games.
The two welcomed a daughter, Mary Ruth, in 1990 but sadly, just nine years later, Florence would pass away suddenly at the young age of 38 from an epileptic seizure. Since her death, Al would keep his wife's legacy alive by promoting her book "Running for Dummies" that had been published just around the time of her death. He would then start the Florence Griffith-Joyner Charity and Scholarship fund along with an organization called the Flo Jo Community Empowerment Foundation in her honor, with the efforts of helping youth around the world achieve their dreams. Together, they achieved great success in both flesh and spirit.
Image by Getty Images.
LeBron + Savannah James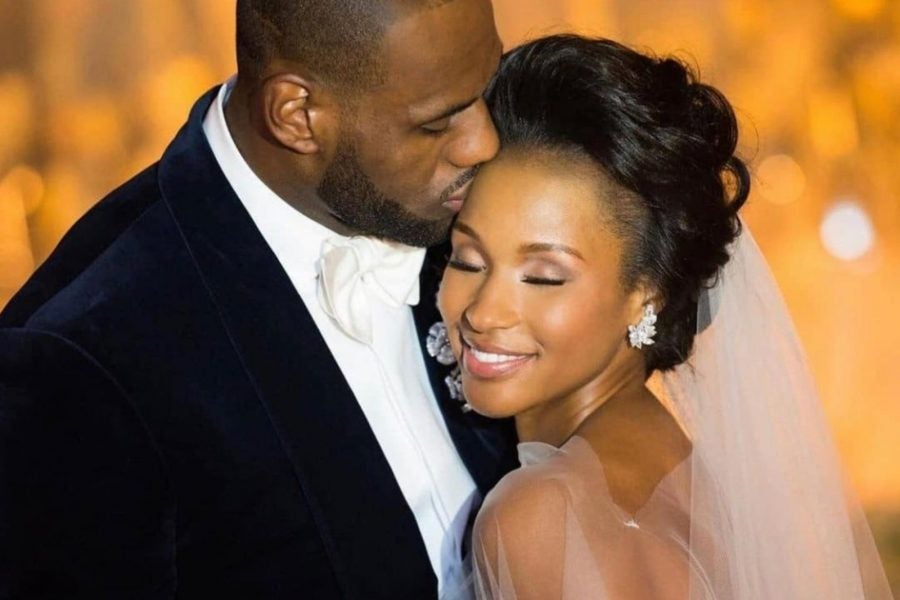 Two kids from Akron, Ohio; who would've thought they would be where they are today? Both LeBron and Savannah James have been cited multiple times with claiming their shock and awe of how their life transformed in seemingly a blink of an eye. The high school sweethearts met while attending St. Vincent-St. Mary, and married in a private ceremony amongst their closest friends and family in San Diego, California on September 14, 2013.
The two share a hectic schedule, as LeBron continues to break barriers in the NBA, currently making iconic plays as the power-forward of the illustrious LA Lakers. Savannah prioritizes home life with their three children, sons Bronny Jr. & Bryce Maximus and daughter Zhuri Nova ensuring they remain humble and thriving amidst the realities of growing up in celebritismseemingly fish bowl of a life they find themselves in. Together, however, they manage to still find time outside of their other life duties to give back.
In 2017, LeBron founded the I Promise School; a public elementary school in his hometown of Akron to help kids who are struggling maintain their dedication to school and the overall advancement of their lives. Since officially opening in 2018, the school has met the needs of the children and community they serve and with extracurricular efforts as well. Savannah also joins the fight for educational and lifestyle equity with her collaborative effort I PROM-ise; an annual prom makeover she hosts in conjunction with their charity and school that gives young girls the opportunity to have the prom look of their dreams all supplied and curated by Savannah and the organization.
In partnering together with their love, family, philanthropic and humanitarian efforts, Savannah and LeBron continue to show that partnership is rooted in equal effort and commitment to the relationship even when persuing different passions and contributing in different roles.
Image by @kingjames on Instagram.
Written by Writer, Kennedi LéShea.