Image by Belathée Photography.
As celebrity worthy bridal beauty remains the expectation for the modern bride we've become accustomed to seeing certain hairstyles don the heads of Black Women for wedding day hair dos. We love to see a classic up-do, side part with glamorous old hollywood waves, and even and sleek short cut. But what about hair don'ts?
The culture and beauty of Black hair has been a longstanding topic of controversy as it's simultaneously been coined as anything from "ghetto" to even outright "ugly"; but somehow still remains the leading trendsetter for hair styling amongst all cultural groups and races. Despite the triumphs and trauma of the hair experience, Black women are working to release themselves from the stigmas of past stereotypes and embrace the versatility and choice of Black hair.  But although we've seen progress in the acceptance of Black hair, natural styling is still highly underrepresented in the category of bridal hair.
Circa the late 1800s, following the abolishment of slavery braided hairstyles became considered too "informal" for certain occasions as Black Women began to feel the pressures of Eurocentric beauty standards and "the press" became seen as more suitable for society events. Fortunately, as the amplification of natural hair care increases styles like fros, locs, and braids continue to find new popularity and are becoming embraced in more settings amongst the masses. 
If we look back into the history of braids within the African diaspora, they've served so many purposes from symbolism through survival. As the intricacy of braid patterns once worn by the most high ranking of African royalty to show status eventually shifted as a way to show escape routes for Africans seeking freedom during the the Transatlantic slave trade.
Since, the tradition has been passed down and taught to centuries of Black women and their girls, creating a longstanding experience unique and sacred to the Black community. For this and many other reasons, braids should be a no brainer when it comes to being added to your list of possible wedding day hairstyles!
Below is our list of some of our favorite braided looks for you to emulate and look to for inspiration for your special day! Let us know in the comments which is your favorite look and tag us on Instagram @blackbride1998 if you had a braided hairstyle for your wedding day, for a chance to be featured on our page!
Rihanna's Fairytale Fulani Braids by Hairstylists Yusef Williams & Nafia White
While attending the British Fashion Awards back in 2019, the singer turned multi-hyphenate mogul opted for stunning, shoulder length Fulani braids; a beautiful contrast to her overtly formal, Cinderella-esque ensemble making it a perfect inspiration for brides looking for the fairytale hairdo of their dreams.
Image by Getty Images.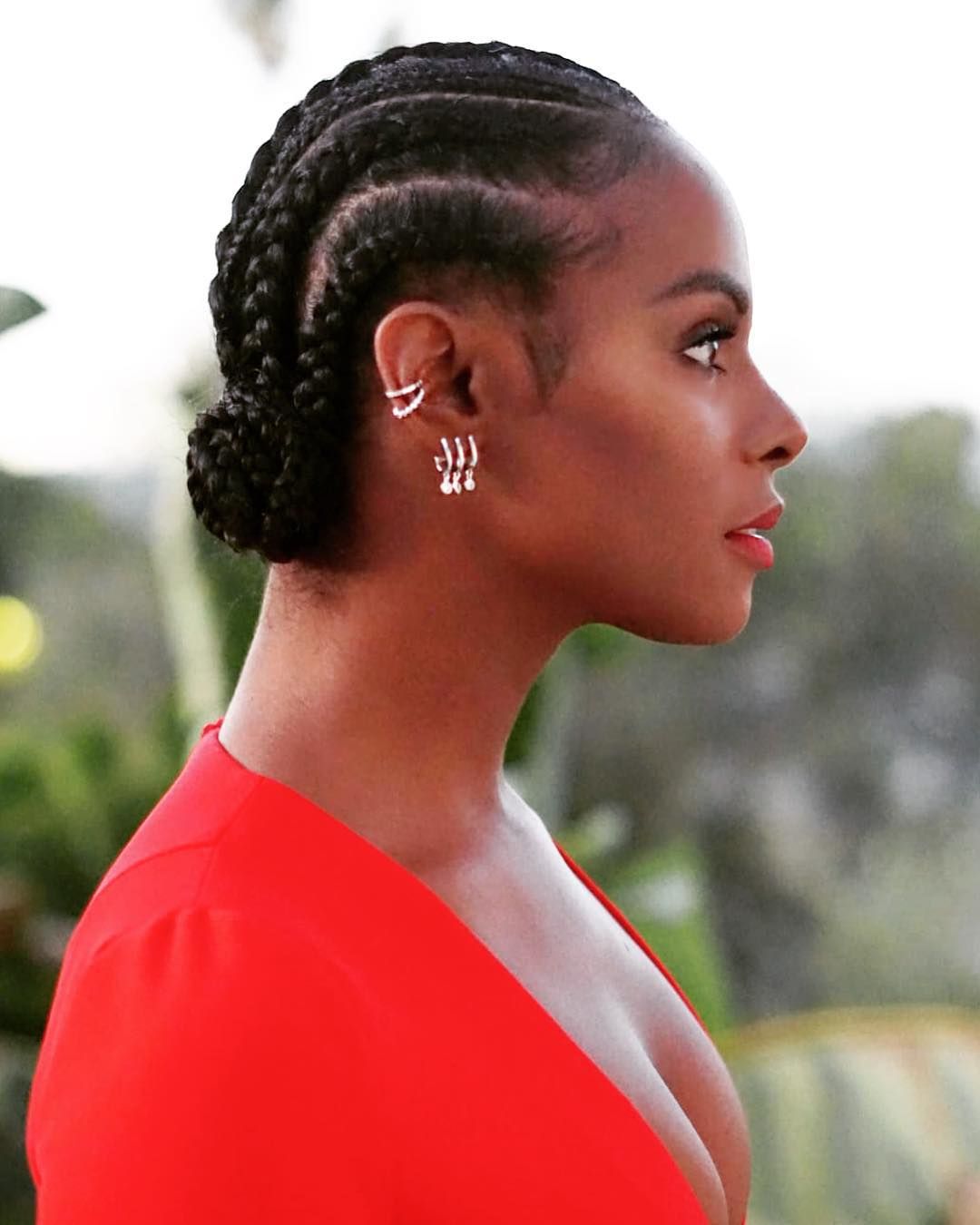 Tika's Braid-Back by Hairstylist Anita Patrickson
Tika Sumpter's simple and chic braid-back do is perfect for brides not looking to do too much but just enough. Complete with smaller braids in between the bigger ones while being perfectly crafted into a small bun in the back, this look is simply sublime.
Image @tikasumpter on Instagram.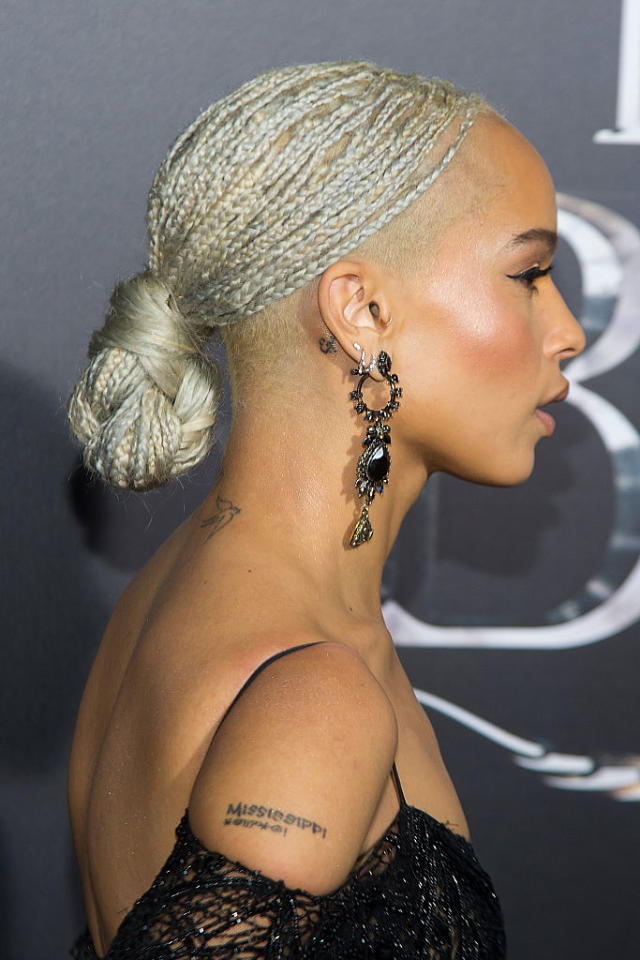 Zöe's Lowkey Braided Bun by Hairstylist Daniel Moon
Zöe Kravitz and her braids for as long as we've watched her grow up has been the ever-consistent, greatest duo we never knew we needed and this look cemented that truth even more. With the pairing of her platinum blonde hair color at the time in addition to the style's understated tone from its simplistic bun yet slight edge with her under and side cuts; this hair style is ideal for the edgiest of brides.
Image by Getty Images.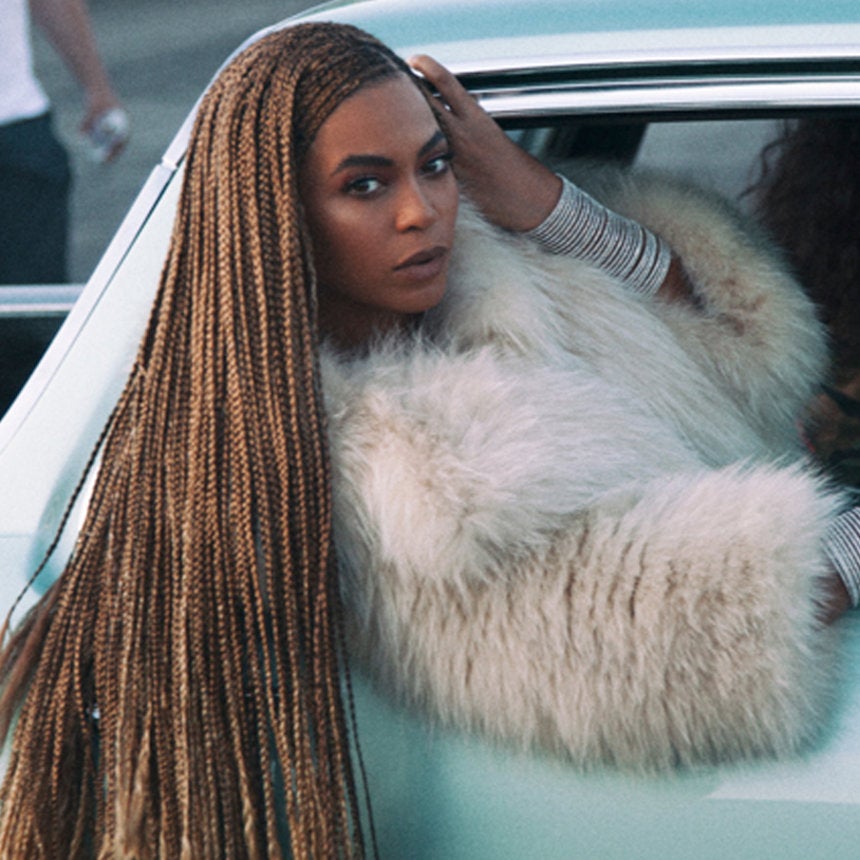 Beyoncé's Iconic Lemonade Braids by Hairstylist Kim Kimble
Beyoncé has broken the Internet several times but she broke all of our wallets when she dropped her hit single "Formation" in conjunction with her highly-anticipated sixth studio album Lemonade while rocking these stunning, long side braids. If you're looking to make a bold statement without too much hassle, look no further than these braids fit for a Queen.
Image by Parkwood Entertainment.
Lupita Nyong'o's Braided Goddess Crown by Hairstylist Vernon François
This sculptural red carpet hair moment presented to us by Lupita Nyong'o for the 2018 Black Panther premiere was nothing short of regal. For brides looking to tap into their inner Queen for their highly-anticipated day, this braid crown is the best idea to encapsulate all that royal energy you'll be exuding that day.
Image by Getty Images.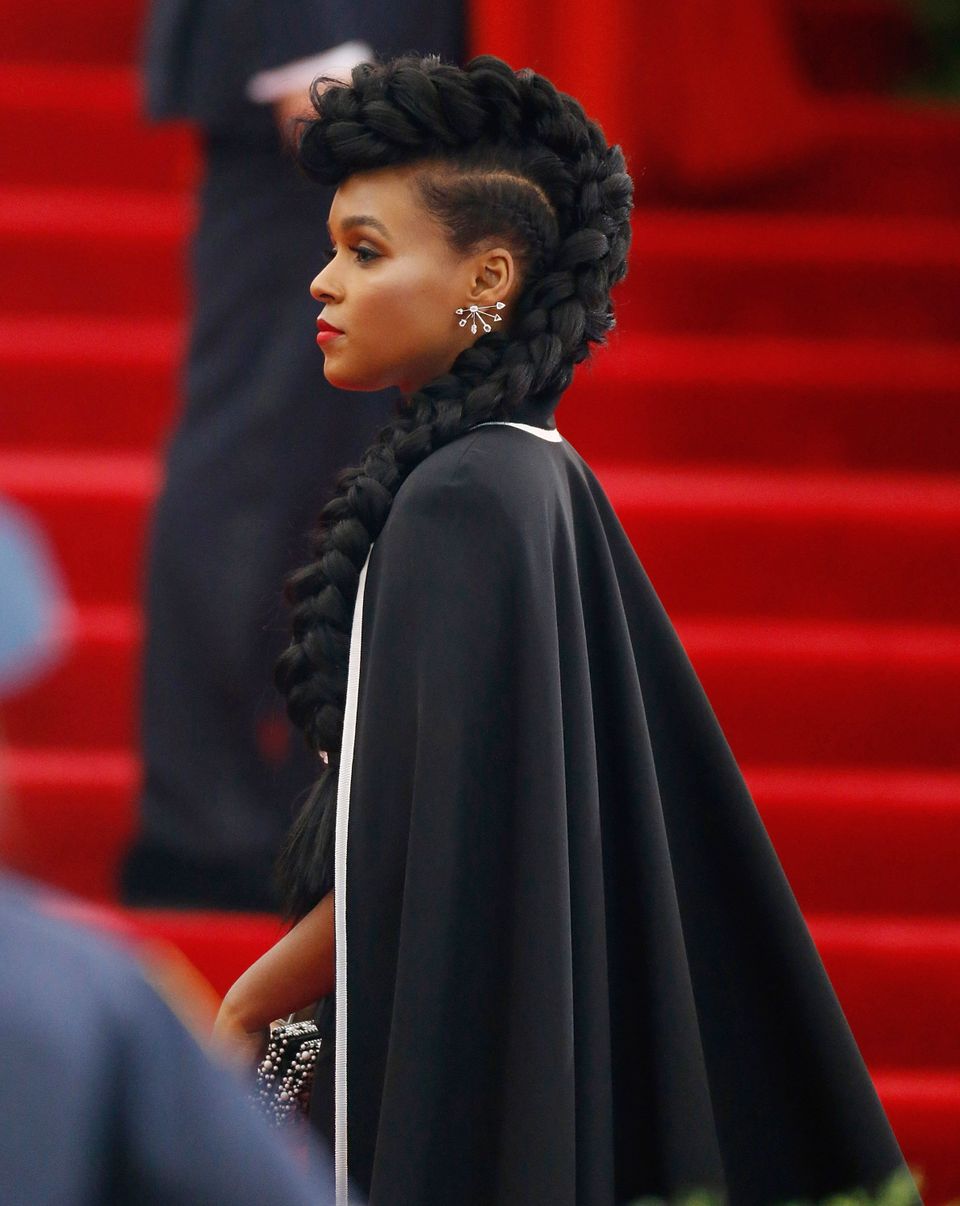 Janelle Monae's Braided Mohawk by Hairstylist Caprice Green
If you're trying to emulate the edge of cool legends past like Tina Turner and Nina Simone with the modernity of the cool girls of today like Rihanna and Cassie, try out a braided mohawk! While a far diversion from traditional wedding 'do's, when done with elegance and grace in mind like Janelle's 2015 Met Gala rendition here, it proves to be a perfect wedding day hairstyle choice.
Image by Getty Images.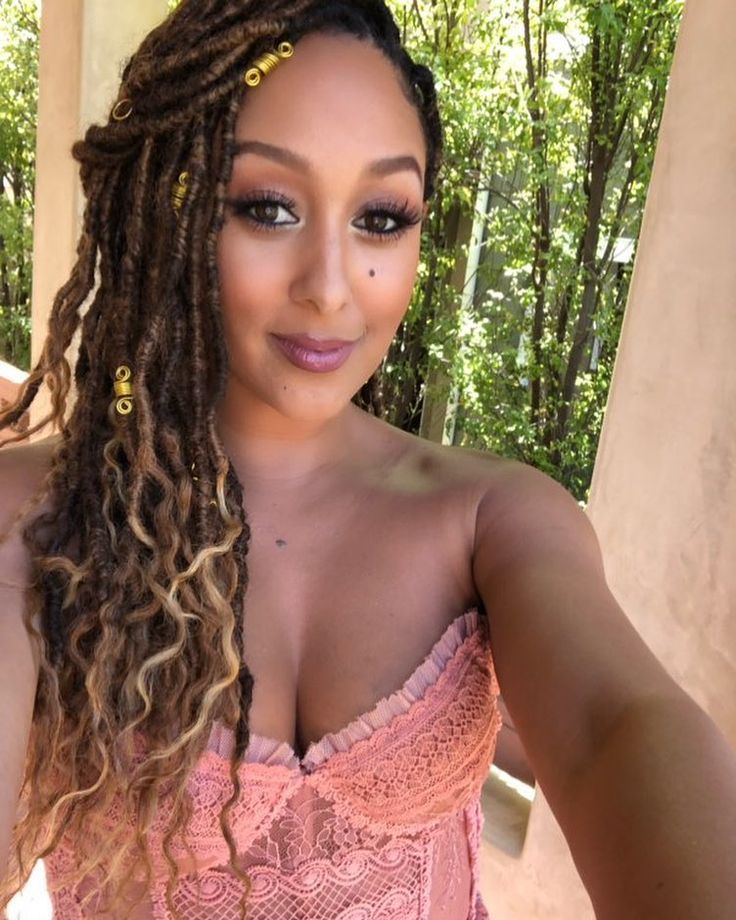 Tamera Mowry-Housley's Princess Locs by Hairstylist Dr. Kari Williams
Although a different variation of braids, these faux locs on Tamera Mowry are the perfect addition to your wedding day hair mood board. Styled into a half up-half down do complete with gold beads throughout, the highlighted look on Tamera is simply a sight to behold.
Image by @tameramowrytwo on Instagram.
Issa Rae's Braided Side Pony by Hairstylist Ashley Noel
On the night she gave her infamously hilarious speech a la arrogant rapper style as she received the Women in Film Emerging Entrepreneur Award, her message wasn't the only thing that made a buzz. Her side braided pony served as a stunning cherry atop her all-white fit. With a mini braid threaded throughout its thick makeup and a side part leading into it, this style screams Modern Bridal.
Image by Getty Images.
Gabrielle Union's Sculptural Updo by Hairstylist Issac Poleon
Gabrielle Union completely obliterated the red carpet recently at for the 2022 Strange World Premier for Disney, the look was the perfect accessory to her simplistic gown she wore. If you have a rather simple and clean gown or wedding fit, try opting for a more dramatic and bold hairdo like Gabrielle did to give your guests and onlookers an unexpected, fashion-forward bridal splash.
Image by Getty Images.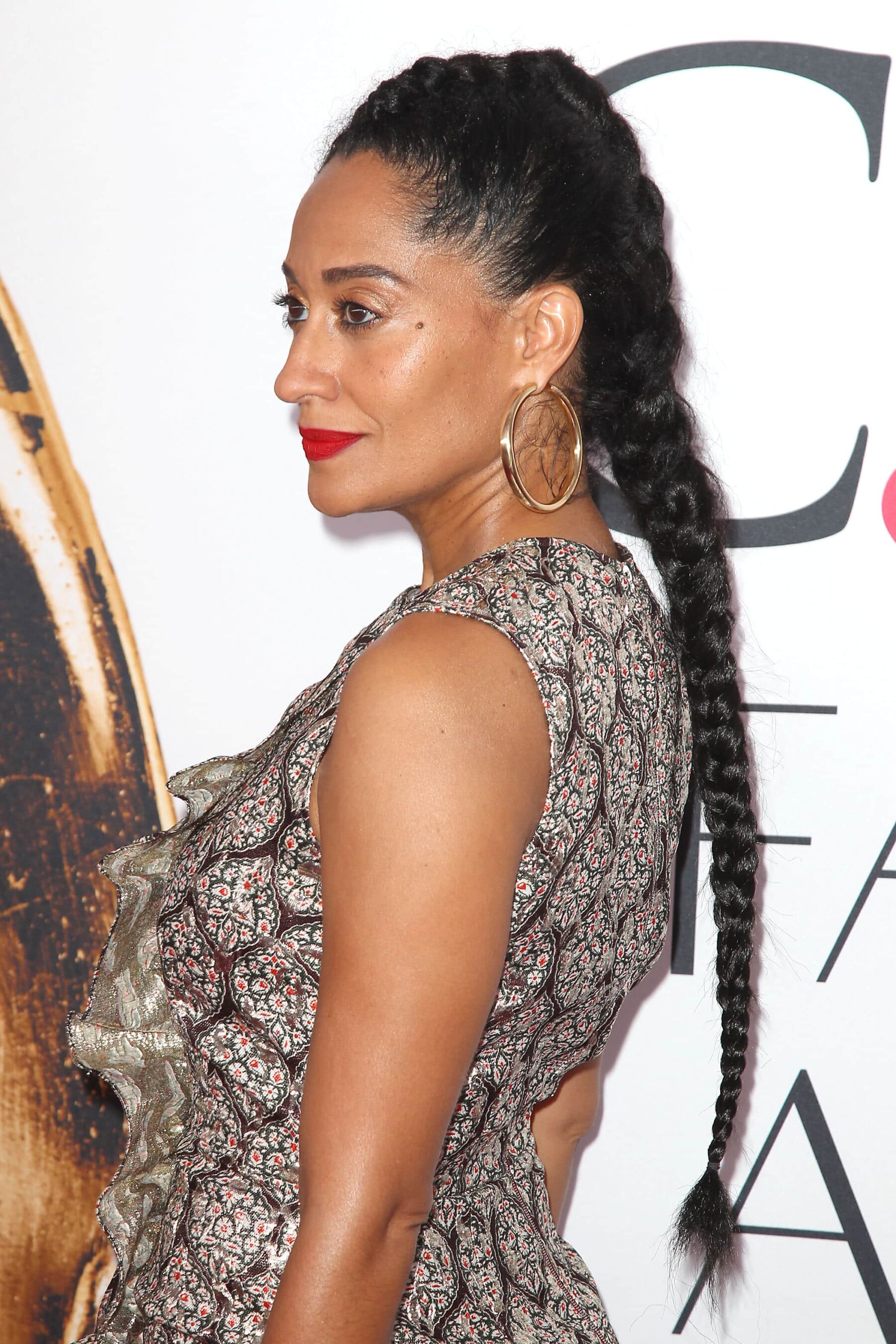 Tracee's Rapunzel Hot Take by Hairstylist Chuck Amos
Reminiscent of that of the classic hairdo by Disney Princess Rapunzel, Tracee's 2016 hot take is made perfect with its sublime craftsmanship including the braids formation being separated into three, invisibly seamless parts to help aid in its high stature. This simplistically chic look is the sublime choice for brides looking for a modern updo for their special day 'do!
Image by Shutteshock.
Halle's Glamourously Loc'd Updo by Hairstylist Tinisha Meeks
At the 2022 Oscar's, actress and singer donned a perfectly poised and glamorously decadent updo; a subtle yet gorgeous transformation of her long beloved locs. For all of our braided or loc'd brides, look to this stunning hair design to prove to you that your hair is a limitless tool for all the creativity you want to tap into for your ceremony hair.
Image by Getty Images.
Yara's Bobbed Pony by Hairstylist Rio Sreedharan
Both edgy and elegant while being bold yet demure, this chic updo is made modern with its braid inclusion; a ponytail made complete with the addition of multiple, short, chunky braids to its mix. If you have short braids or locs, try out this chic and edgy hairstyle!
Image by @emilychengmakeup on Instagram.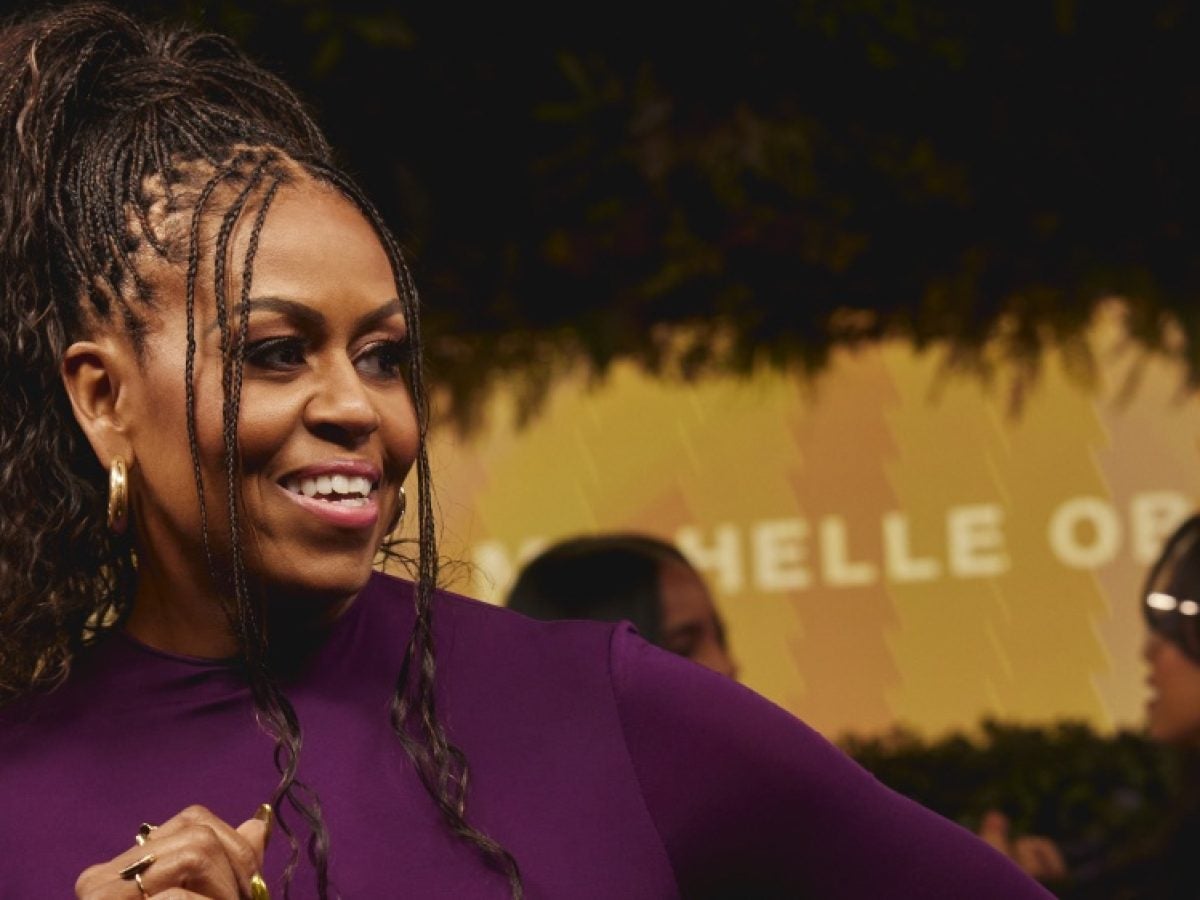 Mrs. O's High Pony by Hairstylist Johnny Wright
Fun and flirty, this ponytail made right by its box braid filled strands and face framing strands are perfect on former, Forever FLOTUS, Mrs. Michelle Obama and is a fabulous choice for brides that don't want too serious or elegant of a style for their wedding day hair but also desire to exude glamour and beauty.
Image by REVOLT TV.
Zendaya's Chic Jumbo Box Braids by Hairstylist Antoinette H
While receiving the Fashion Icon Award at the CFDA Awards in 2021, Zendaya created a new wave of box braid desire across the world. But her's weren't just any, basic box braids; instead, she took the simplistic style and added highlights to their hair that perfectly accentuated her natural brown tresses to add the perfect amount of flair. Are you a bride looking to make a simple yet effective statement with your wedding day hair? Then chic, jumbo box braids a la Zendaya it is.
Image by Getty Images.
Danai Gurira's Bobbed Braids by Hairstylist
Danai's 2019 braided hairdo proves that the only thing better than a traditional braided hair design is a bobbed braided hair design. With fanned ends and a straight back design, this short hairstyle is both edgy and bold yet chic and simple for all brides to rock with.
Image by Getty Images.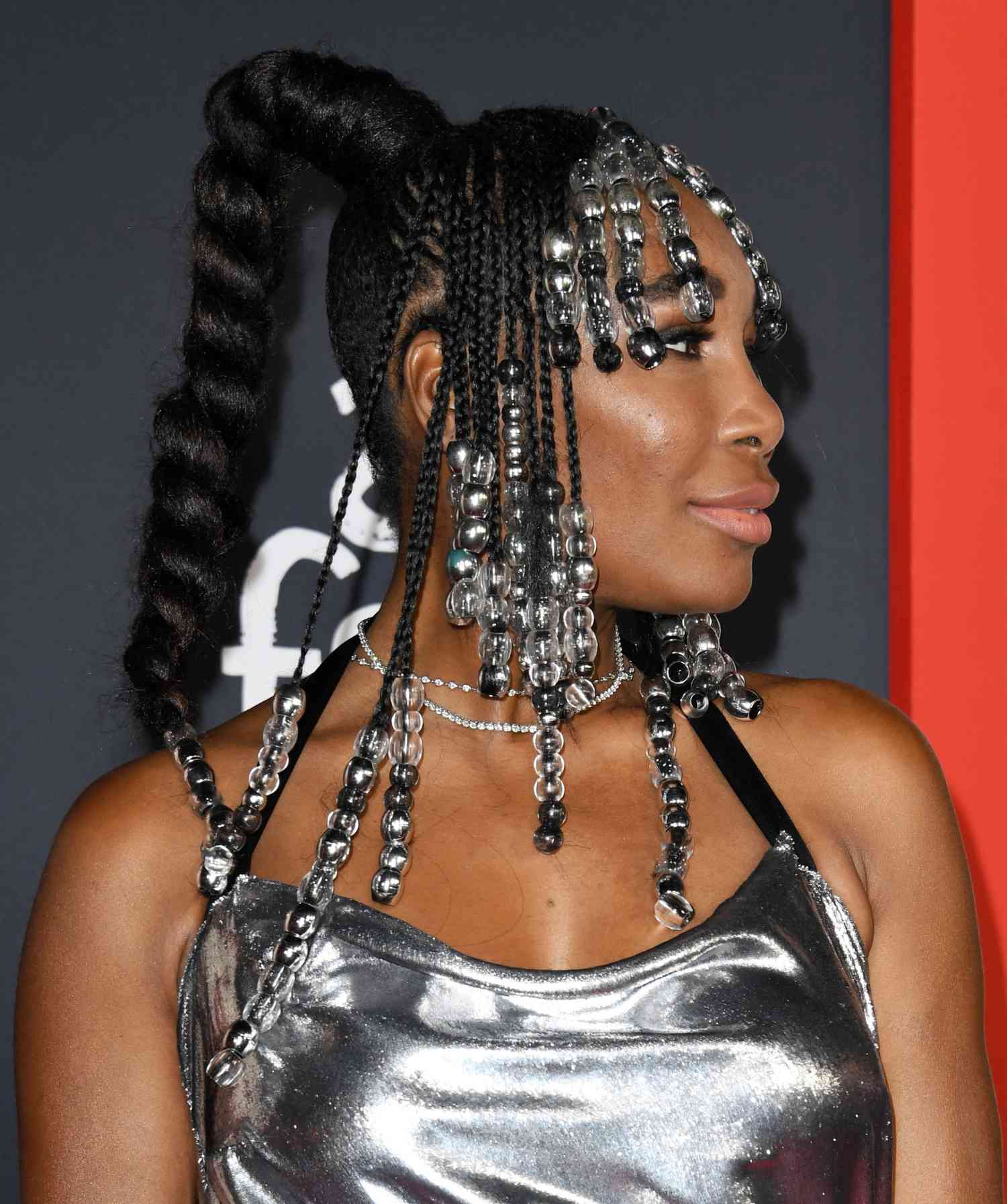 Venus' Beaded Updo by Hairstylist Nikki Nelms
True to her genesis as a tennis star, Venus Williams made a return to her beauty and aesthetic roots at the AFI Fest in LA in 2019. A modern take on her iconic hairstyle she became known for as a young athlete, this time she opted for a braided, high pony tail in the back with a bang-framing set of braids in the front accessorized with clear, black and metallic beads on their ends throughout. This look is both fun enough to play with all night while remaining graceful enough to compliment your bridal gown.
Image by Getty Images.
Written by Fashion Writers Kennedi LéShea and Fashion Editor/Stylist of Dara Adams of Veil by Dara Adams