Robyn and Tavon say It is beautiful in retrospect that they've been together now for 15 years. They met in college while Robyn was attending Morgan State and Tavon was attending Coppin State. It was an end of semester party when their lives crossed paths in a club. Tavon was standing on the corner just when Robyn caught his eye. "What up shorty," was his reply to her beauty. In Robyn's head, she thought, "Boy bye," but she also noticed he was kind of cute. They did not see each other again until she got inside and was dancing with a boring guy. She realized Tavon was watching and suddenly the guy she was dancing with was an afterthought. The pair drew closer while Robyn fell victim to Tavon's bedroom eyes. She politely ended her dance with the guy as her radar locked onto Tavon. They danced and talked the night away, and later exchanged numbers. He called Robyn a few days after. Following their first phone conversation, she knew he was special. He said all the right things. His voice was music to her ears, especially since he just got out of a dead-end relationship. Afterward, Tavon asked Robyn out on their first date and from that day they were inseparable. Seven years after they tied the knot, this vivacious couple is welcoming their second child. Check out their feminine, afro-centric maternity shoot in New York, captured by KFinch Photography.
Wife's full name, age and occupation: Robyn Hawkins, 32, Finance
Husband's full name, age and occupation: Tavon Hawkins, 36, Military
Place of residence: New York
Wedding date: September 15, 2012
How long have you been together? 15 years
Honeymoon Destination: Caribbean cruise to Jamaica, Key West, Bahamas and Cayman Island
How did you know your partner was the one?
I knew my partner was the one because of the excitement I felt after the day we met. I could not stop bragging to my girlfriends at the dorm that I met him. From the beginning, Tavon and I saw life from the same lens and we made a great team. Tavon is a protector, supporter and a provider and I can always depend on him to be there for me no matter where he is in the world.
What makes your love special?
Our love is special because we don't sweat the small stuff. We see the big picture and understand that no one and nothing can disrupt our bond unless we allow it.
Tell us about your partner:
My partner has been serving in the military for 15 years. He also trains transit authorities around the county on transit technology. My partner never stops amazing me. He is a man of many skills and trades. Every time he fixes something around the house, I wonder where did he learn that. My partner is special because he loves unconditionally. Moreover, he is compassionate, patient and a wonderful father.
From the Wife:
Marriage is what you make it. You get out of it what you put in it.
From the Husband:
Marriage is about putting your partner's needs before your own.
What is your most memorable moment as a married couple so far:
Our best moment as a married couple is having our beautiful daughters.
What's the best part about being married?
Having a best friend with all the benefits you need. It's amazing having someone who you can feel good about spending your life with.
What's the best advice you received about marriage that you actually use?
Do not go to bed angry.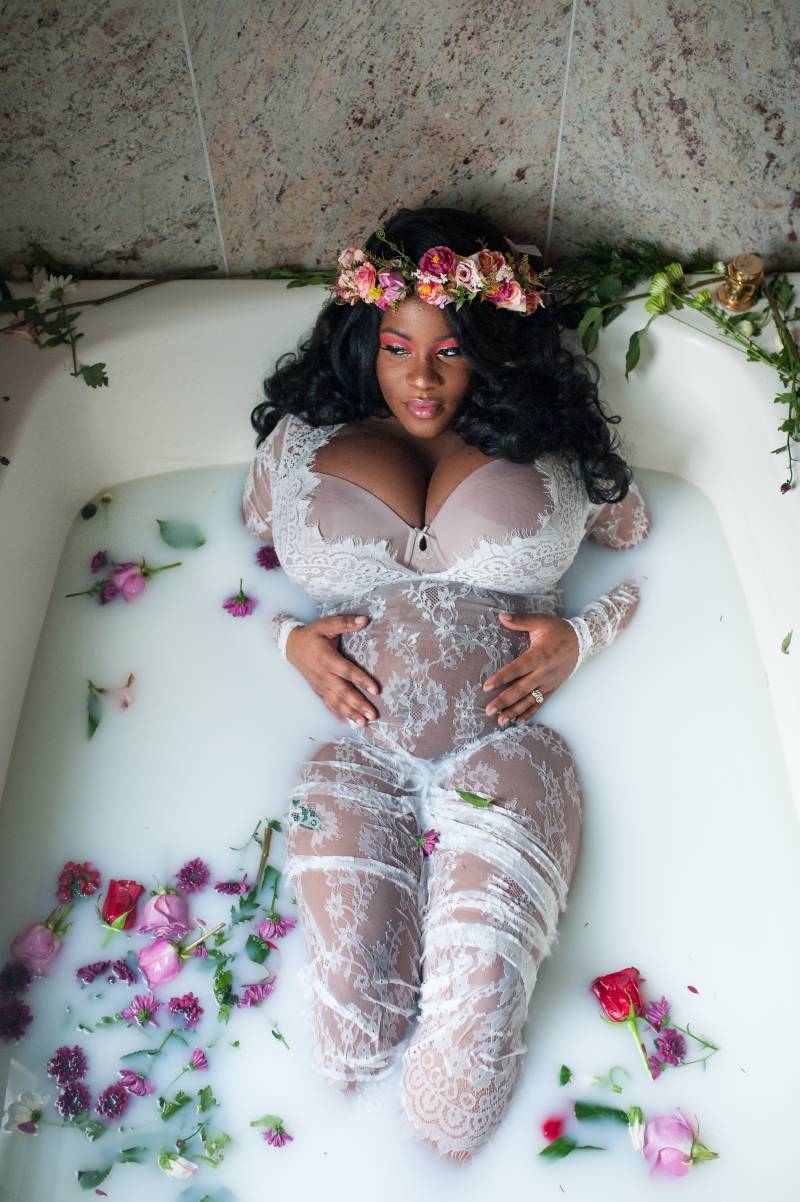 What was the inspiration behind your shoot?
Being unapologetically black and beautiful and paying homage to my African roots as the mother of all civilization. Additionally, we wanted to catch the softness of a milk bath to show off the femininity of carrying a baby.
Were there any memorable moments from your shoot?
I'll always remember how hard it was to do a photo shoot in a huge tub.
How do you balance your marriage, work and family life?
I have balanced my life as a wife, career woman in finance and being a mother by learning how to prioritize what is most important while also getting no sleep! I have a task list prepared every day for the things i have to accomplish in every facet of my life.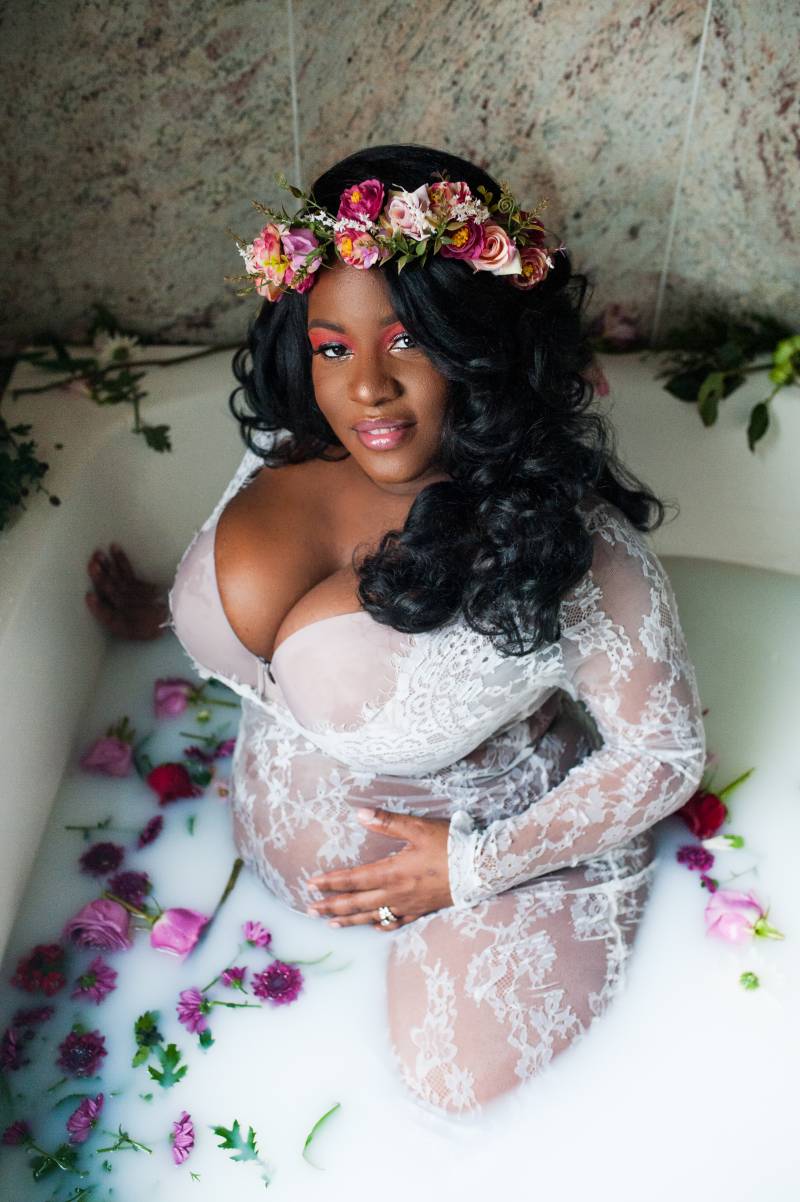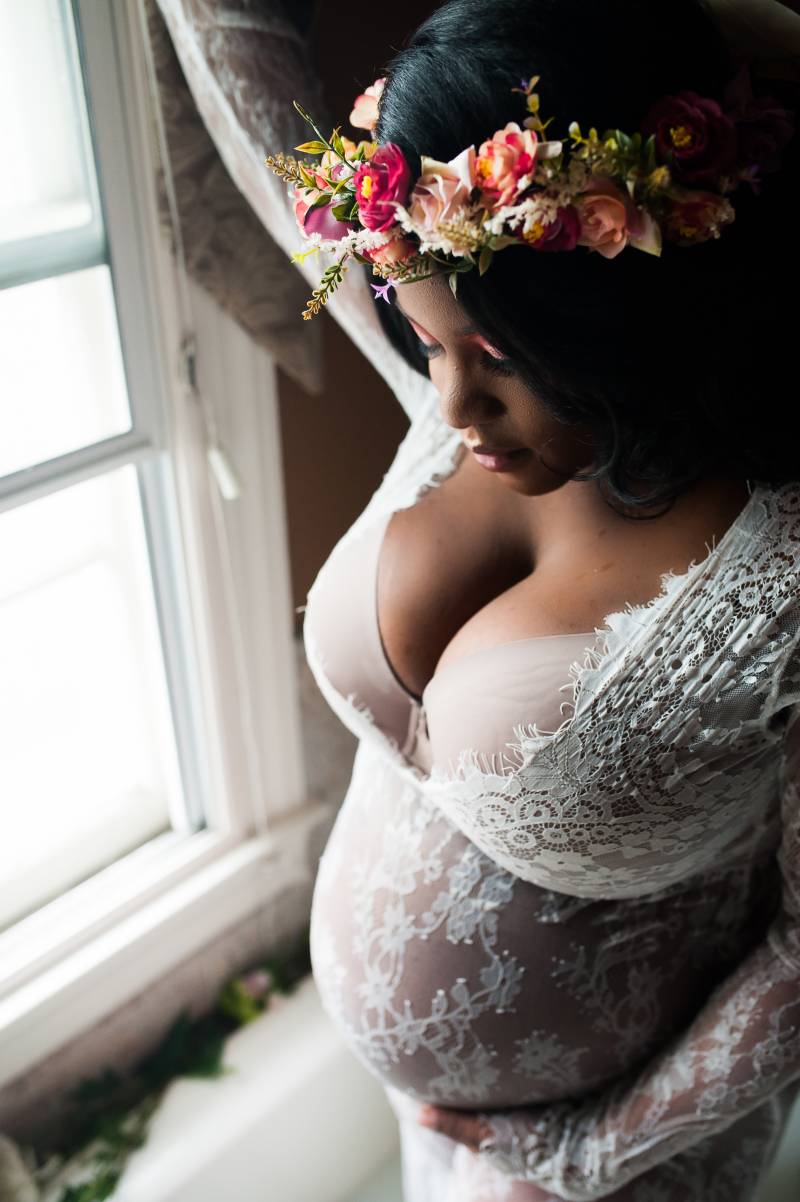 Now that you're preparing to be parents what are you both most excited about?
Being parents to two children and having a sibling for our oldest.
Is this your first child together?
No.
Do you know what you are having? Or do you want to be surprised?
We are having another girl.
Congratulations to the happy couple! We wish you many years of wedded and parental bliss.
Sources
K Finch Photography|Miquel Alanna|Sam Smith|SBAW Photography|Trene Forbes Photography