All images courtesy of Andrea Iyamah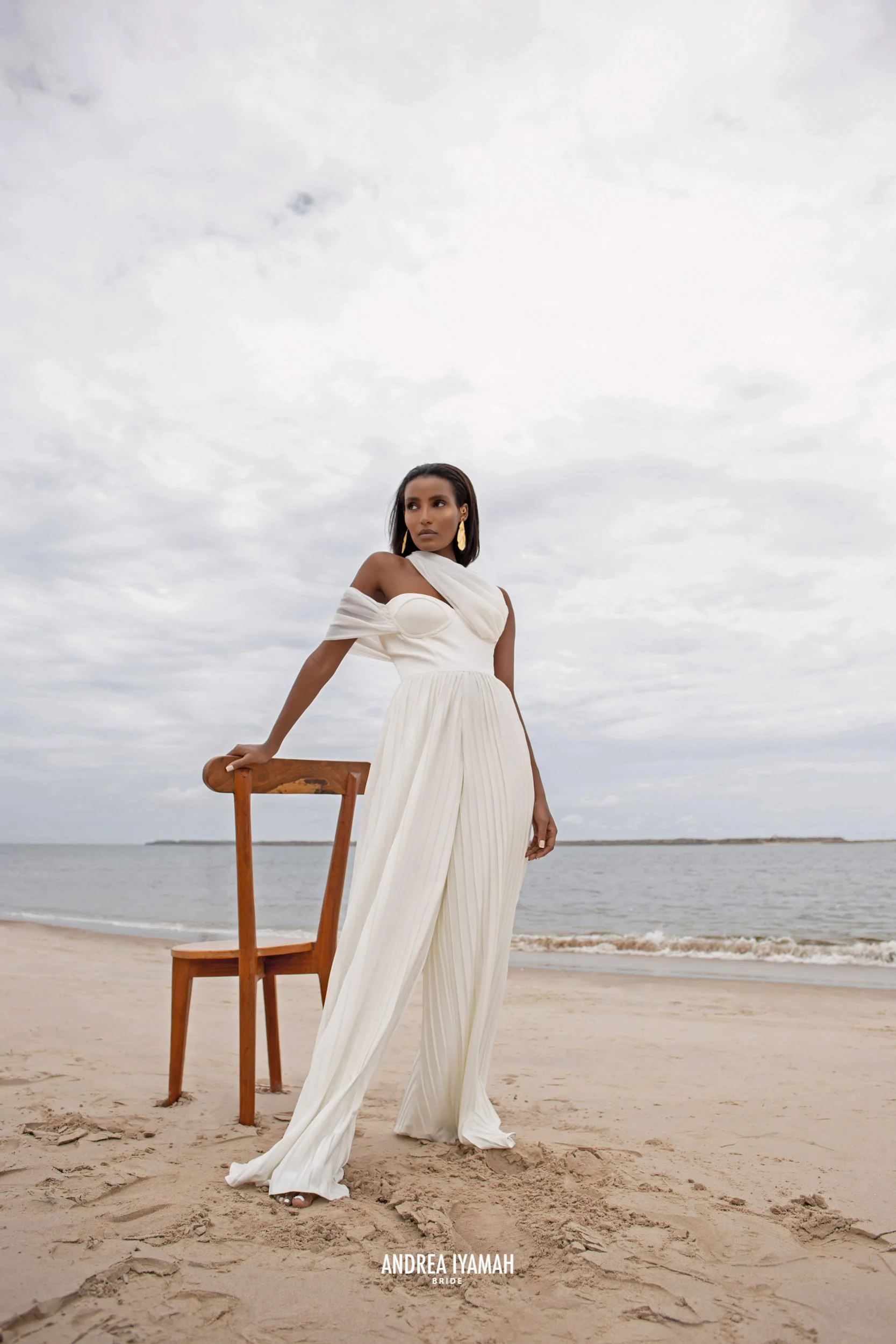 Fashion Designer Andrea Iyamah has released her highly anticipated bridal collection via live social media presentation, hosted by Saks Fifth Avenue. The collection entitled "At Sea" follows Andrea's two year hiatus from bridal design, which she shared gave her the opportunity to re-imagine the identity of the AI bride.
Though lovely, the recent collection does greatly differ from her previous bridal work, leaning more towards the luxury resort wear aesthetic of her ready to wear division. Featuring nine pieces of majority separates, the garments can easily be coordinated by the preference of the bride to create a relaxed yet chic wedding ensemble. Although slightly disappointed the collection did not include the more formal construction we've admired from past collections, the decision for the new direction is needed.
There is no shortage of traditional wedding gown designers in the current bridal market. However, the options for brides who prefer a more fashion focused approach , similar to the stylish clothing they wear from day to day are few. "At Sea" seems ideal for the bride who appreciates a timeless look that can not only be worn with ease on her wedding day but serve as a staple in her wardrobe for occasions to come.
ONETA JUMPSUIT
What We Love:
Asymmetrical shoulder and sleeve detail
Pleating on wide leg pant
ARI CORSET AND TOP
What We Love:
Pleating on bodice
Seashell like skirt detail
ODON BUBBLE SLEEVE LEOTARD
What We Love:
Detachable organza sleeves
Satin cuff detail on sleeve
EDON PEPLUM PANTS
What We Love:
Fabric pleating on bust line and bodice
Peplum waist with overskirt
ILLA WRAP JACKET
What We Love:
DUSO HIGH NECK LEOTARD
What We Love:
Water like ripple affect of organza
Removable caplet option
PEARL ROBE
What We Love:
Wide sleeves
Sleek, streamline silhouette
SIA DRESS
What We Love:
Cut out in front to give illusion of two piece
Subtle ruching effect on hips
Written by Dara Adams, Fashion Editor and Creative Director of VEIL Bridal Styling Agency.