Today's your wedding day and you want to make sure that your photographer captures some glam shots of you and your bridal party. Usually the moments hours before your wedding ceremony are the most intimate. Mainly because your family and close friends are there helping you do everything, from buttoning up the back of your dress to keeping you relaxed and in good spirits before you say "I do." So when the photographer arrives the goal is to have them capture some original, candid shots of you and your bridal party having a good time and getting you ready. We've prepared a list of our 10 must-have shots to pass along to the photographer before they start snapping away on your special day!
1. Matching Bridesmaids Robes– always a fun trend to follow for the morning of the wedding.
Knots and Tots Photography
2. Pour it up, pour it up!– it's never too early to celebrate your last few moments with the girls.
C and K Photography
3. Opening a few gifts– Everyone wants to see your reaction to the heartfelt gifts from close friends and family
Kima Golden of The Sweetest Things Photography by Kima
4. Putting on your makeup– This is beauty in the making by all means, it must be captured!
Janet Howard Studios
5. Putting on the dress- a classic and timeless shot for the wedding album!
Sophia Barrett Studios
6. First reactions to the dress– this is when the 'oh my gosh you're getting married' reality finally sinks in. Priceless!
Nadia D. Photography
7. Putting on the Garter Belt!- a very playful moment to capture!
Del Sol Photography
8. Let's say a quick prayer-a very intimate moment to capture of the bridal party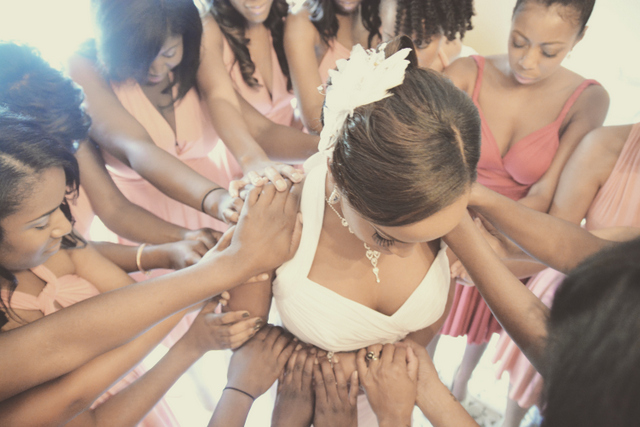 Six Hearts Photography
9. Strapping on heels– come on now, this shot is almost as important as the dress!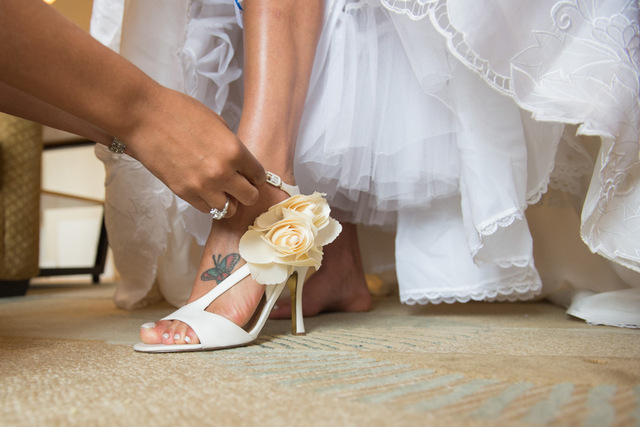 Photography by Alexander
10. Special moment with mom– It could be grandmother's pearls or your something old or both! A moment with your mom or mother figure is a must!
Sophia Barrett Studios
Which one was your favorite getting-ready shot? Were there any moments that we missed on our must- have list? Comment below and let us know what you think!
Curated by our Editorial Intern, Starr Davis, who currently studies Creative Writing at City College of New York. Keep up with Starr's work by following her on Twitter here: @Metaphorqueen_