Tilewa and Oderah met in 2009 at a "Friendsgiving" dinner. "Our mutual friend, Jason, told us about each other prior to the dinner, and the moment we met, we hit off. We texted and talked every day after we were introduced — even when Oderah went to Nigeria for two weeks to visit his grandparents," recalls Tilewa. Their friendship quickly blossomed into a loving committed relationship. Tilewa and Oderah who have been together for 6 years are planning their dream wedding that blends their Nigerian culture and American upbringing. Check out their "Taste of Philadelphia" themed engagement shoot, beautifully captured by Ann Blake Photography !
Bride: Tilewa Mutiat Otunba, 27, Healthcare Consultant
Groom: Oderah C. Nwaeze, 28, Attorney
Place of residence: Philadelphia, PA
Engagement Shoot Location: Philadelphia
Wedding date: 10/10/15
Wedding location: Tendenza Event Space, PA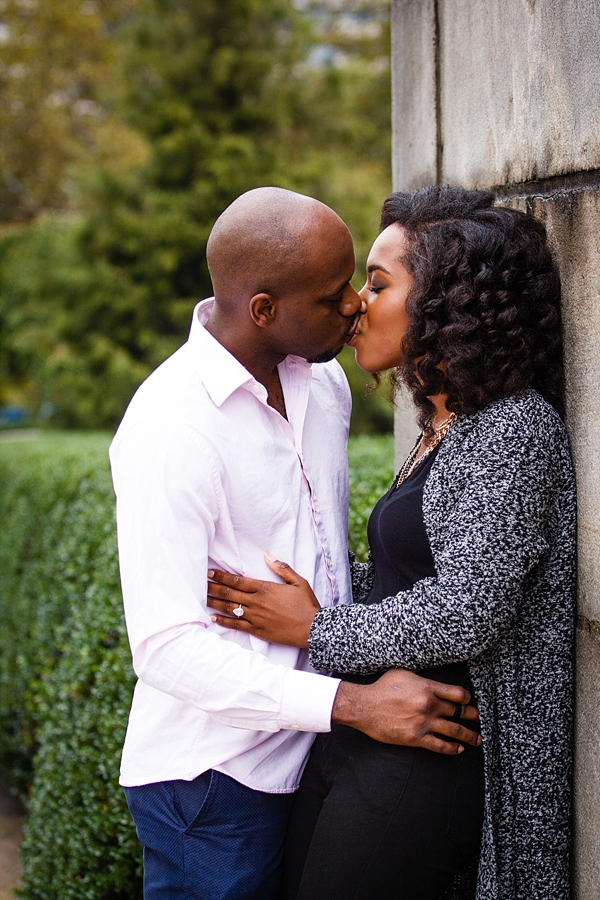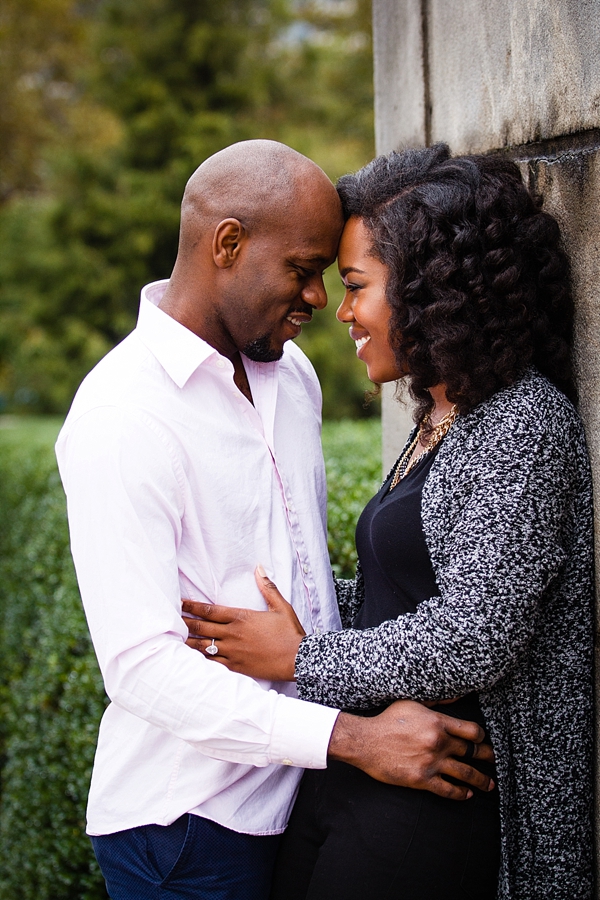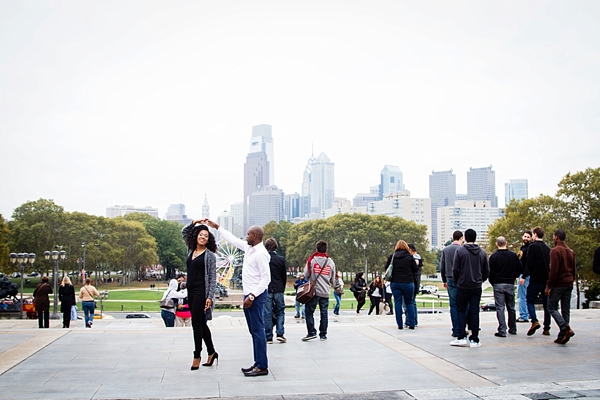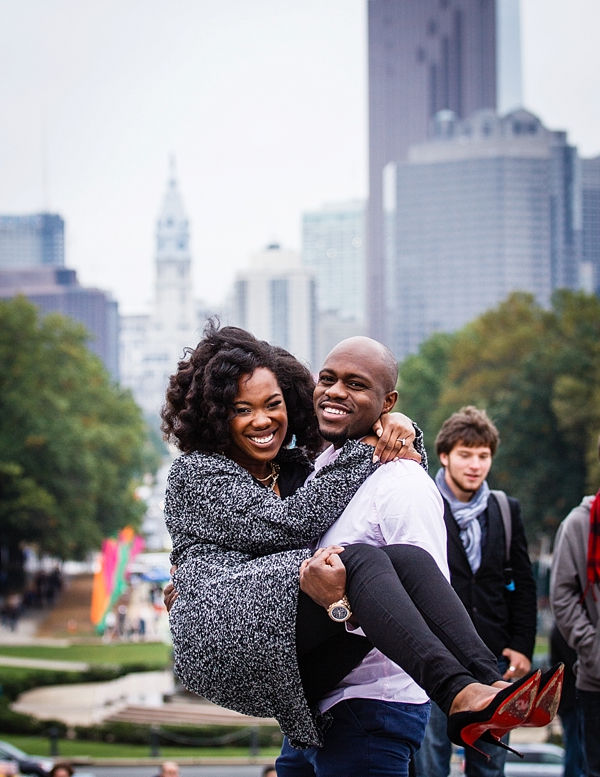 Engagement story from the bride-to-be:
Our first date was at Lucky Strikes bowling alley in Manhattan. It was a relatively relaxed date — what you would expect from two people in their early twenties that were just getting to know each other. Oderah introduced me to beer, and we spent the night bowling as we worked our way through a pitcher of Blue Moon.
The proposal also took place at Lucky Strikes, this time in Philadelphia. Oderah told me that we would be meeting friends to hang out, and we headed out with my best friend, Azza. When we got to Lucky Strikes, I did not see anyone else so we made our way to an empty section to wait for our friends to arrive. Soon after we sat down, Azza made some excuse about needing to charge her phone and left our section. Oderah starts talking about how we have not been back to Lucky Strikes since our first date, and proceeds to order us some Blue Moon. He mentions that although we met over five years ago, our first date seems like just yesterday. In that short time, he said, he has fallen in love with the woman that I have become, and if he could, he would start dating me all over again. He then got down on one knee and asked whether I would agree to become his wife in the very place that I first became his friend. Of course, I said yes!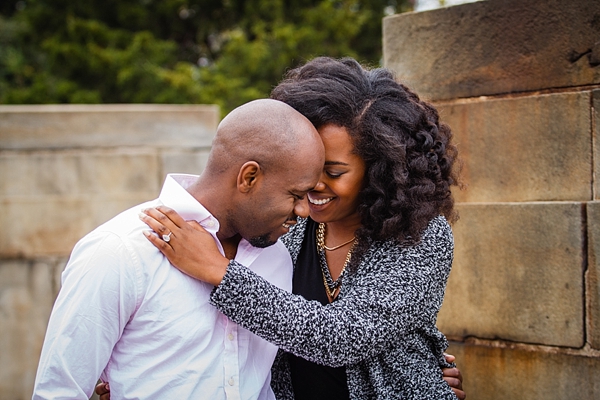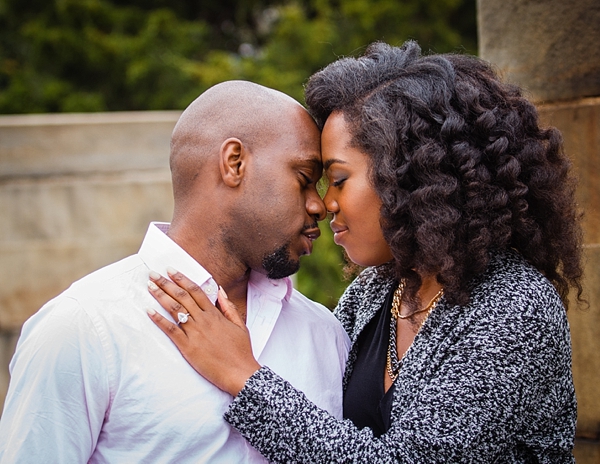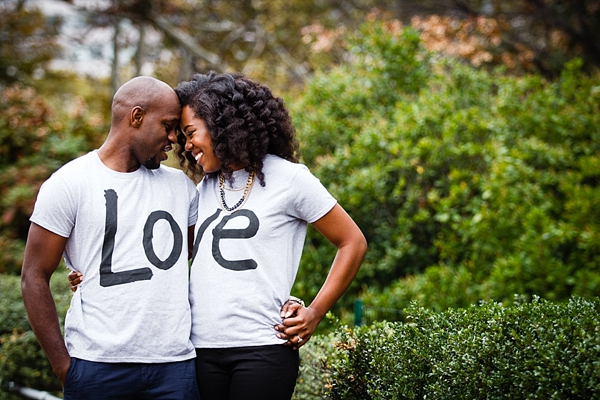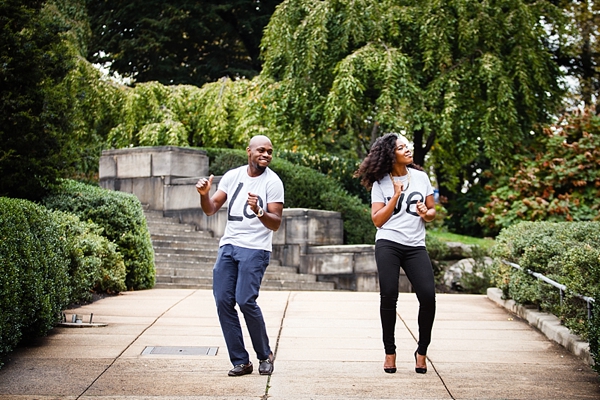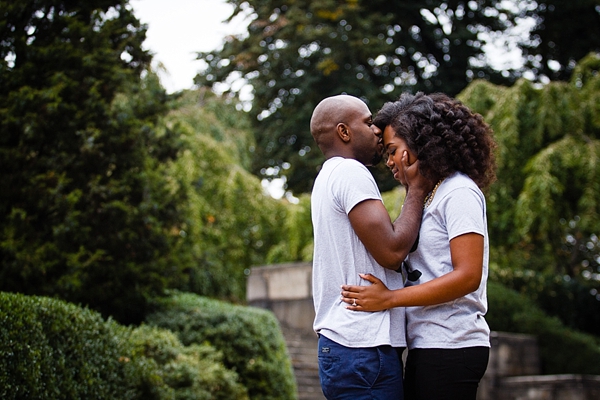 For the Groom: Walk us through the behind the scenes of creating this special day:
Our engagement story starts much the way every other one does — with a hunt for the perfect ring. About nine months before I proposed to Tilewa, I took her shopping and had her try on some rings, in order to get a sense of her preference. Nothing she saw that day won her over, but the trip was not a total failure. Seeing what she did not like got Tilewa talking about what she ultimately wanted: a pear-shaped diamond, in an antique halo setting. And always the doting boyfriend, I became obsessed with getting it for her (within budget). I read countless articles about diamonds and peppered my recently engaged friends with an annoying amount of questions. Finally, in March, I found a jeweler in New York City, who had the perfect stone, and worked with him to create the perfect ring.
With the ring out of the way, I began to mull over the proposal. I watched YouTube clips of flashmob proposals, prank proposals, and any other type of proposal you could imagine. None of it was my style. I wanted to do something understated, yet meaningful; without all the theatrics. Eventually, I settled on trying to recreate our first date. Something about embarking on a new chapter in our relationship at the very place our friendship and love began seemed fitting. It was like an opportunity to start anew, to sweep her off her feet, yet again. The only problem was that the moment we got to Lucky Strikes in Manhattan, she would know what was coming. With that in mind, I decided to plan the proposal for the Lucky Strikes in Philadelphia, on April 20, 2014.
My plan went into motion on Friday, two days before the proposal. When I got home from work, I immediately began talking about the amount of work that I needed to get done over the weekend, and complaining that I could not do it on Saturday because Tilewa, as usual, had me booked for that day. On Saturday, I casually mentioned to her that if I got all my work done in time, we should go bowling with some of my friends from work. The next morning, the day of the proposal, I got up very early and told Tilewa that I could not go to church with her because I was heading into the office to try to get all my work done. Instead, I got on I-95 and headed north to New York City to have brunch with Tilewa's mother, younger brother, and uncle. They were already aware that I planned to propose, but I wanted to meet in person and get a formal blessing. After a lovely brunch with my family-to-be, I headed back to Philadelphia, where my then-girlfriend was waiting to go bowling, which we did, in fact, do after I recreated our first date and popped the question!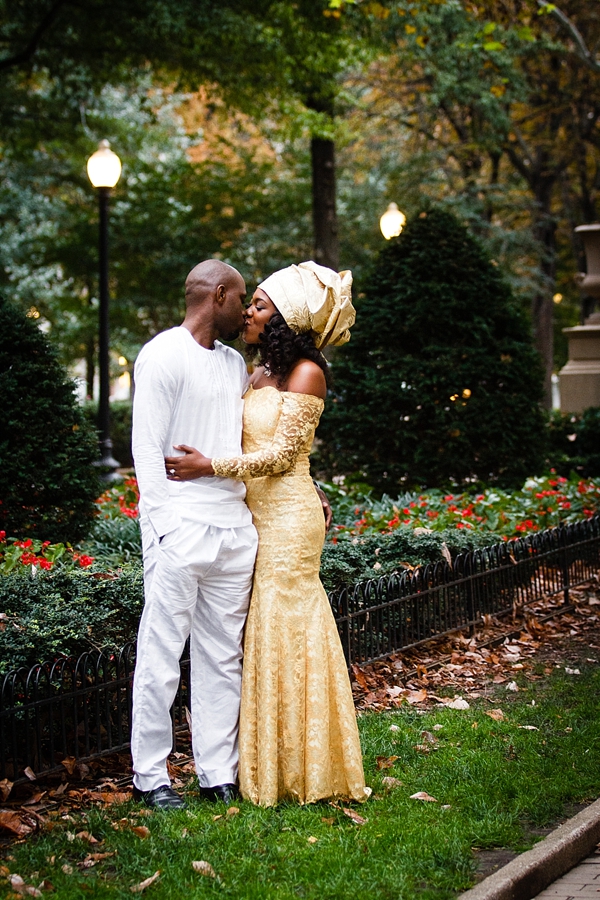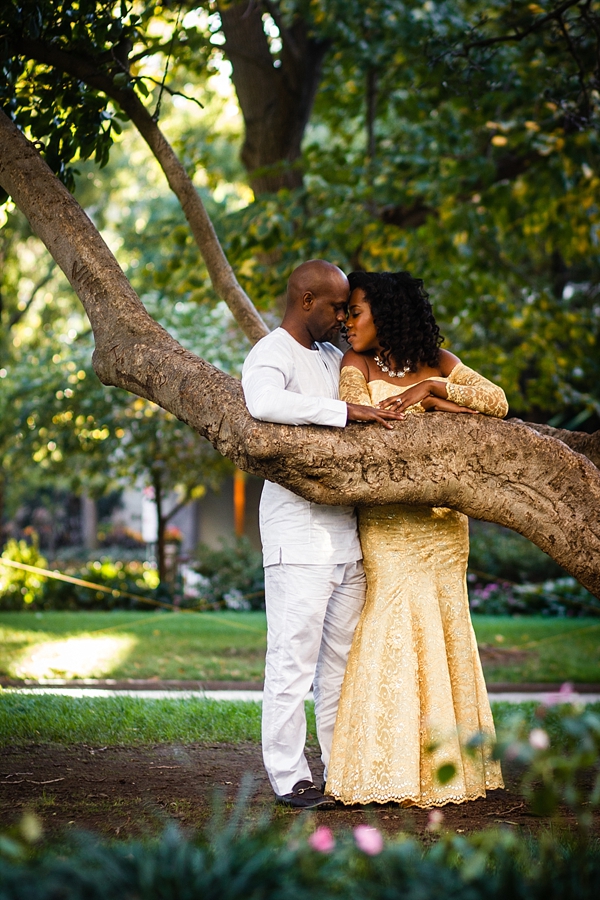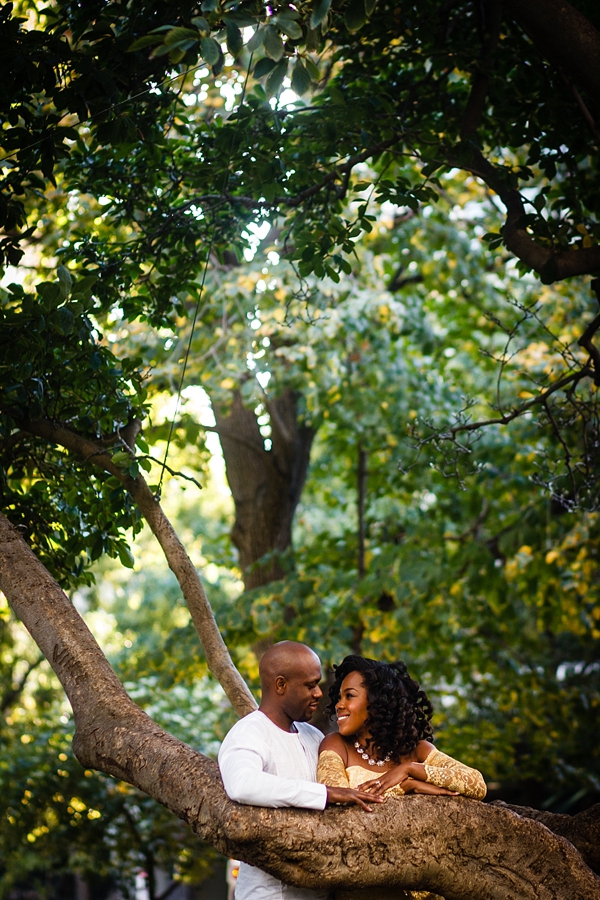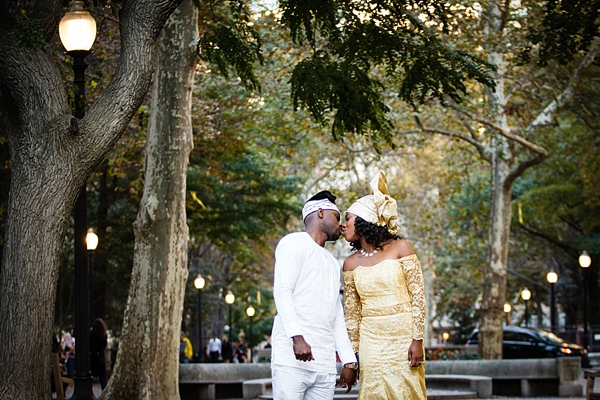 What makes your love special?
Our love is special because from the first time we spoke on the phone we have always made each other a priority. We never discussed it and did not plan it, but it felt right so we went with it and never looked back. Also, we balance each other out. I am very outgoing, lighthearted, and spontaneous. Oderah, on the other hand, is more reserved (though he's very charming when he wants to be), detail oriented, and focused. We like to think that we work because one of us is strong where the other is weak.
What was the theme of your Engagement session?
The theme of our engagement session was a taste of Philadelphia. We wanted to highlight some of our favorite places in Philadelphia in our pictures.
What are you most looking forward to about your wedding?
Having a great time with all of our family and friends.
Have you started planning your wedding?

We have started planning the big day. We are getting married at Tendenza in Philadelphia in October 2015. We are hoping to combine the perfect blend of our Nigerian culture and American upbringing into an amazing event for guests. We are fortunate to have Ann, our engagement photographer along for the journey.
Congrats to the happy couple Tilewa and Oderah! We wish you a wonderful wedding and marriage.

Vendors:
Photographer: Ann Blake Photography
Make-Up: Make up by Samantha Vega
Curated by our Wedding Features Editor, C.K. Alexander. C.K. is the owner and founder of Love Ink and Brownstone Bridal. Keep up with C.K. on Twitter here: @Love_Ink