It was 2007 in Greensboro, North Carolina when Teisha and Devin were both at the same party one night. They met through mutual friends and the rest is history! Their connection that night led to them finding true love. Read more of their love story and check out the details from their elegant wedding day in Garner, North Carolina this past spring captured by PEO Productions!
Bride: Teisha McKenzie, 34
Groom: Devin McKenzie, 35
Photography by: PEO Productions
Place of residence: Danville, VA
Wedding date: April 17, 2021
Wedding location: Grand Marquise Ballroom in Garner, NC
Wedding theme/motif/inspiration: Classy & Elegant
Honeymoon Destination: Montego Bay, Jamaica
What makes your love special?
No matter what we go through we always come out on top because we make sure to stay by each other's side.
Engagement story:
The proposal happened at our daughter's baby shower on April 20, 2019. We were playing a baby shower game and while I assumed that the both of us were blind folded and I won the game, I had no idea that while I was blind folded the table that was in front of me was moved. My mom then said "Teisha…. YOU WON!", I took my blind fold off, and Devin was on one knee in front of me. Then the song "Promise" by Jagged Edge began to play as Devin asked me to marry him in front of our family and friends.
From the Bride (briefly tell us about your wedding experience and how you felt on your big day):
My experience was stressful as it is for any bride. The planning started to take a toll on me with not knowing if my day would turn out how I always dreamed it would be. However, the day of, when I walked into the venue and saw that my decorator Michael Moore of M3 Designs, executed my plan down to a tee I couldn't help but to cry! It hit me right then that this was what we'd been waiting on for so long. The original wedding date was set for May 16, 2020 at a smaller venue however, Covid-19 completely messed that up! It actually ended up being a blessing in disguise because I found the venue of my dreams at the beautiful Grand Marquise ballroom!
From the Groom: (briefly tell us about your wedding experience and how you felt on your big day) My experience was good! I enjoyed helping my wife with the details of the wedding and I was very involved throughout the entire process! On the day of the wedding, I was anxious to see Teisha come down the aisle.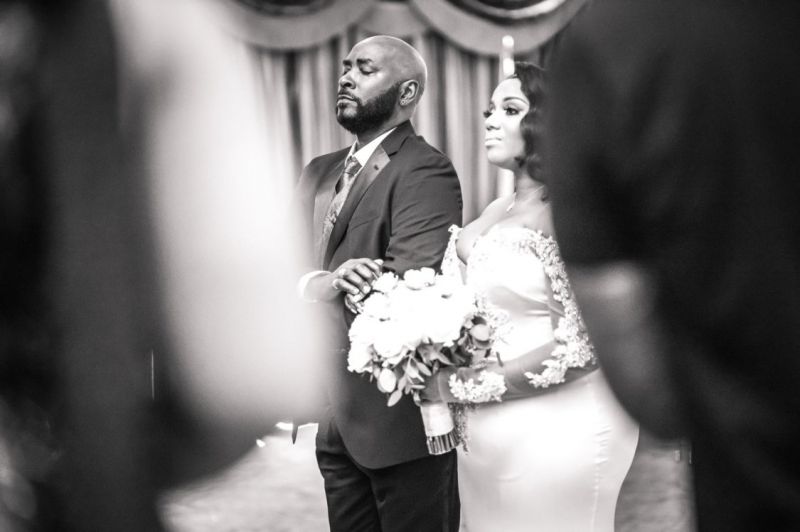 Your best/most memorable moment: My most memorable moment was when the doors opened for me to walk to my husband and seeing him cry!
Wedding song, explain choice for song: "Complete Me" by Keyshia Cole. I chose this song because it fits our relationship. Devin completes me and I trust that he'll be the best man that he can and that he loves me no matter what!
Favorite wedding detail (favors, cake, food, band, etc.): The food and my photographer/ videographer hands down!!! The food was out of this world amazing! My photographer/videographer was AMAZING! Because of PEO Productions I now have quality professional pictures and videos that I can cherish.
What are you most looking forward to as a married couple?
We're looking forward to enjoying and taking on whatever life may throw at us, as well as reaching our own personal goals, Together we can't be stopped!
Advice for a Bride/Groom on their wedding day:
My advice would be to enjoy your day and don't let ANYTHING get in the way of that. I would also advise every bride to make sure you hire a professional videographer and photographer like Christian Wilson to capture your day as well as an excellent decorator who will bring your vision to life like Michael Moore did for me! The décor sets the tone from the minute your guests walk through the door!
Congratulations to the happy couple! We wish them a fruitful marriage and many years of wedded bliss!
Sources
Christian Wilson|M3 Designs & Planning By Michael Moore|Grand Marquise Ballroom|Rachael Mills|Woods Menswear|Connaisseur Paris|Cake Couture Boutique|Events by Shana|DJ Lil Vegas with Cool Receptions|Lamyra Beck|Coco Lovee|Quantesha Gunter with Officially Faced|Garner Flowers and Gifts|Happy Paper Moments on Etsy.com