Rina and Tyler met at a gym on a military base that he was stationed at. Rina would go every so often just to stay in shape and every time she went, there was always this guy that would say hi. After a while, those hellos turned into conversations and he finally asked for her number. He was so nervous. The rest is history from there! They got married in 2018 at the Eilan Hotel & Spa in San Antonio, Texas, where they had an elegant affair with a classic feel. Go down memory lane and check out their special day, captured by Olvera Photography.
Bride's full name: Rina Weaver
Groom's full name: Tyler Byrd
Place of residence: San Antonio, Texas
Wedding date: November 11, 2018
Wedding location: Eilan Hotel & Spa, San Antonio, Texas
Wedding theme: Glamorous Black and White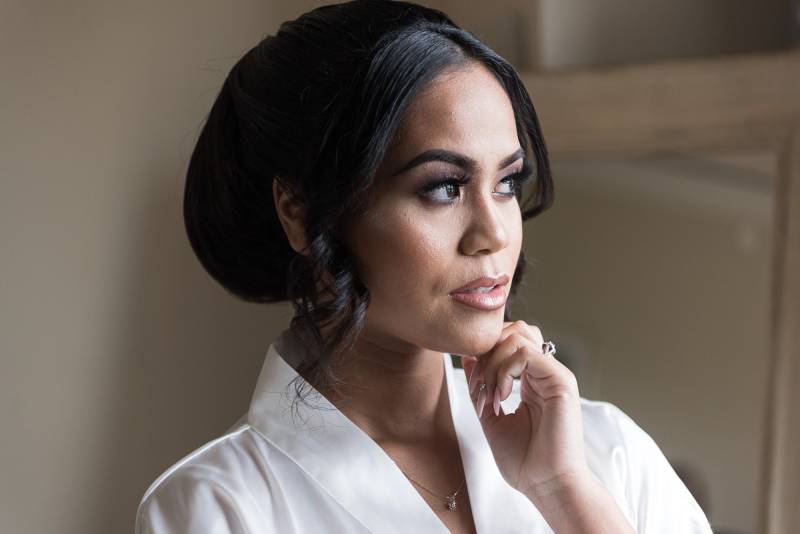 Engagement story:
The proposal caught me totally off guard, Tyler had been away for his deployment and he was supposed to be back in a month. I was so excited for him to come back home. I was going to have a big sign and plenty of kisses ready as soon as he got off the plane. Tyler had different plans, unbeknownst to me he had bought a ring and coordinated with my girlfriends to get me positioned at a restaurant for a girls' night out. He ended up coming home early and surprising me with a ring. It was so sweet!
Let's talk fashion. How did you both choose your wedding day look?
Bride: I definitely knew that I wanted a princess dress. This would be the only time appropriate for me to wear a ball gown at my age. I went to every bridal boutique in the city, I even went over to the next city an hour away to make sure I had my perfect dress even though I knew what dress I wanted. The lady who helped me at the second bridal boutique, Bridal Connection, told me this was my dress, but knowing myself I needed to know there wasn't any other place that would top it for me. After all the searching, I ended up going back to the second boutique and it was the best choice! I absolutely love my dress, I got so many compliments that night.
Groom: As far as tuxedos, I have always really been into the James Bond look. To me, it looked classy but cool. Fortunately, I didn't have to look very far for it. Rex's Formal Wear was not very far away and they had great deals. The look turned out great for the wedding.
From the Bride:
Our wedding was so much fun! We both did choreographed dances for each other at the reception. My bridesmaids and I had practiced it for three months. I was nervous and felt a little stiff but it turned out perfect. Nobody noticed and we were fierce! My husband and his groomsmen performed for me during the garter toss, if anybody really knows him they know he can't dance. But, I have to say my husband's performance was pretty smooth and the crowd loved it as well.
From the Groom:
The day was amazing. We had to say our vows. Both of us had the hardest time actually reciting them because of all of the crying, but there was no better feeling than hearing your best friend telling you how much they love you.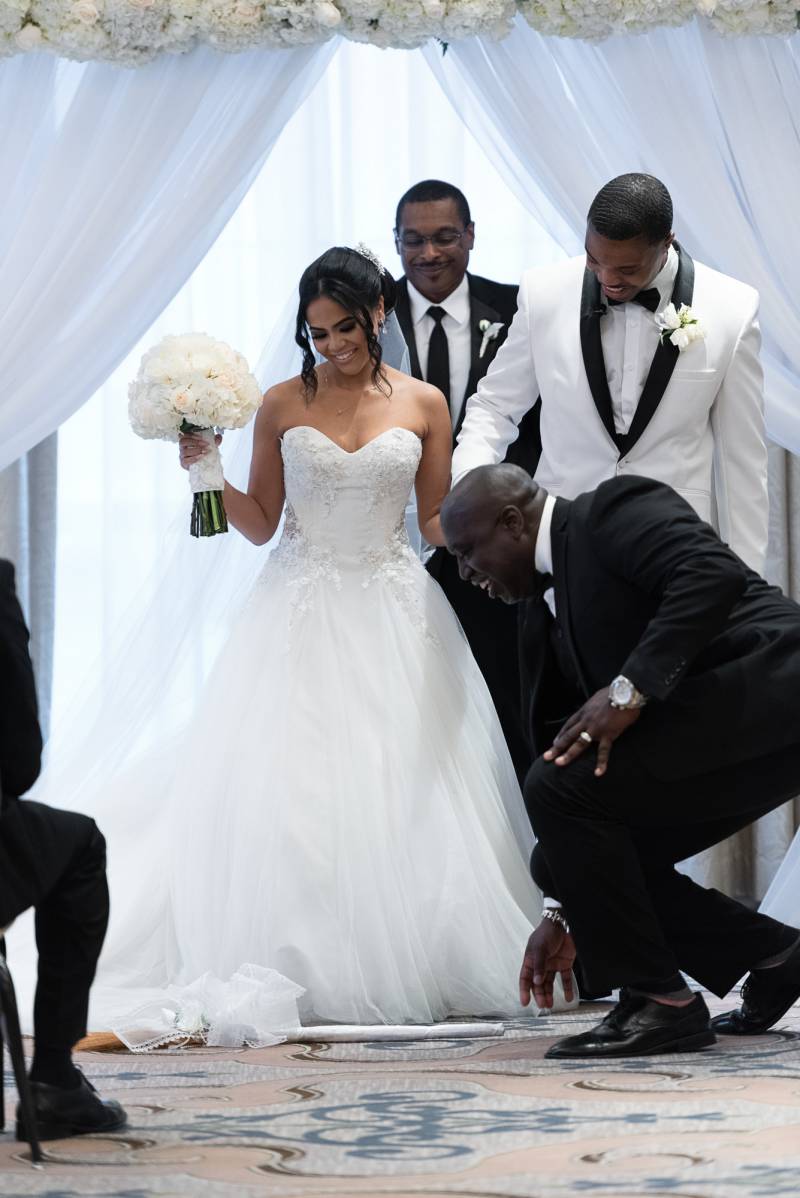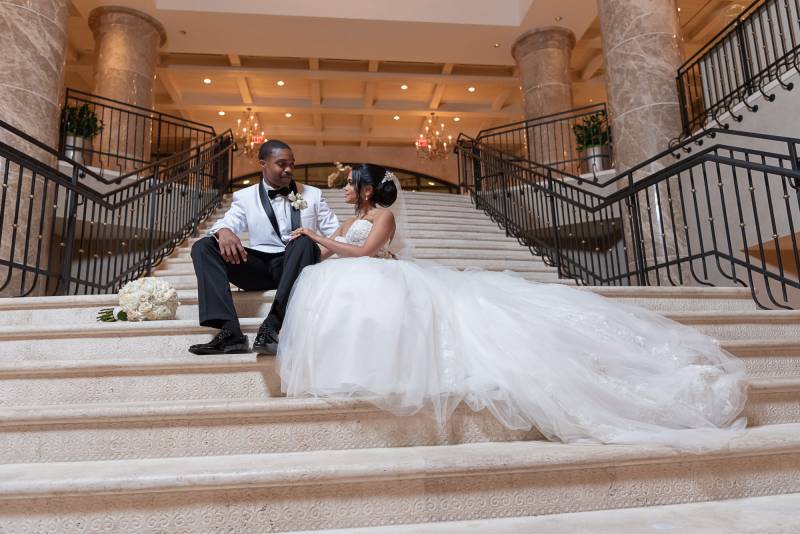 Favorite wedding detail:
Since I wanted an elegant white theme, all different shades of white were used with hints of gold. The decor that I really wanted to make sure was perfect was the decal for the dance floor, it really made the first dance picture special and it came out beautifully.
The floral arrangements were beautiful. My color theme was to have different shades of white that consisted of various types of roses, hydrangeas and more. Everything from the reception to the ceremony played a pivotal part in the overall mood. I was hoping for very elegant and romantic feel.
What are you most looking forward to as a married couple?
We have enjoyed building
our life together as husband and wife.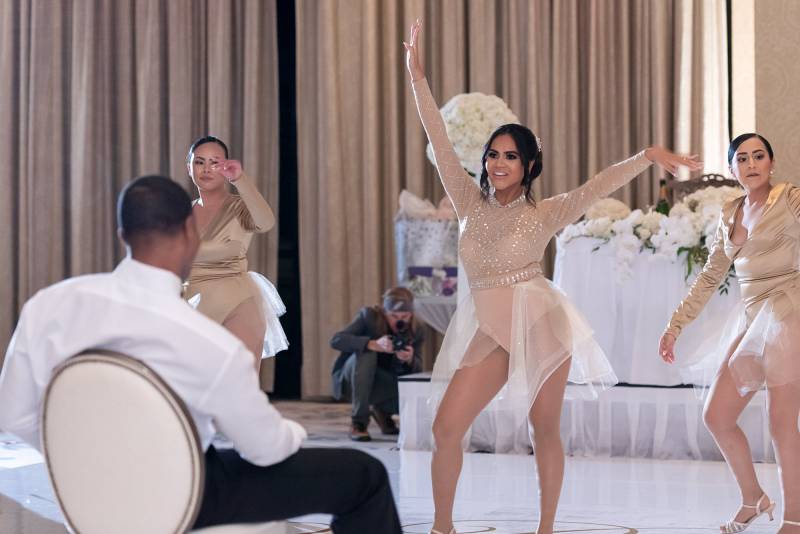 Advice for a Bride and Groom on their wedding day:
Remember that it is going to be stressful, but don't let that take all the fun out of it for you two. You only get to do this once and you get to do it with your best friend, so enjoy it!
Please feel free to include any other interesting anecdotes from your big day!
The wedding turned out perfect. The inspiration was an all white elegant theme. As far as cultural traditions, a family member found a broom that belonged to my husband's great grandmother. We decorated it and used it to jump the broom after the nuptials were finished. It turned out perfect and the history made it that much more special.
Congratulations to the happy couple! We wish you many years of wedded bliss!
Sources
Olvera Photography|Something Clever Films|Bride on a Budget|Eilan Hotel & Spa|Freesia Designs Events|Gaines Entertainment|Bridal Connection|Sposa Bella Bridal Boutique|Nicole Spose|Coco Melody|Badgley Mischka|Chrystine Campos Quiñonez Freelance Hair & Makeup Artistry|La Beautique|Rex Tuxedos