It was 1994 when Octavia and Richard first met after being introduced by a mutual friend. After crossing paths at a social gathering in Brooklyn, New York the two have watched their love evolve for twenty-seven years. Read more of their love story and see more of the details from their elegant wedding day captured by Jamie Weaver.
Bride: Octavia Hayward, 51, Director of Property Management
Groom: Richard Michaud, 51, Network Manager
Photography by: Jamie Weaver
Place of residence: Brooklyn, NY
Wedding date: November 13, 2021
Wedding location: Perry Lane Hotel, Savannah, GA
Wedding theme/motif/inspiration: Modern Elegance
Honeymoon Destination: Honeymoon is in 2022 Tokyo, Japan
Briefly tell us about your wedding experience and how the both of you felt on your big day. Include your most memorable moment.
Our wedding experience was blissful. It began with selecting the perfect venue that complimented our style/décor and envisioning what we wanted that day to look and feel like through color, texture, taste and emotion. The vendors were able to take our thoughts and notepad ideas to create a spectacular day that was filled with love, laughter and enjoyment.
Our most memorable moments were watching the bridesmaids' teary eyes as the violinist played while my mom and I walked down the aisle during our wedding rehearsal and the reveal of the rooftop reception ballroom.
Wedding song, explain choice for song:
Demetria McKinney – "Happy", the lyrics reflect the way we live and love each other on this continuous journey through life.
What are you most looking forward to as a married couple?
Continue our life blueprint and leave footprints around the world.
Advice for a Bride/Groom on their wedding day:
Live life like there is no tomorrow, keep the marriage as exciting as when you first met, and listen, communicate, support and love each other unconditionally.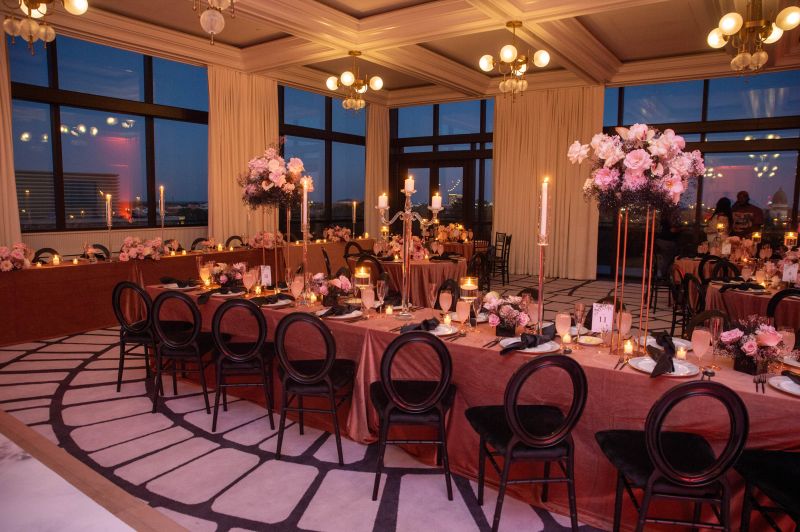 Congratulations to the happy couple! We wish them many years of wedded bliss!
Sources
Jamie Weaver|First Baptist Church|Perry Lane Hotel|Pnina Tornai- Kleinfeld|Alethia Hudson of Alethia Hudson Designs- David's Bridal|Joseph Abboud, Men's Warehouse|Chef Desmond J. Pringle, Gardenia's Custom Cakes and Catering|Perry Lane Hotel|Emore Campbell|DJ Creativity|Joanne Garcia, 347-249-1799|Kimberly Mocks, 803-719-0656|Valerie Brooks|Thomas Kemp, Sr.|Minted|Chris Barbosa, 813-770-2271