In 2014, Farida moved to Canada with her family. She met Flo at church where they only exchanged awkward hellos whenever they saw each other. Fast forward to July 2017 when they decided to hang out at an arcade and enjoyed each other's company until the arcade closed at 2am. Farida secretly knew then that she liked him as more than just a friend. In October 2017, Flo confessed his love for Farida and the two officially started dating in April 2018. Now they prepare to walk down the aisle to forever as husband and wife this summer! Check out their stunning engagement session captured by F10 Studio.
Bride: Farida Kasim, 25, Pharmacy Rollout specialist
Groom: Akinfolarin Olusuyi, 31, Director, Research and Analytics
Place of residence: Toronto, Canada
Engagement Shoot Location: One King West Hotel in Toronto, Canada
Wedding date: August 1, 2021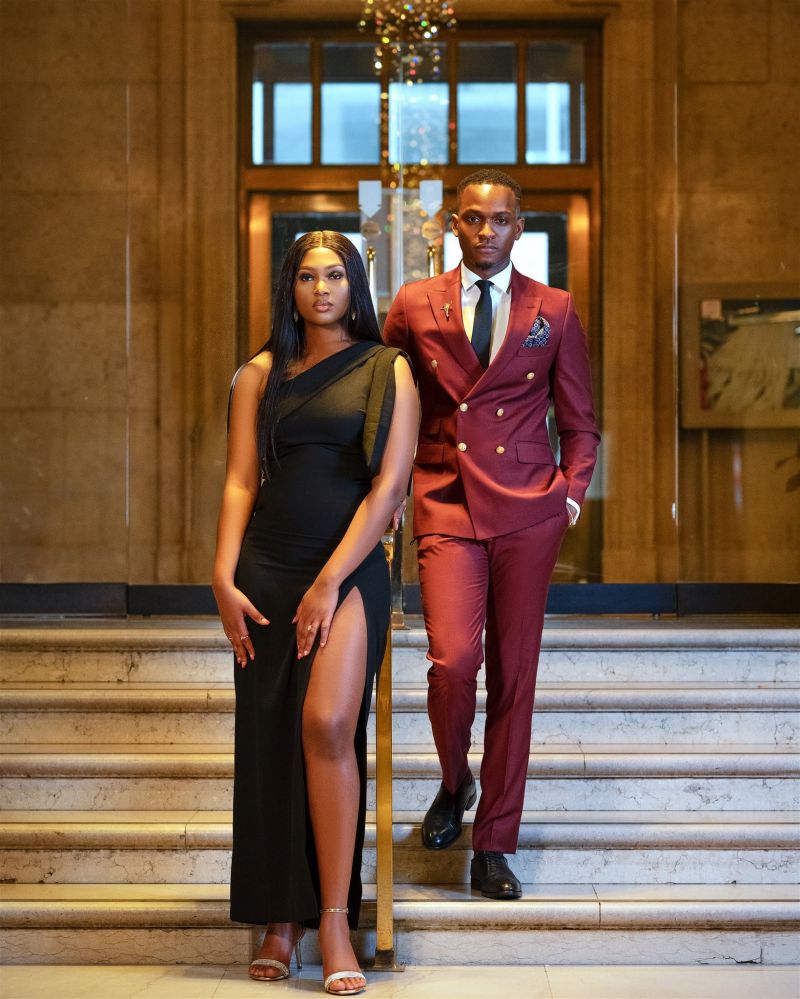 Engagement Story:
On the day of the proposal, I wasn't really feeling like going out at all because there was a snow storm but I decided to go anyway since I already committed. I went over to my friend's house where we agreed to get ready and Flo was there, suspiciously more energetic than usual.
We set out to a 50th birthday party venue, when we got there, one of my girls told the other to call another person that was inside to inform them that we were already here, my face lifted lol…that person should not be here! I knew it! It was my proposal.
I opened the door and saw everyone I know holding red hearts facing me, I was honestly shocked and I didn't know how to act. My first words were "mad oh" (Nigerian slang used to express surprise, shock or astonishment often caused by something unexpected or mind blowing) because I was shocked at how beautiful the room was, all my friends that were there and at how I was right at my suspicion lol.
I was nervous as hell, it was beautiful but this man was going to ask me to marry him right now! I had to walk along a path, collect the hearts from all my friends and read out the most beautiful and romantic poem Flo wrote. I remember looking ahead and I saw Flo standing at the center of some heart shaped petals and I felt at ease. I wanted to hug him so bad and that's the first thing I did.
He told me the sweetest words, got down on one knee and asked me to marry him, of course I said yes!
For the Groom, Walk us through the behind the scenes of creating this special day:
On the day of the proposal, I woke with huge nerves, I never really get nervous for anything. Different things went through my tiny head, I was about to ask the biggest question of my life. Negative thoughts creeped in and to make things I looked out the window and there it was a massive snowstorm. The moment I saw her walk through the door, I had this sudden calmness and peace and I had the best set of tears roll down my eyes as she walked closer to me. I gave her a hug, whispered certain things into her eyes, and I can't remember the things I said because I was just so happy to be holding the love of my life in my arms. I bent a knee, popped the question, and she answered YES!!!
What makes your love special?
We've both come to understand that we're not individually perfect but as a team, we're as perfect as it gets. In an attempt to understand each other over the years we've concluded that although we'll let things happen naturally, we can still be intentional about our love and we'll love each other how we want to be loved, not just based on our own assumptions alone.
What was the theme of your shoot?
I'll call it three sides of elegance (formal, casual and traditional).
Were there any memorable moments during the shoot?
Our shoot was absolutely fun, it was supposed to be a 2 hour shoot but we ended up going for about 5 hours! We had fun with our photography/videography team. Every part was memorable but I think I had more fun shooting with our traditional wear because it represents our cultural and familial side which is a big part of our relationship.
What are you most looking forward to about your wedding?
We've been wedding planning for over a year due to restrictions from the pandemic. We've had to postpone twice; we both come from big families and want to celebrate with everyone, so not being able to have them with us physically has been challenging. It's been a tough and uncertain process but we're extremely excited to finally tie the knot!
Congratulations to the happy couple! We wish them a fruitful marriage and many years of wedded bliss!
Sources
F10 Studio|Ziggy|Kharmzy|Hair by Suyi|Celebration Event Mgmt.|Zalahari