It was love at first sight in September of 2018, when Asia was out having dinner with a friend and saw someone walking past her. She looked up and the first thing that caught her attention were Lorrehn's beautiful eyes. The two ended up introducing themselves to each other and could feel that they already had a strong connection. Eighteen months after their chance meeting, Asia and Lorrehn said 'I do' in an intimate wedding ceremony. Check out more of the details from their big day captured by Kymora Jaxson photography.
Bride: Asia Thomas, 28, Professional Baker
Groom: Lorrehn Washington, 30, Business Developer
Photography by: Kymora Jaxson Photography
Place of residence: Denver, CO
Wedding date: April 19, 2020
Wedding location: The Chateaux at Fox Meadows, Broomfield, CO
Wedding theme/motif/inspiration: Intimate and glamorous
Honeymoon Destination: Our honeymoon destination will be determined once COVID has calmed significantly.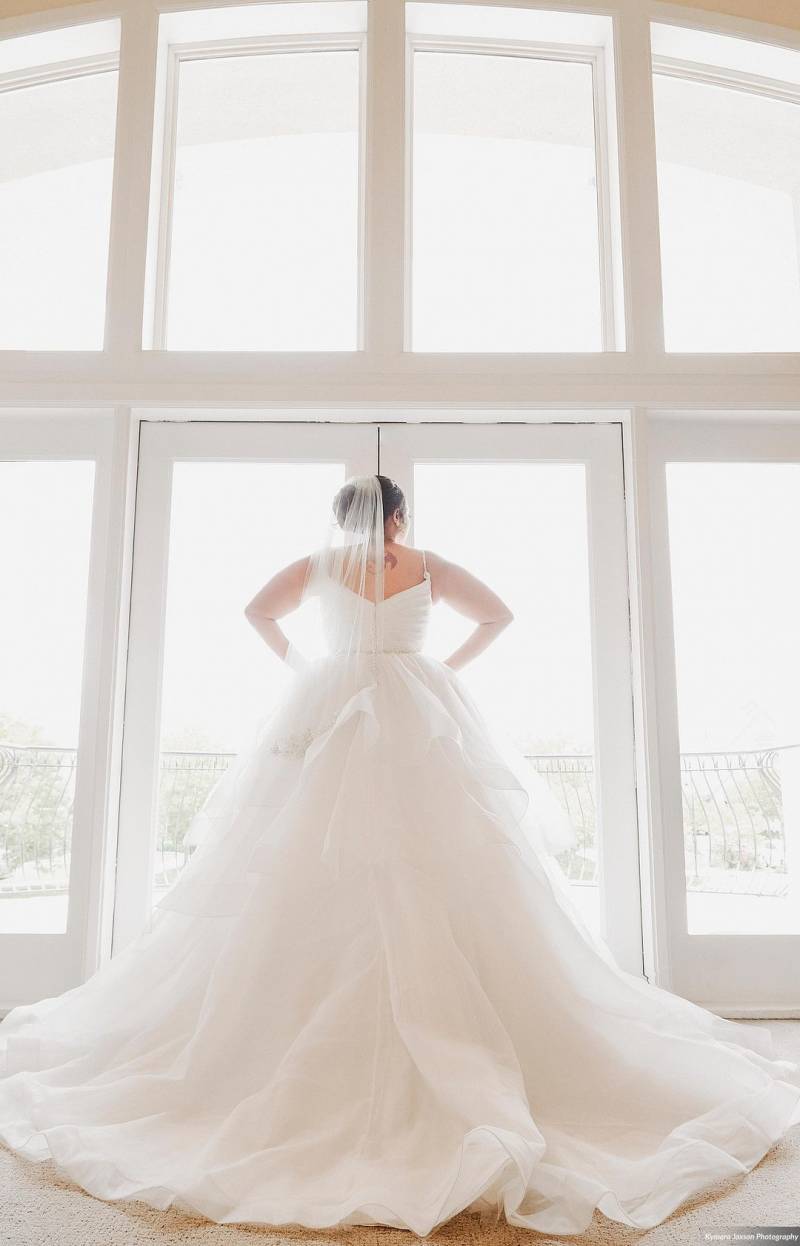 What makes your love special?
Our love is truly a "love-at-first-sight" story. Unknowingly, we were both seeking and having faith in a prosperous relationship. From the moment we laid eyes on each other, we believed that God brought us together in perfect timing as soul mates.
Engagement story:
Our engagement was nothing fancy thanks to COVID. We had been praying about getting married but with all non-essential businesses being closed and everyone being on stay-at Home orders at that time, ring shopping, engagement parties etc. was out of the question but we knew we were ready to be married. We simply sat down, had a discussion and decided together that we were getting married! We had to do all our paperwork by mail but when the license came we called our planner and weeks later had a beautiful, intimate ceremony.
From the Bride:
I'm the first one out of my siblings to get married. So, for me, the experience was exhilarating and like nothing I've ever felt before. It was beautiful to have a few of our family members come together in honor of our marriage, even in the midst of the pandemic. I felt so nervous yet excited. Everything from the dress to the decorations was gorgeous! Platinum Elegance created a breath-taking experience.
From the Groom:
The main thing men try to do is stay calm for the wedding day. For me, I was excited and nervous for the day to arrive as I prepared for a moment that would be like no other. My bride was stunning as I was left speechless when I first saw her. The wedding itself was absolutely amazing and to bring our families together for that moment was truly a blessing.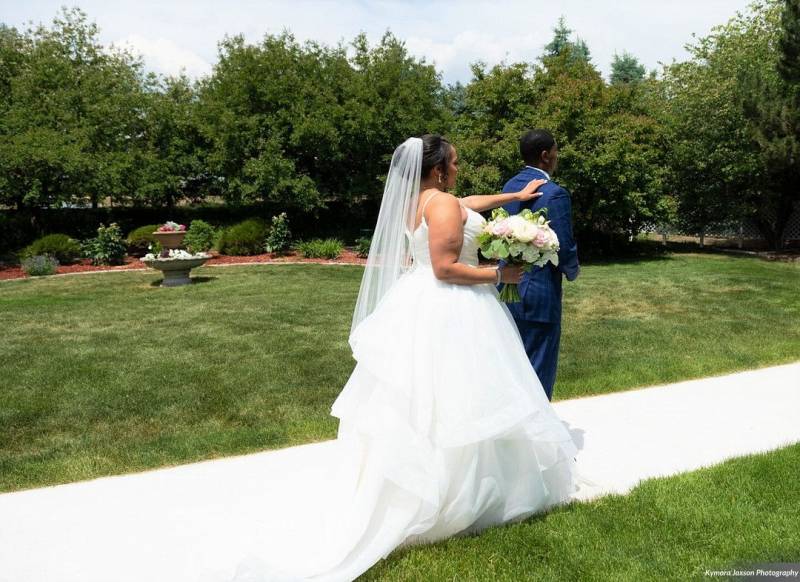 Your best/most memorable moment:
The best moment for both of us was the First Look.
Wedding song, explain choice for song:
"Sunday Morning" by Jessie Villa; this song reminds us of how deep and instant our initial connection was. We knew we wanted to spend the rest of our lives together soon after meeting.
Favorite wedding detail :
The cake. It was personally made by the bride.
What are you most looking forward to as a married couple?
We look forward to starting a family of our own.
Advice for a bride/groom on their wedding day:
Cherish every moment because it only happens once in a lifetime.
Congratulations to the happy couple! We wish them a fruitful marriage and many years of wedded bliss!
Sources
Kymora Jaxson Photography|Platinum Elegance Weddings & Events|The Chateaux at Fox Meadows|Bloom Event Designs|BBJ Linens|Charming Chairs|Al's Formal Wear|Mamabird Interviews|Sweet Savour Cakery|Bridgette Black|Dacia Cheveaux|Butler Rents|Reverend Kim Tavendale|Platinum Bridal