On January 10, 2009, Valeria was enjoying a beautiful day at the beach with a friend when she caught a glimpse of Peterson with his son, Lucas. They instantly had her attention and she knew that they would be a part of her life. After introducing themselves to each other, the two went on a magical first date at a traditional samba in Santos, Brazil. After that day, the couple have been dancing and having fun together ever since!
To celebrate ten years of wedded bliss, they had a tropical outdoor vow renewal ceremony in Brazil. Check out the gorgeous details captured by Jeffs Sacra!
Wife: Valeria de Almeida Gomes, 37, Journalist and TV Host
Husband: Peterson de Azevedo Gomes, 43, Entrepreneur
Place of residence: Sao Paulo, Brazil
Vow Renewal date: November 24, 2020
How did you know your partner was the one?
We went on dates for a couple of weeks. There was a huge connection between us. We liked the same things, we had the same pace of life and similar goals. We felt a lot of joy just from being together, even doing very simple things that are usually unimportant to other people.
What makes your love special?
Our love is special because it is a mixture of great affection, admiration and complicity. I often say that Peterson is my best friend and my best company. We have such a partnership with protection, care, and affection. We just always want to be together.
Tell us about your partner (tell us what you find special about your partner and why)
Peterson: Valéria is someone who likes to live and enjoy life. She has a contagious joy. She likes to talk, dance, travel and when she loves someone she makes it a mission to cultivate that love. What makes me the proudest of her is the strength she has that makes her move on and move forward regardless of any obstacle.
Valéria: Peterson is the love of my life and I've known it since the first time I saw him. He is certainly my best friend, my source of inspiration, the most righteous, honest person, and the most beautiful soul I have ever met. He is the type of person who is good company at all hours. He always has a bad joke to tell at the right time to guarantee everyone's joy. He is also my partner for dancing in the living room, traveling, making projects, and dreaming.
Engagement story (please tell us the story of your engagement proposal):
We met in January 2009 and in August (of that same year) we traveled together along the coast of Bahia (northeast of Brazil). When we returned, we were inseparable. I spent more time at his house than at my grandmother's, with whom I lived. At the beginning of the following year we looked for a place and decided to live together. Peterson, then, thought it was a good idea to propose to me in a quite unconventional way. He recycled an old guitar and said he had a surprise for me. When I looked at the scene of that man with an instrument, accompanied by glasses of wine, I thought he was going to show me that he had finely learned how to play. But it wasn't the case. He played a little, I showed some moral support and, when I least expected it, he stopped…took the ring and asked me to marry him. I laughed and cried at the same time. I just couldn't believe it!
From the Wife: (briefly tell us about your vow renewal experience and how you felt on your big day, How did you feel before you walked down the aisle and how you felt after you said " I do")
All steps while planning the vow renewal were very special. The process of preparation, the choices of every detail, each meeting with the vendors, each conversation…as our ceremony got into shape, it was possible to see our essence right there. But at the day of our renewal, it was much more beautiful than I could have imagined. Before 'walking down the aisle' there was such an euphoria and even some anxiety, as if it were the first time. As I approached the altar, listening to the same song as when we married for the first time (ten years ago), a happy movie was playing in my head…because that's how our life is. And I was there again, ready to marry the same husband. Our vows were written and read by us, with the weight of this love that we share. After the ceremony was over, I was as happy as I was on our wedding day.
From the Husband:
To celebrate ten years of marriage, our idea was to go on a trip to some beautiful beach and look for a little chapel to do our renewal, the two of us and my son Lucas. But with the pandemic it was not viable. When we saw the possibility of having an intimate ceremony, close to our home and organized by Lilian Rocha, from Adéquat Eventos just the way we wanted. We were very excited! Since we started thinking about the details I already felt it would be a moment as special as our wedding celebration. Saying YES once again, was like verbalizing that I am ready to live another ten years and another ten and more with her. It was a renewal of us as a couple, and of us as a family.
Vow Renewal Details :
We have a special connection with nature. Our wedding was outdoors, and we couldn't imagine our vow renewal being someplace indoors. At first, we thought of a small chapel at the beach but with COVID-19, we could not travel. So our event planner, Lilian, suggested Fazenda Querência and we just loved it. It is relatively close to São Paulo and they have this cute blue chapel. It's just perfect.
Explain choice for song:
When we first got married, we chose Brazilian songs that had some relation with our story. "Só tinha de Ser com Você", by Antônio Carlos Jobim, was the song that I walked down the aisle to and it is one of those songs, that is pure poetry and have everything to do with how our souls met.
Favorite detail (favors, cake, food, band, etc.):
It is so difficult to choose a favorite in the face of so many beautiful things prepared by our amazing vendors. The decoration, the menu, our clothes…just the affection we received from each and every one of them. It was so special. But in the need to choose one, we would say the performance of the musicians just made everything even more magical.
Were there any cultural or spiritual elements that you added to make your vow renewal unique?
To make the ceremony more special and connect with our ancestry, we wanted to have photos of our parents, who are no longer with us. But Lilian used her sensibility and turned these photos into memorial lockets, which she gave us as a gift. We were very touched and happy with the gift.
Favorite moment:
What we consider most special was the moment when we read the vows, in front of the chapel, with the music playing while we declared our love. It was an incredibly special moment!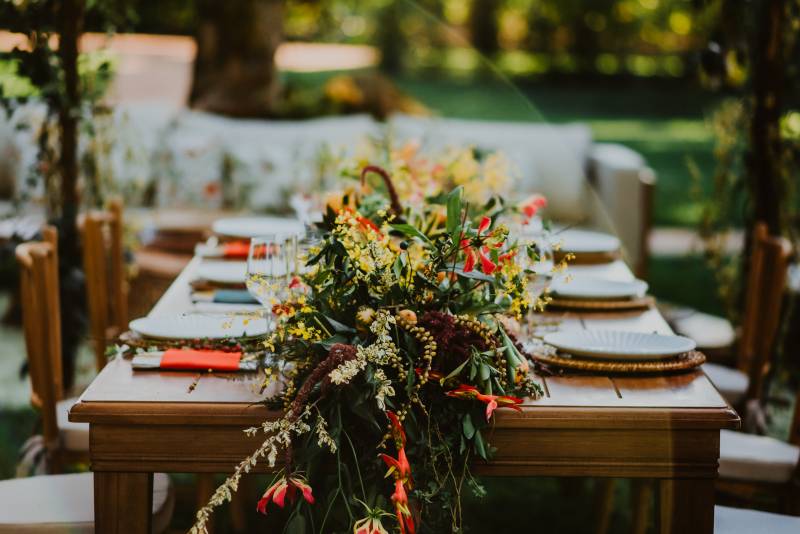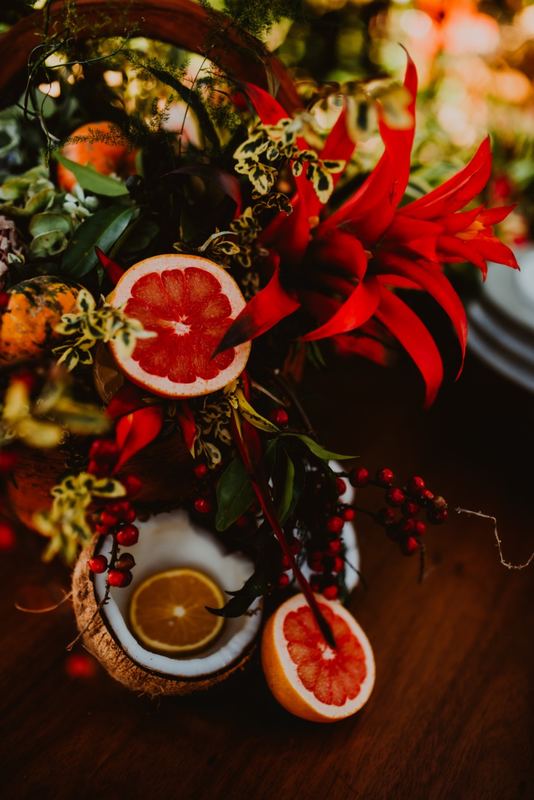 Your best/most memorable moment as a married couple so far:
There were many, but what we like to remember most are our two celebrations (wedding and vow renewal).
What's the best part about being a married couple?
All of it! We celebrate and cultivate our union in the details like waking up together, toasting to our love with a cup of coffee, dancing in the living room, preparing special dinners for no special reason. Our companionship is what makes us cheer, support and be happy for one another's daily achievements.
What's the best advice you received about marriage that you actually use?
We were raised by people who taught us a lot more in practice than in speech, but among so many teachings, we can highlight one piece of advice: it is necessary to understand that the relationship is not a competition and it is fundamental to accept that you are not always right.
Congratulations the happy couple! We wish them many more years of wedded bliss!
Sources
Adéquat Eventos|Projeto Revérbero|Jeffs Sacra|Fazenda A Querência|Roberta Gouvea|Márcia Locações|Ritz Festas|Lethicia Bronstein|Tatmake|Mari Peres|Kila Calçados|Maximus Rigor|Marquinhos Amaral|Baking Dreams|Galliari Design|Di Pote|Baptistella|Spa nas Nuvens|Deborah Cattani|Sapataria Cometa|Buffet Gussoni|Eliana Araujo