Fall has recently become the most popular time of year to tie the knot, and for good reason. Nature's natural backdrop of vibrant colors creates the most gorgeous outdoor setting, the weather is perfect, and floral options are endless. This fall-themed styled shoot at Spruce Mountain Ranch in Colorado showcases why this season is considered by some to be the most romantic time of year. We are totally in love with the dreamy details–truly perfect for the season. Alicia Rinka Photography was behind the lens to capture all the gorgeous moments.
Here is what planner, Erika Sandoval of Erika Sandoval Events had to say about the vision for this shoot:
"When photographer, Alicia Rinka messaged me about doing a styled shoot together, we both knew we had to do a Fine Art Fall Mountain themed shoot. Fall in Colorado is absolutely beautiful and we wanted to showcase the colors that people travel from all over the U.S. to see. We ran through a few ideas and knew it had to be refined, romantic, organic and modern with clean lines but still full of lush details."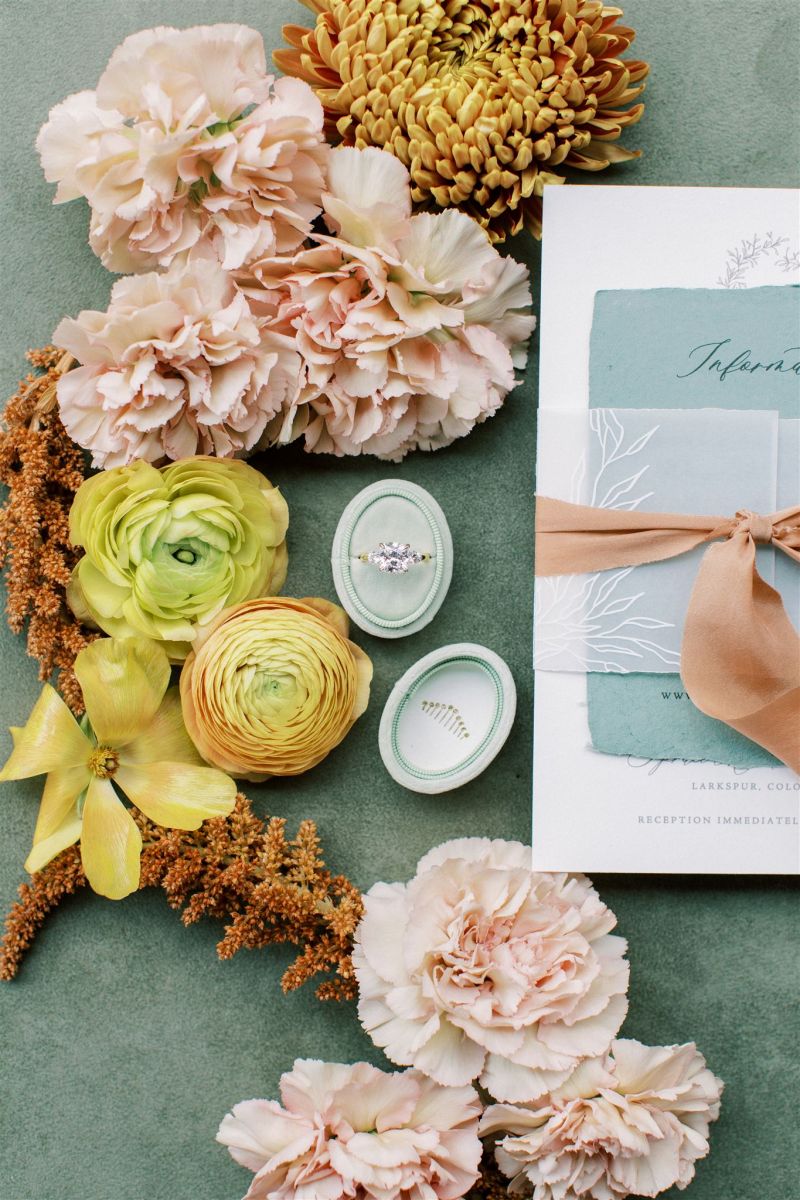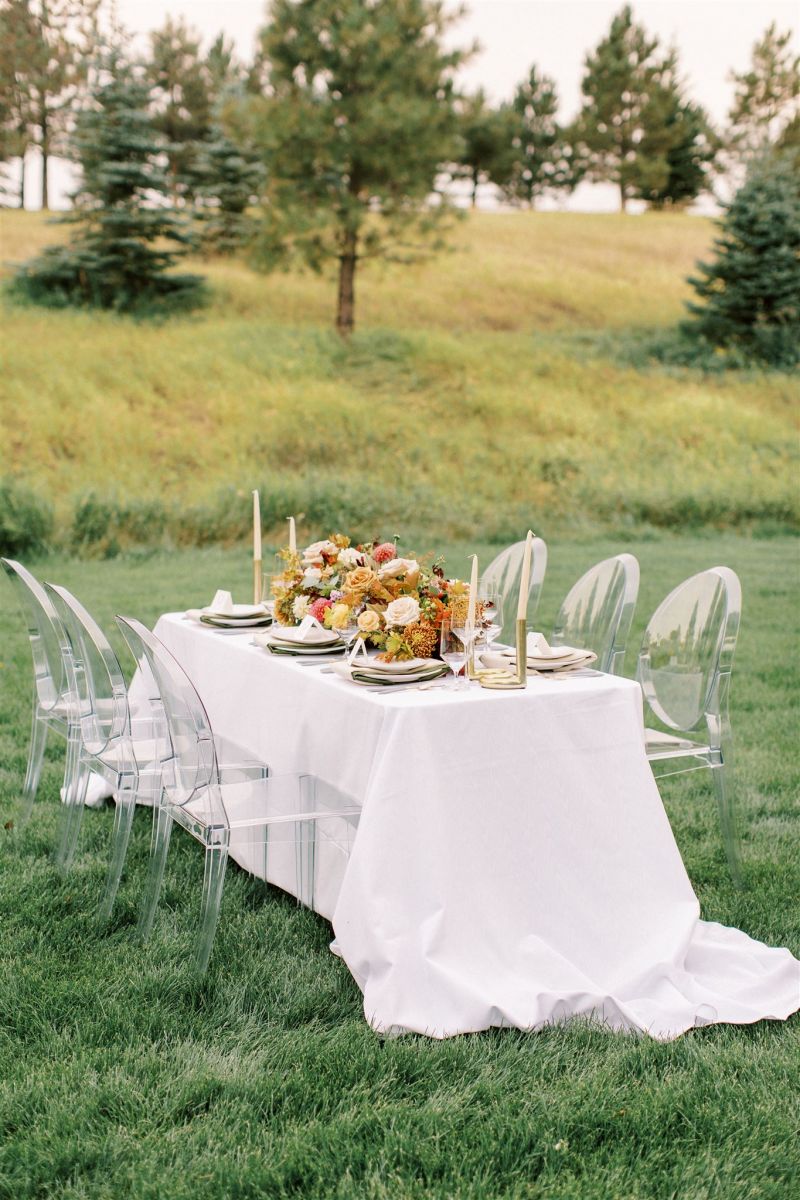 Decor Details
Linens:
I wanted the linens to contrast beautifully against the green and yellow grass. I wanted it to look clean and crisp which is why I chose the Bengaline white tablecloth with a wood grain-like texture. For visual and color balance, I paired a Panama Beige napkin with a Velvet Leaf napkin under it folding it in a way to keep clean and modern lines.
Centerpiece Description:
Shannon with The Olive and Poppy is a very talented florist and I love what she did for the shoot! The flowers used were orange and blush butterfly ranunculus, quicksand roses, toffee roses, blush sweet peas, dahlias, and dusty rose carnations to name a few, paired with pampas grass and dried palm leaves. The flowers were actually the star of the show (or shoot in this case)! I wanted them to stand out which is why I went with a white tablecloth and they sure did. The centerpieces gave the table a more modern fall look and my favorite pieces were the quicksand roses and the leaves that you can see are already starting to change color. The Olive and Poppy went above and beyond my expectations bringing in what she did for this shoot.
Place Settings:
The place settings we used are the Heirloom Linen plates paired with the Velo Gray and Gold flatware and modern glassware which gave the table a feeling of understated elegance.
Stationery:
The colors of the stationery suite are very subtle and romantic. They are light earthy tones such as sand and green to match the Colorado Fall Background perfectly.
Please share unique details from your shoot:
Unique details from our shoot are the colors used. It's not only modern, but it was our intention to make it look warm and inviting. Everything was carefully thought out from the type of flowers and dried grasses, to the texture of the linens.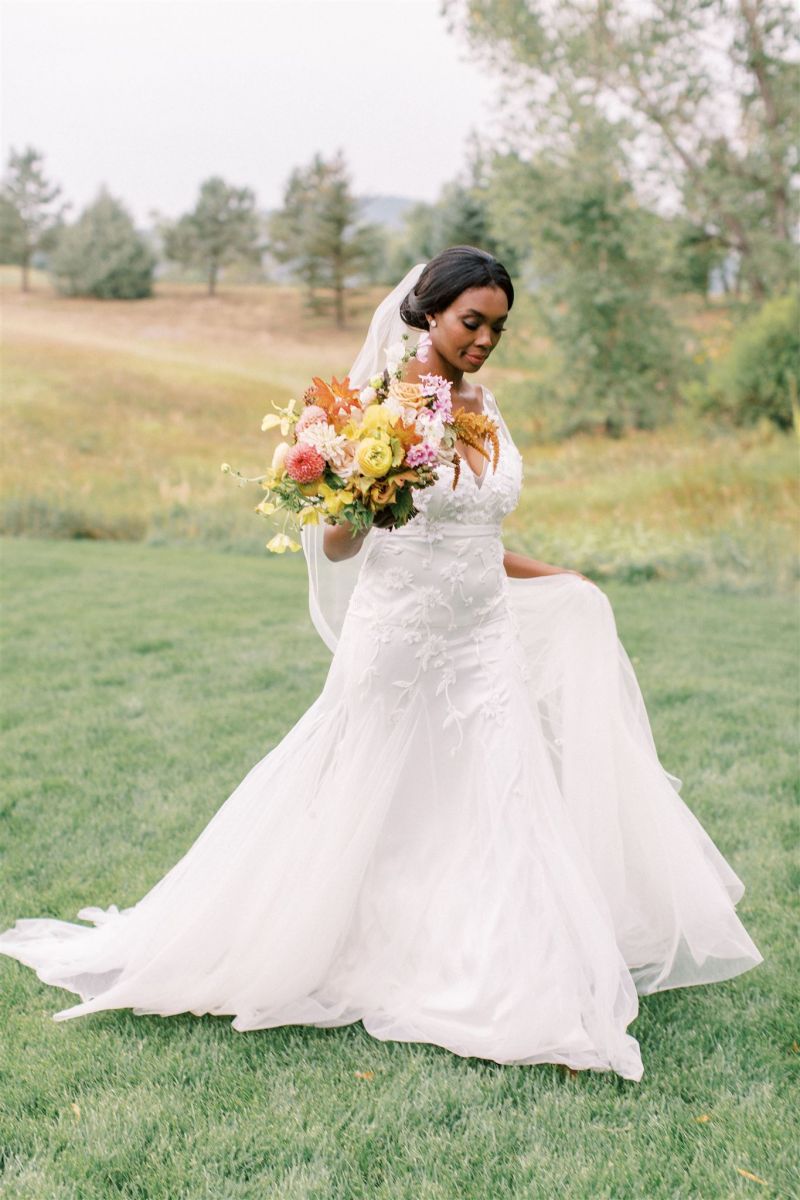 We can't get enough of this gorgeous styled shoot! Tell us your favorite detail in the comments below!
Sources
Erika Sandoval Events|Spruce Mountain Ranch/Alberts Lodge|Alicia Rinka Photography|The Olive & Poppy|Beautifully Noted|Event Rents|Kim J Beauty|A Cake Come True|Wallflower Rentals and Décor|Anna Be Bridal|Alexandra Grecco "Lucca"|Sara Gabriel|Untamed Petals|Badgley Mischka Bride|La Gartier|Teds Clothiers|Kellie Stonger|Je Promis|Leena and Chris