Casme' and Gary met almost four thanksgivings ago. She was serving the community and homeless at his brother's annual dinner. He was there assisting his mother while she was praying over people and the food. Casme' also ended up singing, which caught Gary's attention. This was the beginning of their friendship. Later on, they wanted Casme' to sing at their church on a regular basis. By June 2019, this devout couple decided to tie the knot with a boho meets chic theme in addition to the whopping 34 bridesmaids that joined them at the Pelican Beach Resort and Clement Taylor Park in Destin, Florida. Take a peek at Casme' and Gary's viral, fun-filled wedding day, captured by Homeland Photography.
Bride's full name, age, and occupation: Casme' Ann Barnes-Carter, 38, Grammy Considered Entertainer & Entrepreneur
Groom's full name, age, and occupation: Gary Carter Sr., Residential Contractor
Place of residence: New Orleans, Louisiana
Wedding date: June 2, 2019
Wedding location: Pelican Beach Resort and Clement Taylor Park, Destin, Florida
Wedding theme: Beach Sunrise Wedding with Indian Style Seating and Crawfish Boil & BBQ Reception
Honeymoon Destination: Hawaii
Engagement story:
My husband Gary proposed to me on March 2. We were headed out of town on a family trip and stopped at Chick-fil-A and on our way back to our vehicle. He opened up the doors he normally does and rose petals flew out along with a banner that said, "Will you marry me Casme'?" My whole family was there to witness this beautiful moment.
What makes your love special?
I love how he loves me and lets me be me. He also loves God, so to have him pray over me and with me has always been a dream. Our love is special because I knew it would take a special person to marry me because I am such a people person and a go-getter. He's not a "yes" man, but he confronts me with wisdom, love and lots of support. And vice versa.
From the Bride:
Leading up to the wedding was a lot of hard work, but I enjoyed it all. I love coordinating events. I encountered a lot of unforeseen mishaps, but remained positive. It was all worth it when I saw my husband… My king standing there, awaiting his queen! Not to mention, we had the people I love so much standing around and cheering us on.
From the Groom:
It was the best day, the most beautiful day of my life. I prayed for God to give me another chance at marriage since I was married once before. God blessed me. Casme' is my beautiful blessing.
Your most memorable moment:
During our wedding reception, we did a flash mob. I took turns calling each group of women from the different states that I lived in and where I met them. We had a lot of fun, but it truly touched my heart to know I had impacted these women and these women impacted me in different parts of the world.
Also to see all of these women surrounding me in a circle of love, praying over me when I was devastated over losing my engagement ring in the ocean was a very emotional time.
Wedding song:
I was introduced to India Arie's "Stead Love" and immediately knew that it would be the song I'd sang to my husband. I was literally learning it on the Friday before the wedding while I was driving to our wedding destination.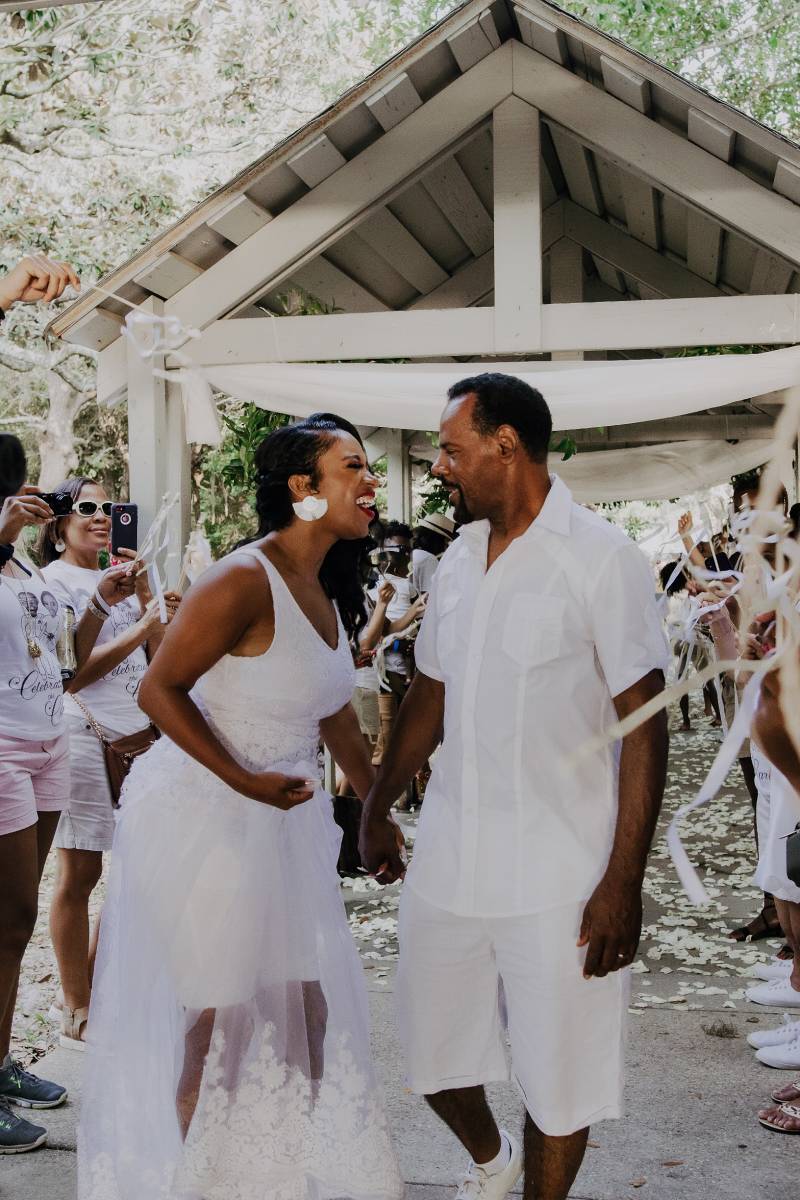 Favorite wedding detail:
Our jam session!
What are you most looking forward to as a married couple?
We are excited about God's favor and the abundant blessings on our union. I always knew in my heart that he would reward us for our faithfulness and obedience to him. Looking forward to a lifetime of happiness and joy with my husband and traveling the world!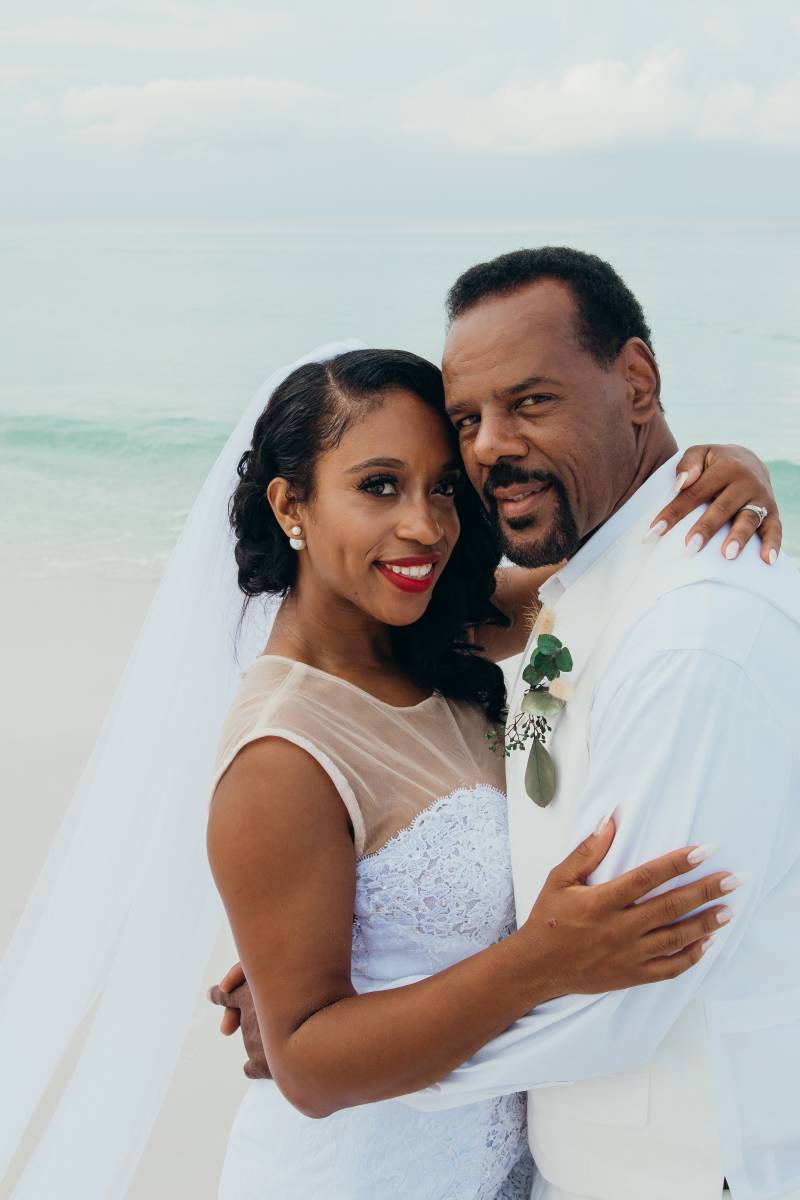 Advice for a Bride and Groom on their wedding day:
Do whatever it is you dreamed of. Do what will truly make you happy, what will make your heart smile. This is your day. Everyone will have plans, ideas, goals and say so, but what truly matters most is you and your soulmate!
Please feel free to include any other interesting anecdotes from your big day!
When I was first introduced to Pinterest, I started a wedding board full of things that I'd like to see on my special wedding day. After he proposed, I went back to that wedding board and started pulling out what was realistically possible. Then I reached out to some of my closest girlfriends and sisters and we put the whole process together by March 18 and had the venue booked for the reception.
I do feel God honored our union in our marriage because we chose to do it his way. The sunrise wedding was for us to be as close to God as possible. We married on the beach before the heavens and the earth the clouds in the water, so it was truly magical… Majestic!
Outside of being very hoarse because I lost my voice the day before when I lost my engagement ring in the ocean. I felt blessed and of course
very emotional. But, it was an amazing day full of a lot of love and a lot of fellowships.
I never had a number in mind for my bridesmaids, I literally just started calling and Facetiming some of my best girlfriends and asked them to be a part of my big day. By the end of May and three days of reaching out to the ladies, I had a list of about 50. As time passed, some were able to commit and some, unfortunately, were not able to make it. I've lived in a different city, so I had met a lot of women through the church, different business ventures, women empowerment organizations, mentoring programs, and of course school.
Congratulations to the happy couple! We wish you many years of wedded bliss!
Sources
Homeland Photography|Pelican Beach Resort|Clement Taylor Park|Amazon|K & G Menswear|Winn Dixie|Publix|Jim-n-Nicks BBQ & Crescent Seafood|B Sherrie Events|Sher Bliss Events|Dj C'Lite|Jamilla Debow & April Lane|B Sherrie|Amber Williams|La'Ticia Wilson