The Caribbean meets the Pacific in this gorgeous styled shoot. Whether you are looking for a simple summer breeze or a sweet taste of the islands, you are sure to be inspired by the tropical colors, soft linens and the freshness of the mango embraced by our bride and groom.
This styled shoot takes a real married couple back down memory lane, celebrating a genuine love that surpasses the changing tides of the wedding industry. Seven happy years later, bride and groom Jasmine and Andrew get a second chance at imagination after an out-of-state job and a hurried move compromised their original wedding plans. Their bridesmaid and dearest friend Jessica remains steadfast at their side, along with their adorable Corgi, in the midst of tropical palm trees, rich colorful florals, pops of fresh cut mangoes and rustic décor. It was especially important to all parties involved to celebrate the inclusivity this real life wedding story demands of today's wedding industry. Indeed, this tiny-but-mighty wedding party shows the beauty that can bloom in every celebration.
With moments captured by Aggie Photography St. Pete, this was a collaboration of local vendors throughout Pinellas Park, Florida and the surrounding areas. Against the versatile backdrop of the Shahnasarian Hall, planners at Exclusive Affairs By Destiny rave about their vision for this shoot:
"This mango-styled shoot was inspired by a fun and bright perspective on Pantone's color of the year, combined with the simple yet rustic vibe of blooming florals and fresh mangoes. My goal was to promote upcoming wedding trends while including a diverse group of models. I wanted all the details to pop and the vendor's works to really shine through so I planned for solid colors for our models. With Coral being a popular color in the wedding industry, I wanted to give it some life by adding in the oranges, yellows, and touches of pink.
I also wanted to include another dear friend, Jessica, as the bridesmaid. As a person who uses a motorized chair, she's felt unseen and overlooked in the wedding industry. Our florist was thrilled to provide her with a gorgeous floral attachment for her chair."
Shoot Location: Shahnasarian Hall Event Hall, Pinellas Park, Florida
Color Combinations: Living Coral, Marigold, and Pink
Favorite Details: Some of our favorite details from this shoot include the vellum invitation suite and calligraphy on our mango place settings, our bridesmaid's floral arrangement on her motorized chair, the florists gorgeous octagon floral arch, and the custom designed ombre cape designed by a New York Fashion Week designer.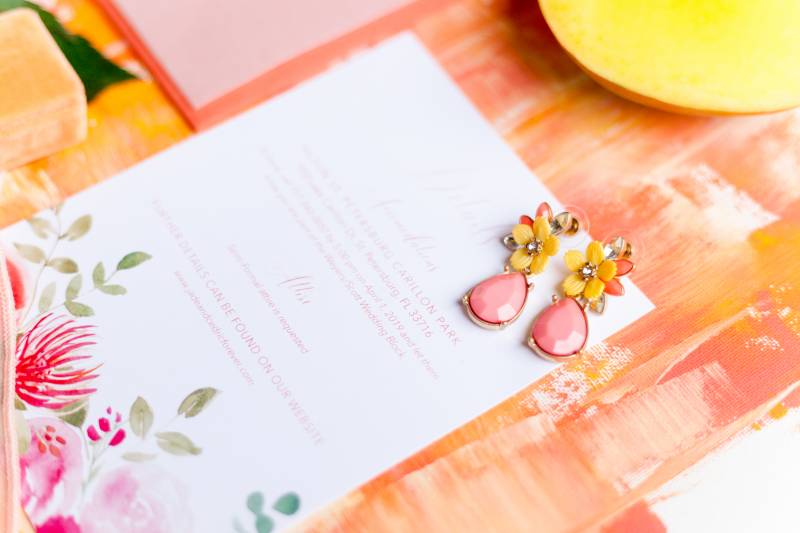 Decor Details:
Linens: Peach linens add a soft and breezy layer to the bold tropical notes of the florals and mangoes.
Centerpiece: A peony garland runner adds both natural greenery and pop of color to the rustic reception table. The florals in the runner echo that of the bridal bouquet and the intricate garland that encompasses the bridesmaid's mobile chair.
Place Settings: The gold-trimmed glass plates as well the gold cutlery reflect and aid in bringing out the ombre hues that are in the mangoes, which are customized with the names of our couple in gold calligraphy.
Stationary: The single card stationary offers a new texture to the details, with a hand-designed watercolor suite and Vellum overlay.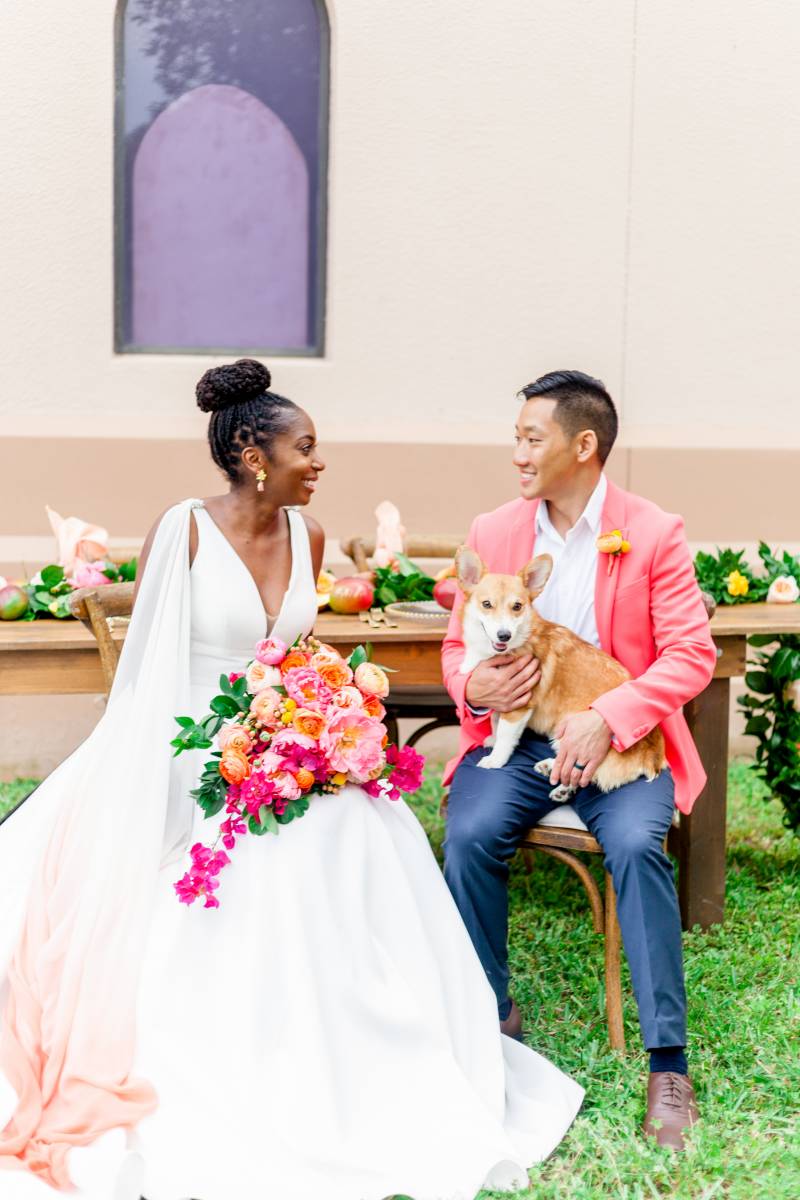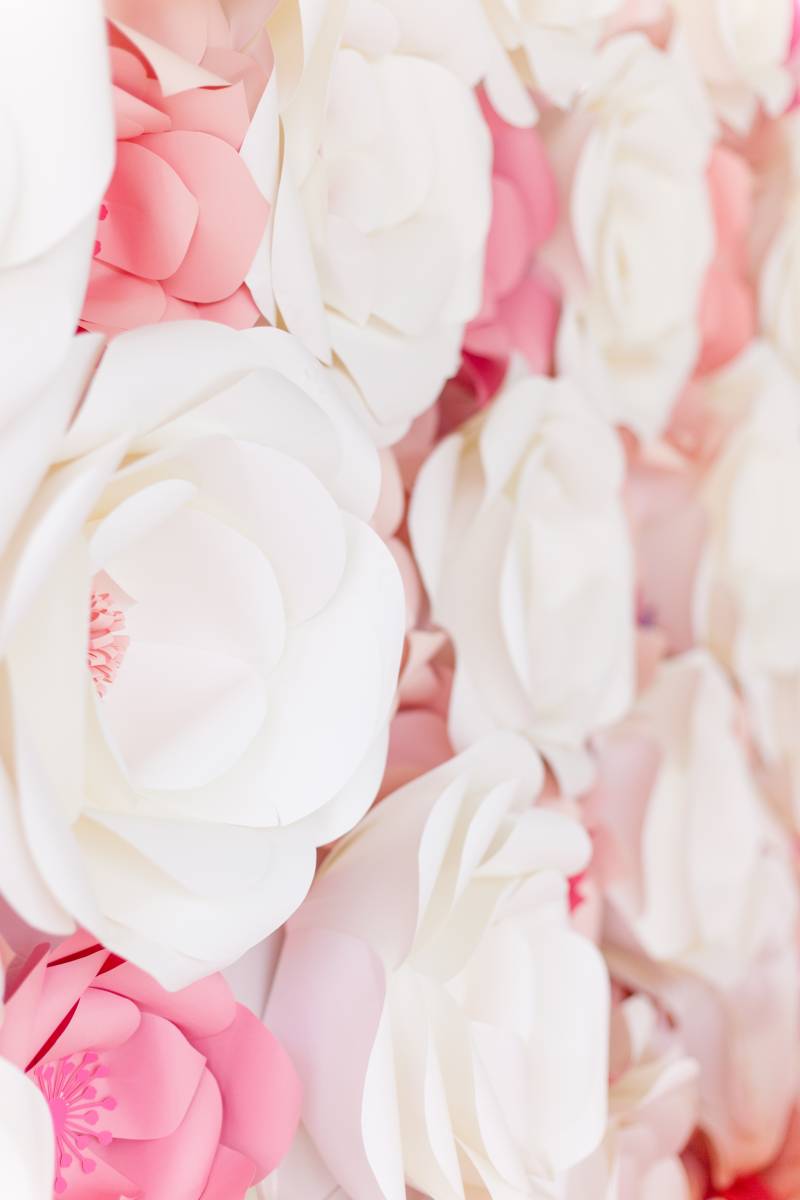 We can't get enough of this gorgeous styled shoot. Share your favorite details in the comments below.
Sources
Aggie Photography St. Pete|Exclusive Affairs by Destiny|Shahnasarian Event Hall|Nicki Mac Brides|Rose Garden Florist|CakeAPig|MiraStylez|The Dressing Room|Copper Creative|Elite Events and Rentals|Wayfarer Bride|Paper Gardeners