Raisa and Jahid met in 2007 at the University of Cincinnati. Raisa noticed Jahid at an infamous Tangeman University Center party and thought he was cute, but decided not to make the first move. One afternoon, they ran into each other again at an unofficial Kappa Alpha Psi BBQ. Jahid flashed his dimpled smile and the rest, as they say, was history. They officially began dating the following year and have been together for nine years! To celebrate their love, Raisa and Jahid had a classic and romantic wedding at the Calamigos Equestrian in Burbank, California. Check out their lovely wedding day photos, captured by The Amber Studio.
Bride: Raisa Garvin, 29, Attorney
Groom: Jahid Turner, 33, Paralegal
Place of residence: Los Angeles, California
Wedding date: July 1, 2017
Wedding location: Calamigos Equestrian, Burbank, California
Wedding theme: Classic Romance
Honeymoon Destination: Riviera Maya, Mexico
Engagement story:
In February 2016, Raisa and Jahid took a trip to Las Vegas, where they often enjoyed spending time together. During dinner at Jasmine in the Bellagio, Jahid surprised Raisa with a beautiful ring on a silver platter covered in roses, and a very important question! She said yes, of course!
What makes your love special?
Our love is special because it blossomed from a friendship. We are truly life partners. We are able to grow romantically because we first cared for one another as friends.
From the bride:
I was very anxious on my wedding day. Married colleagues and friends warned me that something would invariably go wrong, so leading up to our first look session I was constantly looking over my shoulder. When I saw the expression on Jahid's face, however, all the worry dissipated and I knew it was going to be a perfect day. Nothing went wrong. The day was truly remarkable.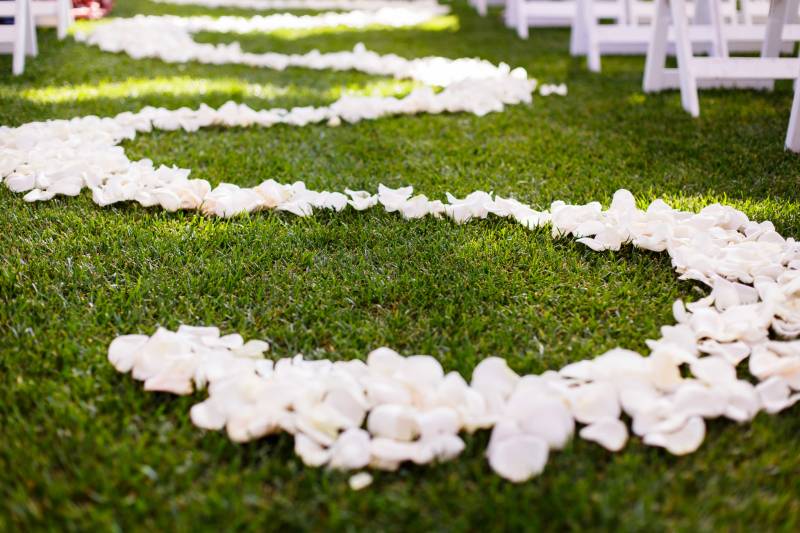 From the groom:
I was running around handling last-minute errands for my bride-to-be before the ceremony, so the day started off kind of hectic, but when I saw my wife coming down the aisle, a calming sensation settled over my body. I really enjoyed the reception. Our DJ, my fraternity brother, had even our more reserved guests out on the dance floor.
Your most memorable moment:
Our first dance. We wanted to take professional dance lessons but never got around to doing it. We made up our own little bop and it worked out.
Favorite wedding detail:
The cake: traditional vanilla, white cake filled with strawberry European buttercream from Porto's Bakery. We can't wait to revisit on our one-year anniversary.
Wedding song:
Our wedding song was "I Am For You" by Lisa Tucker. We have been together for almost a decade and over the years we have experienced so many life events together: moving to different cities, pursuing post-graduate degrees, switching careers and experiencing parenthood. The song really captured the sentiment that no matter what happens, we are always there for one another and our love remains the same.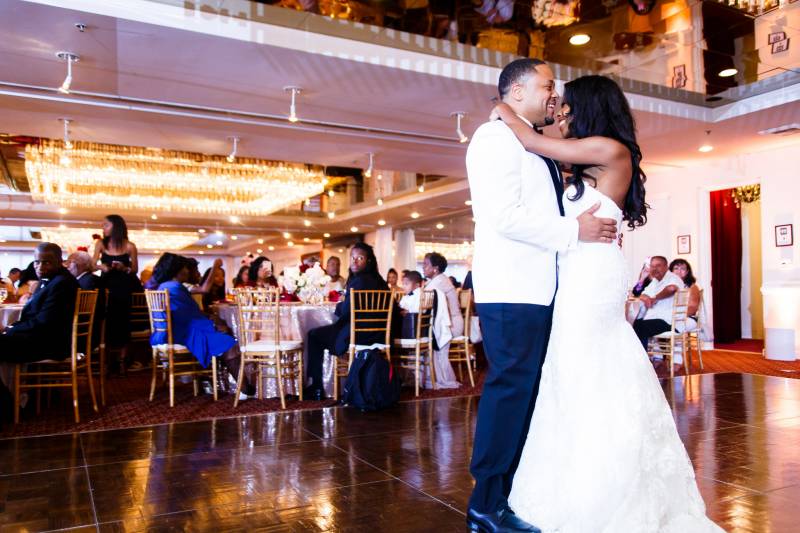 What are you most looking forward to as a married couple?
Building a legacy with my best friend.
Advice for a bride and groom on their wedding day:
Make sure you have the type of wedding you want to have. Try to filter out all unsolicited advice and create the experience the two of you desire.
Congratulations to the newlyweds! We wish you a wonderful wedding and marriage.
Sources
The Amber Studio|Calamigos Equestrian|Calamigos Equestrian|Creations by Dami|SoundWave Productions|Kryssy K|Mane Experience|MTB Event Rentals|Mimi's Cakes & Crafts|City Flowers LA|Martina Liana|West End/Friar Tux Shop|RenzBridal by RenzRags|Porto Bakery & Café Glendale|DJ Terence Calloway