Franshon and Jared met in high school at St. Augustine's College in Nassau, Bahamas. They were in the same Chemistry class for 3 years and developed their own chemistry after high school when they officially started dating in 2008. The lovely couple tied the knot this summer in a timeless wedding ceremony in the Bahamas. Read more of their love story and check out more from their gorgeous wedding day captured by Legacy Studios.
Bride: Franshon Francis, 31 years, Dentist
Groom: Jared Albury, 31 years, Medical Intern
Photography by : Legacy Studios (Leo Creary and Keva Creary)
Place of residence: Nassau, Bahamas
Wedding date: June 12, 2021
Wedding location: Sapodilla Estate, Nassau, Bahamas
Wedding theme/motif/inspiration: We wanted our wedding day to be classic and timeless. Our theme was whimsical and romantic with our key colors being gold and white. The candles really set the tone for the romantic feel we wanted.
Honeymoon Destination: TBD
What makes your love special?
We're best friends and have grown up together from the age of 18. We started out in a long distance relationship which challenged us to keep things as exciting, fresh and
Engagement story:
It was Christmas Eve 2019, and I stopped by Jared's house after work to hang out. He told me that he planned our Christmas photo shoot for that evening. This definitely caught me by surprise!
From the Bride:
I was excited to start the wedding planning because it's the day you dream of from a little girl. The experience with planning was a little different than I imagined because the
From the Groom:
I was mainly a source of support during the planning process. At times, it was definitely stressful, especially with the uncertainty of the pandemic, but during those moments I would reassure Franshon that everything would work out perfectly.
Your best/most memorable moment:
My most memorable moment was walking into the church and seeing Jared standing at the end of the aisle. He looked so handsome. Another memorable moment for me was riding in
Wedding song, explain choice for song:
My wedding song was "Can't Help Falling In Love" by Kina Grannis. It's such a beautiful, intimate song that definitely brought on the emotions as I walked down the aisle.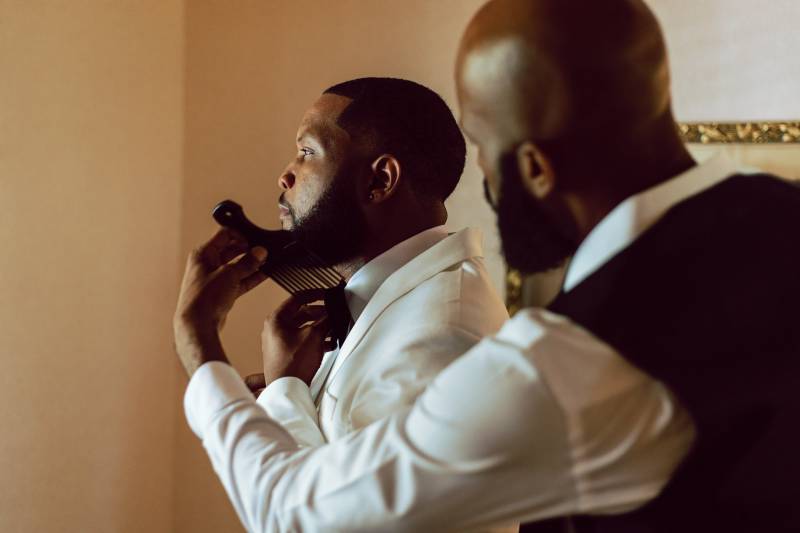 Favorite wedding detail (favors, cake, food, band, etc.):
By far our favorite wedding details were the décor and the wedding cake.
What are you most looking forward to as a married couple?
We are most looking forward to the independence of sharing a home together and starting a family.
Advice for a Bride/Groom on their wedding day:
Our advice would be to enjoy the entire wedding planning process. It can become stressful, but it should be a fun experience for the couple to share. On the wedding day, take in every moment and enjoy it because the day goes by so quickly. Have a moment alone with your bride/groom to take it all in.
Congratulations to the happy couple! We wish them many years of wedded bliss!
Sources
Leo & Keva Creary|Gregory Wilkinson|NDOFilms|Sapodilla Estate|Pollardi/Alegria's Brides,|Diva house|Kedar Clarke/KIS Bespoke|The Boutique Cake|Sapodilla Restaurant|DJ A.I.|Ozzie Pratt|Nell Oliver|Yeisha Forbes|Bahama Fantasies|JM Platinum Weddings & Events