It was January of 2017 when Camisha and Damon met through mutual friends. Damon later messaged Camisha in her DM's and the two began dating a month later. After three years of watching their love grow, the lovely couple became engaged. This past summer, they tied the knot in a beautiful all-white wedding ceremony in Lexington, Kentucky. Read more about their love story and check out details from their big day captured by Cultivating Perception.
Bride: Camisha Powell, 29, Interim Executive Project Coordinator
Groom: Damon Powell, 29, Personal Trainer
Photography by: Dantana Smith of Cultivating Perception
Wedding date: August 2, 2020
Wedding location: The Signature Club, Lexington, KY
Wedding theme/motif/inspiration: All-White Theme
Honeymoon Destination: Ocean Island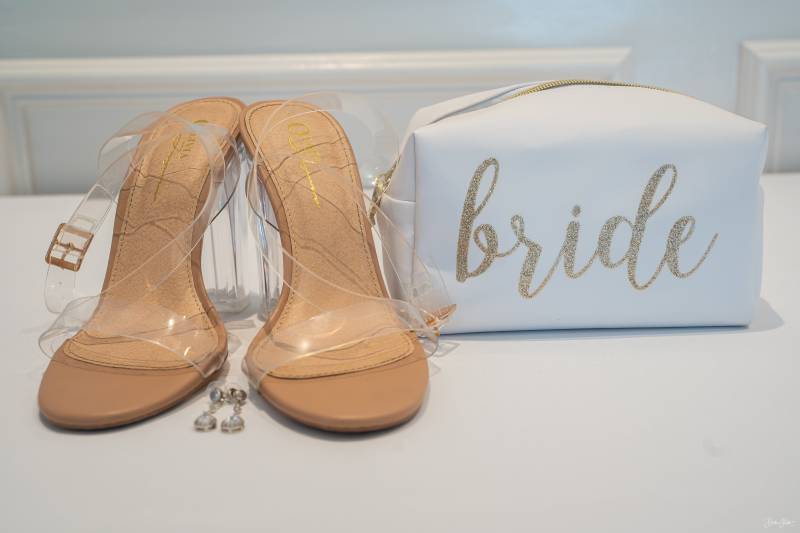 Engagement story:
Since our birthdays are only 4 days apart (Damon is 4 days older) I thought he was going to propose on our birthday trip to the Bahamas, and was really bummed when it didn't happen. He waited until we were back home with friends and family and proposed courtside of the Big Blue Madness men's basketball game at the University of Kentucky. College basketball is a huge deal here in Lexington, Kentucky so it was a big special moment for us.
What makes your love special?
What makes our love special is the fact that we are both trying to break generational curses within our families at a young age. We both put God at the forefront of our relationship/marriage and our love stemmed from our drive to achieve.
From the Bride: (briefly tell us about your wedding experience and how you felt on your big day)
My wedding day experience was amazing! Due to COVID, I wasn't able to have the original amount of people I wanted to come, however, it was a really great turnout since 140 guests were able to attend. Everything went as planned, from the ceremony, to the reception. I even coordinated a special dance for the groom in which he enjoyed. We ended the evening with dancing the night away and was driven home in a brand new Aston Martin.
From the Groom: (briefly tell us about your wedding experience and how you felt on your big day)
My wedding experience was unique because it was the first time we had our extended family and friends all in the same place at the same time. I was extremely nervous as I don't like being the center of attention. That's all her! I was nervous to say my vows in front of a huge crowd as well, but seeing her and how beautiful she was on this day put me at ease. Seeing my family happy and having a good time put the icing on the cake.
Your best/most memorable moment:
Our most memorable moment was our vows to each other. We were both filled with astonishment to just hear heartfelt words from one another.
Wedding song, explain choice for song:
"Here and Now"- Luther Vandross. We chose this song because it reminded us both of our parents' love for each other.
Favorite wedding detail (favors, cake, food, band, etc.):
My favorite wedding detail was my dress. It was custom designed just for me. The wedding was an all-white event and I was the pop of color.
What are you most looking forward to as a married couple?
Children and cheaper insurance!
Advice for a Bride/Groom on their wedding day:
Do NOT expect anything to go as planned. Always have a plan B and C just in case things don't turn out how you envisioned.
Congratulations to the happy couple! We wish you a fruitful marriage and many years of wedded bliss!
Sources
Dantana Smith|The Signature Club|K. Symone|K. Symone|Geno's|Morgy's Sweet Treats|Blue's SKillet|Cimone Jones Events & Decor|Madison the MUA|Tiara